Administration of Justice Degree vs. Criminal Justice Degree: What's the Difference?
Administration of Justice Degree vs. Criminal Justice Degree: What's the Difference?
Administration of Justice Degree vs. Criminal Justice Degree: What's the Difference?
Across the United States, thousands of professionals work hard to ensure the safety of their communities. They might work in airports, train stations, municipal police departments, large task forces, or correctional facilities. They maintain the security of air travel, the postal service, public spaces, roads, and neighborhoods. No matter their exact job specifications, the mission for these professionals is the same: to serve the public and maintain its safety.
Those interested in these types of careers may choose to study any of several relevant fields. As undergraduates, they may opt for an administration of justice degree or a criminal justice degree, which will help them understand the American criminal justice system and the skills needed to succeed in it. Administration of justice and criminal justice degrees are quite similar and can lead to many of the same career paths. However, there is much to learn about the skills earned in each degree program and the nuances of the coursework offered.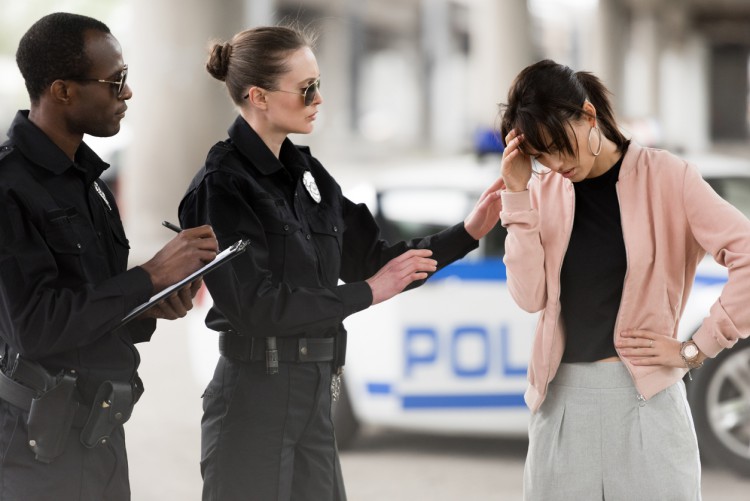 Administration of Justice Degree Overview
Administration of justice degree programs focus on educating students on the intricacies of the criminal justice system, including the various public and private agencies that help maintain law and order in the United States. Students learn about different roles in the justice system, from police officers and federal agents to corrections specialists and government agents.
What Do Administration of Justice Degree Graduates Do?
Administration of justice degree recipients are ready to pursue a number of law enforcement careers. They're especially prepared to enter positions that make use of their extensive understanding of operations and ethics in various law enforcement entities.
Types of careers:
Border protection officer: Border protection officers protect U.S. borders against threats, including drug smuggling and human trafficking. Their work includes routine patrols, monitoring surveillance technologies, and manning border checkpoints.
Customs agent: Customs agents work in ports of entry, such as airports and seaports, where they evaluate individuals who want to enter the country. They access international crime databases, interrogate visitors, and conduct investigations to prevent illegal activity.
State patrol officer: State patrol officers monitor roads and highways for unsafe traveling activities and aid in statewide investigations, such as responses to Amber Alerts. They also file drug, alcohol, and firearms offenses. While students can apply for this job immediately following graduation, if selected for hire they must complete training at a state patrol academy.
U.S. postal inspector: Postal inspectors enforce over 200 laws pertaining to the postal system. Their main duties involve investigating mail theft, mail fraud, and drug trafficking. All candidates for this job must complete a 14-week training program which covers firearms, defensive tactics, physical fitness, and practical exercises.
Criminal Justice Overview
Similar to a degree in administration of justice, criminal justice degrees introduce students to the depth of the American criminal justice system. For example, Maryville University's online Bachelor of Arts in Criminal Justice includes courses in criminal law and legal procedure, multicultural policing, the corrections system, and criminal investigations. It also features courses in criminology, mental illness and society, and domestic and international terrorism. These programs emphasize both social and legal theory to give students an interdisciplinary perspective on criminal justice.
What Do Criminal Justice Graduates Do?
Criminal justice graduates are prepared to attain law enforcement positions, especially those who take advantage of their understanding of criminology. They might pursue any of the previously described positions that administration of justice graduates are qualified for, as well as a number of other careers. Criminal justice jobs emphasize investigation and require an understanding of criminals and their motivations at the individual and social levels.
Types of careers:
Police officer: Police officers patrol communities, towns, and cities, keeping people safe from criminals while also investigating and following up on existing cases. They also write detailed arrest reports and sometimes testify in court. In addition to the right education, officers must complete specialized training at a police academy before they can begin work.
Forensic investigator: Forensic investigators utilize physical clues from crime scenes to solve cases. They use their knowledge of criminology to determine how a crime took place and generate a list of suspects. They examine blood, fingerprints, and computer hard drives, among other things, to find evidence.
Air marshal: Federal air marshals keep the skies safe, evaluating threats and ensuring passengers arrive safely at their destinations. They also perform investigations and can aid other federal agencies in their lines of duty. If selected for hire, potential air marshals must complete a 16-week training program.
Corrections officer: Corrections officers keep prison populations safe and under control. They also might oversee inmates awaiting trial or work as court officers. Corrections officers in many states are required to complete specialized training that covers laws and ethical standards, firearms training, and physical fitness training.
Similarities Between Administration of Justice Degrees and Criminal Justice Degrees
Administration of justice and criminal justice degrees prepare students for many different careers upon graduation. Learning how the American legal system works, from investigation and arrest through sentencing and incarceration, is foundational for both disciplines. Each path features courses that explain the complex systems of jurisdiction in the United States, which include different bureaus and departments responsible for specific crimes and geographic areas, though sometimes two or more agencies will work together.
Differences Between Administration of Justice Degrees and Criminal Justice Degrees
While administration of justice and criminal justice programs can lead to similar career outcomes, there are slight differences in the degrees. For example, the inclusion of criminology coursework in a criminal justice curriculum differentiates it from an administration of justice program.
Understanding Criminology
Criminology is the study of crime, its causes, and how it impacts the criminal justice system at large. It examines systemic issues in the justice system and society and helps law enforcement officers understand the people they interact with when on duty. Criminal justice degree programs include courses in criminology, abnormal psychology, and human behavior, all of which contribute to a more comprehensive understanding of crime and its causes.
Administration of justice degrees do not typically include a criminology focus. Instead, they emphasize combating crime from a practical standpoint. Students on this degree path might learn about interacting with criminals and how to handle specific situations, but they don't study the causes of crime, such as social pressure, weapon availability, and mental illness.
Career Choices
Criminal justice graduates can put their knowledge of criminology to work in law enforcement jobs where they study the criminal element. These positions might include police investigator or FBI agent (though these require some additional training). Criminal justice graduates may also work as forensic investigators, studying various elements of crimes to help agents detain perpetrators, though this may require certification and an advanced degree.
Administration of justice graduates can pursue similar careers, though this degree path is more staunchly rooted in traditional law enforcement work. With the proper additional training, they can become state patrol officers, postal inspectors, border patrol agents, or other types of law enforcement officers.
Administration of Justice Degrees vs. Criminal Justice Degrees: Which Is Right for You?
Each of these degree programs can lead to challenging and potentially rewarding careers in law enforcement. For example, administration of justice degrees help prepare students for roles that involve direct engagement with the criminal justice system, such as police officer and customs agent. However, if you're interested in stepping into a similar law enforcement role or taking your career in a different direction by delving into the study of criminology, criminal justice degrees offer opportunities to gain an understanding of the criminal justice system in the U.S. as well as the social theories pertaining to the causes of crime. Learn more about how Maryville University's online Bachelor of Arts in Criminal Justice can prepare you for any law enforcement path you want to take.
Recommended Reading
How Criminal Justice Professionals Will Fight Future Crimes
How Future Police Officers Will Adapt to Trends in Law Enforcement
Sources
Encyclopaedia Britannica, Criminology
Maryville University, Online Bachelor's in Criminal Justice
PayScale, Bachelor of Arts (BA), Administration of Justice Degree
PayScale, Bachelor of Science (BS/BSc), Criminal Justice Degree
Transportation Security Administration, Federal Air Marshal Service and Law Enforcement
U.S. Bureau of Labor Statistics, Corrections Officers
U.S. Bureau of Labor Statistics, Police and Detectives
U.S. Customs and Border Protection, Careers
Be Brave
Bring us your ambition and we'll guide you along a personalized path to a quality education that's designed to change your life.