How You Can Advance Your Career with a Business Administration Degree
How You Can Advance Your Career with a Business Administration Degree
How You Can Advance Your Career with a Business Administration Degree
Strong business administration skills, combined with relevant industry experience, can help individuals advance into key managerial and strategic growth roles in an organization. The breadth of skills and knowledge students develop while pursuing a degree in business administration and gaining real-world experience can help set them up for careers in a wide range of fields.
From finance and sales positions to roles in market research, training and development, and executive leadership, potential business administration opportunities for career advancement are varied. Regardless of the path graduates ultimately take, a bachelor's degree in business administration is an excellent launching point.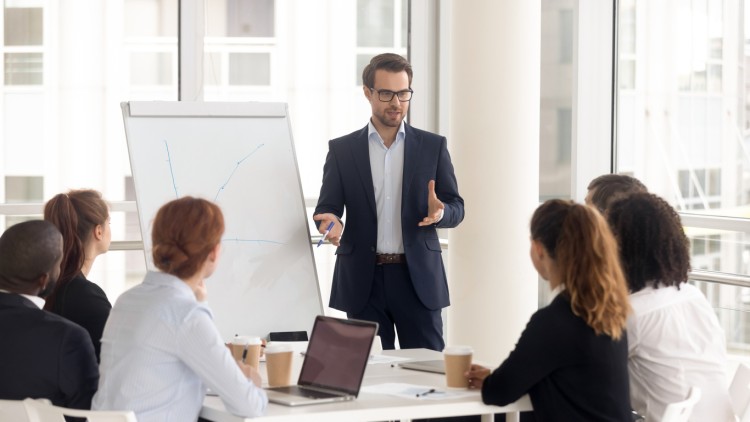 What Can You Do with a Business Administration Degree?
A business administration degree provides students with the fundamentals of business, including accounting, economics, business law, marketing, and finance. It also equips them with the key skills and competencies required to pursue operational, management, or leadership careers in the public, private, nonprofit, and government sectors.
Students can choose to pair this multifaceted degree with specific minors, which can lead to a more tailored career path. A minor in financial services, for example, could benefit a graduate interested in becoming a financial analyst.
Some of the roles that business administration graduates could consider are:
Training and Development Specialist
Nearly every company in every industry requires its employees to participate in on-the-job training, ongoing education, or professional development. Training and development specialists are responsible for creating and delivering such programs.
As companies move toward more virtual settings and environments, much of the work of a training and development specialist is moving online too; rather than developing one-day classroom training to onboard a group of employees, many of today's training and development specialists work to develop programs and courses that employees can complete on their phones or computers.
Their chosen industry is one of many factors that can impact the salary of a training and development specialist. The BLS reports that in May 2020, this type of worker earned a median salary of $62,700 per year. It projects the demand for these specialists to grow 9% from 2019 to 2029.
Market Research Analyst
Market research analysts play a key role in helping companies bring a product or service to market. They study all aspects of the prospective market to determine the potential success, sales, price, and target audience for a specific product.
According to the U.S. Bureau of Labor Statistics (BLS), market research analysts earned a median annual salary of $65,810 in May 2020, though salaries depend on a variety of factors, including work experience, education level, and geographic region. The BLS projects the demand for market research analysts to grow 18% from 2019 to 2029 as more companies in all industries embrace data and market research to help drive sales.
Financial Analyst
Financial analysts are responsible for helping shape investment decisions for both businesses and individuals. They research investment performance; assess their clients' current financial situations, value, and portfolios; study trends that may impact their clients; and gain a deep understanding of their clients' positions in the market to provide recommendations. In short, they work with their clients to help them determine the most profitable opportunities for investment.
A financial analyst's level of experience and education, geographic location, and industry can impact their earning potential. According to the BLS, financial analysts earned a median annual wage of $83,660 in May 2020, with the demand for the role projected to increase 5% from 2019 to 2029.
Sales Manager
Students who would like to combine excellent communication and customer service skills with an analytical and rigorous approach to sales may want to consider exploring a career as a sales manager.
Individuals in this role typically have previous experience in sales in addition to a bachelor's degree. Sales managers are responsible for leading and directing a sales team, managing the day-to-day operations of the sales department, creating sales projections, and finding ways to gain new customers.
The demand for sales managers is closely connected to the growth or contraction of the industry in which they work; as such, the BLS projects their employment to grow 4% between 2019 and 2029. Though the salary of a sales manager depends on their industry and level of experience and education, as well as their geographic location, the median annual salary for these professionals was $132,290 in May 2020, according to the BLS.
Opportunities for Advancement in Business Administration Roles
Advancing your career with a business administration education typically starts with developing the required foundational skills through a related degree program. From there, gaining on-the-job experience in your chosen industry can help you prepare for more senior-level positions and further career advancement.
Step 1: Earn a Bachelor's Degree in Business Administration
A bachelor's degree in business administration is a great first step for individuals looking to pursue a career path in a variety of fields. These degrees equip students with the knowledge and skills they'll need for success. For example, Maryville's online Bachelor of Science in Business Administration offers core courses in key areas such as financial accounting, economics, business law, and statistics.
Step 2: Gain On-the-Job Experience
Once you've earned a degree in business administration, you can start accumulating career experience. Gaining experience in a role requiring a bachelor's degree in business administration or a related area of study can help you further strengthen the core competencies needed for career advancement, such as analytical, critical thinking, and interpersonal skills.
Step 3: Prepare for an Advanced Degree
If you are looking to reach the executive level or C-suite or are interested in specializing in your field at an advanced level, you may also consider a master's degree, such as an MBA. The combination of your bachelor's degree in business administration and resulting work experience can help position you for success as you apply for graduate programs. Earning a master's degree in business or a specialized field can expand opportunities for business administration advancement and potentially lead to executive leadership positions in an organization.
Benefits of Business Administration Career Advancement
As you advance your business career, a number of advantages may open up to you, including higher pay, greater respect in your chosen industry, and more influence on the direction and growth of an organization. For motivated individuals who are interested in striking out on their own, a business administration degree can help provide the foundational knowledge and skills needed to advance their careers via entrepreneurship.
Pursue an Exciting Career Path with a Business Administration Degree
Maintain a wide field of vision and keep yourself open to opportunities for career advancement with a business administration bachelor's degree. The breadth and versatility of such a degree can help set graduates on a path to career satisfaction, success, and ongoing growth.
With Maryville University's online Bachelor of Science in Business Administration, you can start down that path on your own terms with 100% online coursework. Get started today.
Recommended Reading
Comparing Business Management and Business Administration Degrees
Careers with a Business Administration Degree
Exploring Entrepreneurship: Starting and Operating a Small Business
Sources
G2, 'What Is Business Administration? (+What to Do with Your Degree)'
Houston Chronicle, 'Advantages of Studying Business Management'
U.S. Bureau of Labor Statistics, Financial Analysts
U.S. Bureau of Labor Statistics, Market Research Analysts
U.S. Bureau of Labor Statistics, Sales Managers
U.S. Bureau of Labor Statistics, Training and Development Specialists
Be Brave
Bring us your ambition and we'll guide you along a personalized path to a quality education that's designed to change your life.