Why Do You Want to Work in a Nursing Home?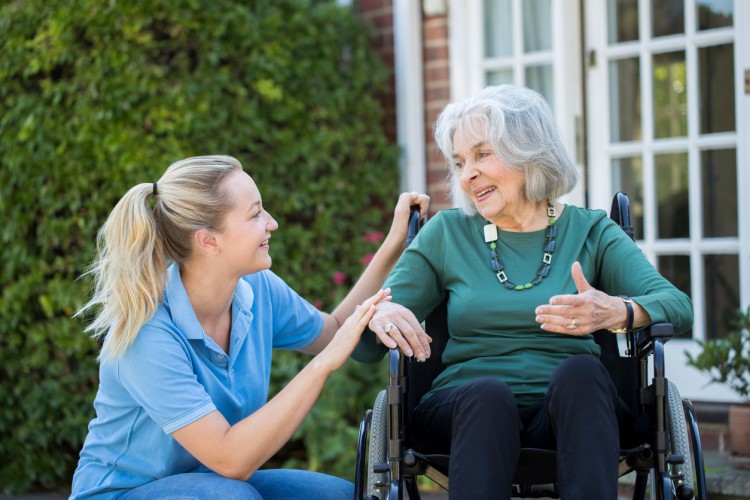 As the United States population continues to age, the need for quality elder care will grow. One common living option for those who require a high level of care is a nursing home. Nursing homes are complex healthcare facilities with different departments dedicated to maintaining the physical, psychological, and emotional health of their residents. The Centers for Disease Control and Prevention (CDC) reported in 2016 that there were 15,600 nursing homes in the U.S., with about 1.7 million total beds.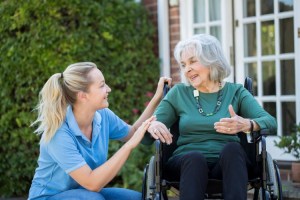 To support all of their patients, nursing homes employ a diverse group of professionals. These employees may specialize in business, healthcare, or other disciplines. Working in a nursing home is a unique experience. In these environments, professionals with different skill sets collaborate with one another to improve the lives of senior community members. Continue reading to explore why nursing homes are rewarding work environments and the professional opportunities they offer.
What Are Nursing Homes Like?
No matter what hour of the day or night, there are nursing home employees awake and tending to the needs of residents. There's often a great deal of activity, such as nurses making their rounds, maintenance staff preparing the facility for the next day's activities, or finance professionals balancing the budgets. At their busiest hours, the halls and wings of nursing homes are full of movement, with residents heading out to activities, visitors stopping in, and staff members performing their daily tasks.
Jobs in nursing homes often fall into one of three categories: administration, direct care, and support.
Administration
Administrative professionals keep nursing homes running efficiently. They're responsible for managing other employees, working with patients' health insurance companies, and paying facility bills. Administrative positions in nursing homes include business roles such as marketing director, finance director, human resources specialist, accounts payable, and receptionist. These positions do not directly interact with residents, and some nursing homes house administrative staff in separate buildings.
Direct Care Staff
The direct care staff consists of those directly responsible for patient care. Registered nurses (RNs) represent the largest percentage of the direct care staff, as nursing homes have skilled nurses on the clock at all times working under the direction of one or more physicians. These RNs might also have nursing assistants or medical technicians assisting them. The direct care staff at nursing homes also includes therapeutic and recreational personnel, such as physical therapists, recreational therapists, activities directors, and other professionals who keep patients active and their quality of life high.
Support Staff
Support staff can include janitorial, maintenance, landscaping, and transportation personnel. These employees typically have minimal contact with facility residents but may receive specialized training on how to perform jobs in the context of a healthcare facility, as they will be among people with vulnerable medical conditions.
What Are the Benefits of Working in a Nursing Home?
Each day and night, thousands of administrators, direct care staff, and support staff wake up and head to their jobs at nursing homes. When asked, "why did you want to work in a nursing home?" many would respond that they find their careers fulfilling for a host of different reasons. From helping those in need to learning from the wisdom of seniors in their care, working in a nursing home has many benefits to offer.
Helping People in Need
Working in a nursing home means providing healthcare for people who need it. Nursing homes provide seniors with a safe, clean, healthy environment where they can receive the care they need, access proper nutrition, and experience the social benefits of being around their peers. Nursing home employees have the satisfaction of providing such care and attention, knowing they're making a difference in the lives of their residents.
Learning About Life
Working around people in the later stages of life can teach nursing home employees valuable lessons about the aging process, the mindset of the elderly, and what it means to age. The senior members of any community have a wealth of knowledge and wisdom to share. While some fear aging, the elderly can illustrate that it's a natural part of life and that one's later years can be enjoyable.
Teamwork Environment
Nursing homes rely on an interdisciplinary staff to ensure operations run smoothly and provide high-quality care. As such, all nursing home employees learn what it means to work as part of a team. Each staff member at a nursing home fulfills a specific, valuable role. In most of these positions, employees work with professionals in other areas as well as with members of their own departments, thereby providing them with the opportunity to develop their communication and collaboration skills.
A Professional Future in Caring for the Elderly
There are a lot of great reasons to work in a nursing home. It means stepping into a fulfilling career in which you can provide essential care to the most senior members of your community. The U.S. Bureau of Labor Statistics (BLS) projects the healthcare field to grow by 3.3 million jobs between 2018 and 2028, making work in a nursing home environment not just rewarding but also increasingly in demand. Find out more about how Maryville University's online bachelor's in healthcare management with a certificate in senior living management can help you land a great job in this important field.
Recommended Reading
A Caregiver's Guide to Understanding, Recognizing, and Preventing Elder Abuse
The Future of Healthcare: Trends, Technology & New Skills for Success
Sources
AARP, "What You Need to Know About Nursing Homes"
Assisted Living Today, "The Role of Nurses in a Nursing Home"
Center for Public Integrity, "Running a Five-Star Nursing Home"
Centers for Disease Control and Prevention, Nursing Home Care Statistics
Maryville University, Bachelor of Science in Healthcare Management
The Odyssey, "Why I Love Working in Nursing Homes"
Skilled Nursing Facilities, Nursing Home Staff
Thrive Global, "What I Learned from Working in a Nursing Home"
U.S. Bureau of Labor Statistics, Employment by Major Industry Sector