Listen Up: 9 Podcasts to Add to Your Playlist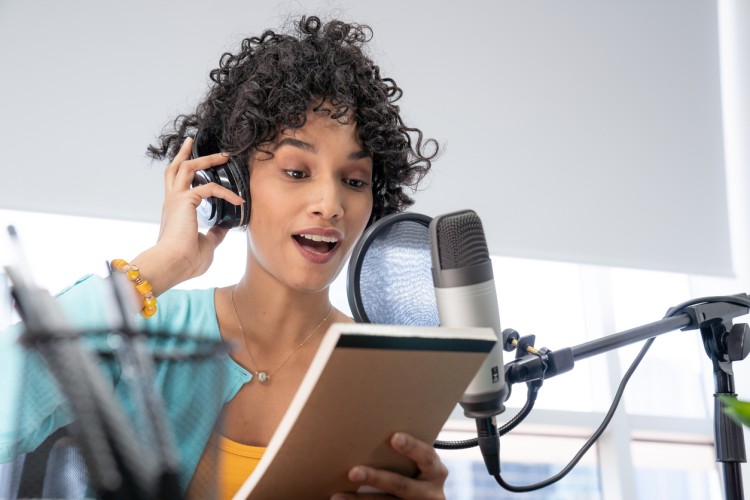 In the mid-2000s, almost no one knew what a podcast was. Fast-forward to today, when some estimates say more than 1 million podcasts are in production around the globe. To put that number into greater perspective, more than 30 million podcast episodes were available for download in April 2020. Podcasts cover everything from breaking news to advice on how to get financially fit. They also offer lighter content, such as cooking tutorials, standup comedy sets, and kid-friendly discussions on fairy tales, science, and adventure.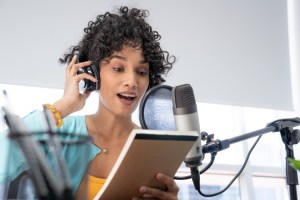 Whether they're casual subscribers or die-hard followers, listeners can agree on at least one thing: Podcasts have fundamentally changed how we consume information.
History of Podcasts
The podcast journey started in 2000, when MTV VJ Adam Curry and software developer/RSS evangelist Dave Winer discussed how to distribute automated media. Broadband internet was not yet widely available, and they had concerns about the practicality of posting large video downloads. The two men also mused about developing software that could automatically deliver content to subscribers.
Four years later, Curry and Winer teamed up to code iPodder, a program that allowed users to "push" online radio broadcasts to their iTunes accounts. Users could then download these broadcasts to their iPods. iPodder was an immediate hit.
In October 2004, Google reported more than 2,750 individual searches for "podcast," and in 2005, the New Oxford American Dictionary named "podcast" its Word of the Year.
Podcasts You Should Be Subscribing To
Each year on September 30, podcasters and listeners around the globe celebrate International Podcast Day. In its honor, we've highlighted some notable podcasts to take advantage of. You can subscribe to new episodes wherever you get your podcasts.
Podcasts That Make Adulting Easier
Everyone can use a life hack. If you're not already subscribing to the following streams, you may want to add them to your list.
The Inforium (formerly The College Info Geek Podcast): Hosted by Thomas Frank and Martin Boheme, The Inforium covers a variety of topics, such as how to learn more in less time, how to pay off student debt faster, and how to build a brand that can make you more attractive to future employers.
The Upgrade: The Upgrade is a weekly Lifehacker podcast that tackles topics such as how to make your pet happy, how to be better with money, and how to teach your kids to be people. Host Alice Bradley also covers heavier issues, such as protesting and the COVID-19 pandemic.
Let's Talk Money: This podcast, run by Yahoo Money sister sites Cashay and BUILT BY GIRLS, teaches financial fitness. Each week, it pairs a young woman with a financial therapist or financial planner to talk about her financial challenges, goals, and concerns. For example, in late-July, Let's Talk Money featured Maryville University faculty member and licensed financial therapist Erika Rasure.
Podcasts to Open Your Mind
Are you passionate about social justice and change? If so, these podcasts may be right for you.
Stepping into Truth: Conversations on Race, Gender, and Social Justice: Hosted by Omkari Williams, Stepping into Truth strives to help listeners navigate through some of the most pressing social justice issues of our time. Recent episodes have featured topics such as public health and systemic racism, dismantling white supremacy, and advocating for murdered and missing indigenous women.
Pod Save the People: Hosted by social justice advocate DeRay McKesson, Pod Save the People explores issues related to culture, politics, and social justice. Past episodes have featured interviews with special guests such as House Speaker Nancy Pelosi, singer-songwriter John Legend, and others who offer commentary on overlooked topics and stories that often impact people of color.
Podcasts That Help You Reach the Next Level
Podcasts about personal development have been a mainstay for years. The two examples below are among the most popular.
Her Story of Success: Her Story of Success, hosted by Leah Glover Hayes, features interviews with a variety of influential women business leaders, entrepreneurs, and trailblazers who share their stories and talk about the lessons they've learned about career success, family, and personal fulfillment. Recent guests have included CEOs, financial planners, and motivational speakers.
The School of Greatness: Hosted by New York Times bestselling author and former athlete Lewis Howes, this series is among the top-ranked business and self-development podcasts available on iTunes. Launched in 2013, The School of Greatness aims to help people get ahead in their lives and careers.
Podcasts to Help You Get Globally and Physically Fit
Are you a travel nut or fitness junkie? If so, you will be happy to learn that tons of podcasts cover both topics. Find two of our favorite streams below.
Trained: Trained is a fitness and lifestyle podcast hosted by Ryan J. Flaherty, Nike's senior director of performance. Recent episodes have covered topics such as how to eat better, run farther, and train harder.
JUMP: Formerly branded as The Budget Minded Traveler, JUMP is hosted by self-described travel junkie Jackie Nourse. This travel, adventure, and lifestyle podcast offers tips on how to attain travel goals without breaking the bank.
Expand Your Mind Through Social Media
Podcasts aren't the only source of valuable, on-demand information. Social media platforms, such as LinkedIn, Instagram and YouTube, also offer educational content that will expand your horizons. Social streams can be especially valuable for college students looking to take advantage of down time by listening to tips on college lifestyle hacks or getting up to speed with current events. Below are just a few social media channels worth following:
Maryville Online IGTV: If you haven't checked out Maryville Online's IGTV Study Break Sessions, you're missing out. Recent videos include "How to Use Your Phone to Take Better Photos" and "How to Keep Up with Nutrition and Exercise."
SciShow: Numerous learning opportunities are available on YouTube, and SciShow is among the most popular. This channel has more than 6 million followers and delves into scientific mysteries. Other educational YouTube channels with large followings include TED-Ed and Big Think.
So Yummy: If you're a fan of baking and cooking shows, this IGTV channel is for you. So Yummy provides cooking tips on everything from basic food prep to how to make immaculate desserts. This channel has developed such a huge social media following that it's branching into TV.
Celebrate Podcasts on International Podcast Day
Podcasts offer seemingly endless learning opportunities, with streams for every topic. For more information about the history of podcasts, the state of the industry, and what lies ahead, students and aspiring podcasters can participate in this year's International Podcast Day (IPD). Starting on September 29, the IPD organization will stream for 24 hours to educate listeners who want to learn more about the industry. Participants can also join discussions on social media by following and using #InternationalPodcastDay.
Happy listening!
Recommended Readings
Celebrating Women's Equality Day: 4 Women Pioneers in Gender Equality
Self-Improvement Books to Help You Achieve Personal Growth
5 Tips for Organizing and Managing Your Busy Household 
Sources
Medium, "Everything You Need to Know About the History of Podcasts"
One Fine Play, "A Brief History of Podcasting"
Vulture, "How Podcasts Learned to Speak: The Once Useless-Seeming Medium That Became Essential"
Yahoo Sports, "Financial Therapy on the Rise as Pandemic Wrecks Finances and Nerves"