How to Communicate Effectively in the Hybrid Workplace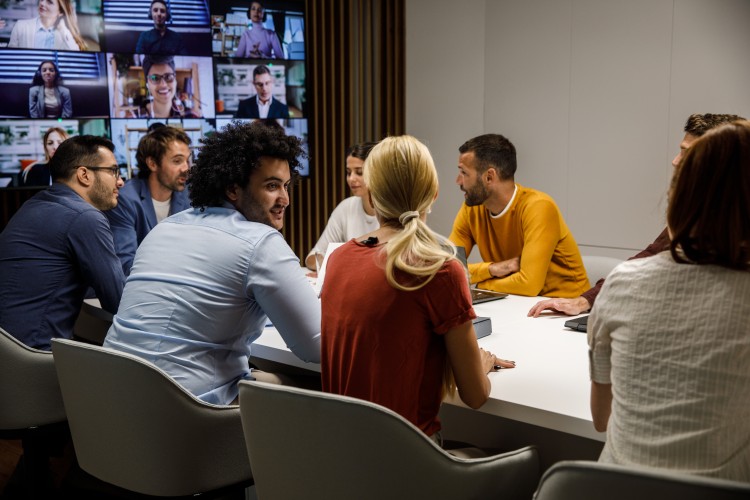 The COVID-19 outbreak jump-started the transition to remote work and hybrid workplaces in the U.S. According to a February 2022 Pew Research poll, as many as 57% of workers say they rarely or never worked from home prior to the COVID pandemic. According to the U.S. Census Bureau, the percentage of people working from home the majority of the time tripled from 5.7% to 17.9% between 2019 and 2021, rising from 9 million to 27.6 million people.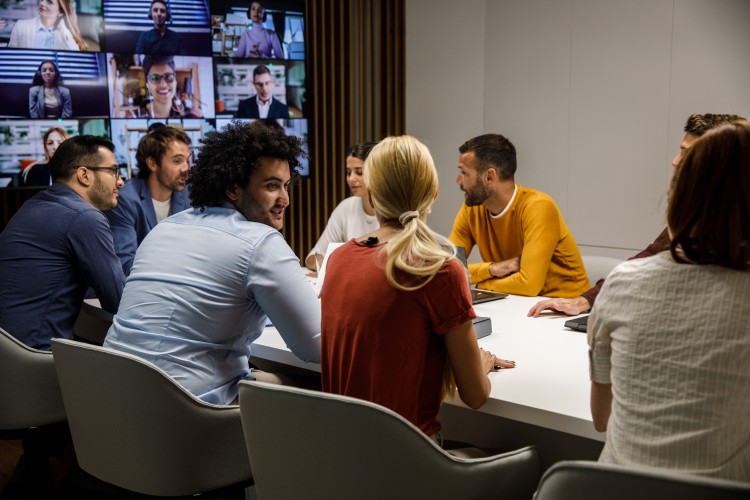 Organizations that previously relied on traditional communication methods must adapt to support both virtual and on-site collaboration. Innovative companies are using communication strategies that are more effective in remote and blended work environments. Now more than ever, business leaders need to understand the importance of strategic communication and hire graduates with expertise in hybrid workplace communication.
How Do Employers Communicate Effectively in the Hybrid Workplace?
With so many companies switching to hybrid work models, organizations are becoming more strategic about their communication tactics. Experts say that merely calling for "more communication" falls short in organizations that struggle to understand the underlying challenges and opportunities inherent in hybrid workplaces.
"I'm sure many people have also had the misfortune of feeling pressured or forced into seemingly communicative activities that felt counterproductive, stressful, or like a waste of time," says Dr. Dustin York, associate professor of communication at Maryville University, in an article for Fast Company. "You have organizations trying out practices that employees don't want or even passionately hate," he says, citing Zoom happy hours as an example of forced communication.
Dr. York advises that leaders in hybrid workplaces create transparency, conduct meetings efficiently, and ensure that mandatory communication channels meet employees' needs for access and engagement, such as through surveys or live chats.
Asynchronous Communications
Thirty-two percent of employees ended up thinking, "this meeting could have been an email" all or most of the time, according to a 2021 Survey Monkey poll of remote and hybrid workers — a staggering metric of wasted time at work. The fix? Normalizing asynchronous communications (communications in which responses are not immediate), including email, texts, chat messages, and other digital communication, empowers leaders and workers to talk on their own schedules.
More asynchronous communication in the workplace means a lot more writing. "Quick verbal communication — more of that is going to go written, whether that be an instant message, like a Slack or Teams message, or email," says Dr. York. He and other experts suggest pausing to consider how messages in text can be quick and easy to send, but also easy to misinterpret.
"Now you're going to be writing a lot more: think about tone. Think about grammar. Think about how you communicate written formats," Dr. York says.
In promoting clear and effective asynchronous communication, experts are also calling for companies to use technology wisely to maintain optimal communication across teams. Dr. York notes that incorporating audio and video into digital communications can keep such communication relevant, engaging, and useful. "Asynchronous multimedia communication — that's the key," he says.
Synchronous Communications
Synchronous communications — real-time messaging and meetings — can be easily adapted and improved in hybrid workplaces. Leaders should consider the following tips to make meetings more efficient and effective for employees and leave them feeling like their time is valued:
Create and share agendas. Guidelines that outline the topics to be discussed keep meetings on track. Well-crafted agendas can also be easily converted into meeting minutes — establishing a record of items discussed, team members' assigned tasks, and issues to be followed up on.
Schedule regular meetings. Establishing a regular meeting time can help teams stay accountable and keep workers in contact with managers who can support them in times of need. Individuals and teams will have different regular meeting needs (for example, some teams may meet once a week while others may benefit from a daily check-in), so flexibility and attention to context are crucial.
Choose synchronous communication channels for brainstorming and handling sensitive topics. Face-to-face communication, whether in person or via video call, is especially useful in contexts that require sharing ideas among team members. Creative brainstorming meetings, and emotionally challenging topics such as sensitive discussions about performance, are best handled in a format where tone and body language can be seen and heard. In this way, synchronous communication channels can help prevent miscommunication and ensure everyone is on the same page.
Digital Transformation
As technologies change, leaders must support their organizations in navigating digital transformations. Dr. York argues that a "digital transformation of humans" will come from creating opportunities for workers to engage authentically in the hybrid workplace. "We have to build a community that wants to engage online," he says.
To do that, Dr. York advises investing in creating and training employees to use workplace digital communications platforms, such as workplace intranet systems, where employees can own and share digital assets. Predicting exactly which digital trends will last is difficult — from Twitch stream-inspired live chats to gamified company badges for achievements — the dynamic landscape of communication is ever-changing.
Dr. York's hope is that companies will adopt a realistic approach to digital transformation — embracing new technologies rather than fighting the tides of change. "The idea that we're going to use [an online] space like the physical space, the office space, the same amount as pre-COVID is just a fantasy world at this point," he says.
How Do Employees Communicate Effectively in the Hybrid Workplace?
There are many ways to learn how to communicate effectively in the workplace.
Employees looking to strengthen their communication at their hybrid workplaces should consider the differences between in-person work and remote work, the differences in approaching workplace relationships, and the importance of tone in digital communications. Effective communication demands a nuanced skill set. Maryville University's online Master of Arts in Strategic Communication and Leadership program provides students with the forward-thinking, outcomes-focused curriculum they'll need to succeed in the digital workplace.
Remote Work
A common fear of remote workers is that they will be overlooked when it's time for promotions. Unlike workers in fully in-person workplaces, where managers and their employees share an office, remote workers are likely to feel isolated from the people and projects that can help them to advance their careers.
Luckily, hybrid work models offer many opportunities for workers to show their managers and leadership teams what they're doing, how much progress they've made, and what successes they've achieved. For example:
Collected and stored emails and time-stamped chat messages can serve as records of project start and end dates, providing built-in data for tracking progress.
Digital technologies, such as integrated calendar systems and project management software, can provide insight into employees' daily, weekly, and monthly productivity — making it easier for workers to demonstrate their contributions to long-term projects.
Remote work spares employees an average of 70 minutes per day, according to an October 2022 study by WFH Research. Less commuting time and less time spent getting ready for work means that employees in hybrid workplaces save hours each week. With extra time, employees have more opportunities to rest, reflect on their work, and think strategically about their long-term career goals compared to those working solely in an office.
Workplace Relationships
Maintaining workplace relationships is essential for employee satisfaction. Employees with positive work relationships who report feeling happy are more likely to stay at a company long-term. Dr. York believes that more can be done in the remote workspace to foster positive connections. "If we're living in this kind of digital world," he says, "we have to build a space for that to happen."
Hybrid employees have different ways to stay connected to their co-workers and to strengthen and build relationships at work:
Try out conversational apps. Conversation apps and software add-ons that prompt workers through daily or weekly conversation questions encourage employees to build rapport and engage in a low-stakes chat environment. For example, an app that prompts employees to share their favorite places to eat or their unusual skills can spark lively conversation and contribute to group cohesion.
Deploy breakout rooms. During virtual meetings, breakout rooms that split larger groups into smaller teams encourage people who are less likely to speak up in large groups to talk to their teammates.
Utilize in-office time. By scheduling regular in-person meetings (even just once a month or a few times per year) and celebrations, hybrid employees can reap the benefits of in-office work relationships while also gaining the benefits of remote work flexibility.
The Importance of Tone
Tone is incredibly important in workplace communication — especially in the writing-driven hybrid workplace.
For example, imagine a scenario in which a worker sends a text message to their manager communicating that they need to take a day off the following week. In a hurry and attempting to multitask, the manager responds, "okay." The content of the manager's response acknowledges that the worker wants to take time off. But the tone is difficult to discern: Does the manager disapprove of the worker's decision? Does the worker now have reason to worry about their job security? In-person, tone may be much easier to ascertain.
Dr. York is optimistic about leaders and workers rising to the challenge of crafting clear and efficient messages with a work-appropriate tone. Leaders who are interested in developing communication skills related to tone may consider the following suggestions:
Limit multitasking. Trying to communicate while also listening to someone else or participating in another project creates opportunities for misunderstanding. Instead, managers should take the time to slow down and give their full attention to the message at hand.
State intent. Leaders need to make each communication as clear and direct as possible. Using sentence stems such as "My intent is … " or "My goal is … " can clue readers in to the writer's intended tone.
Express gratitude and appreciation. Leaders should communicate necessary information while also expressing positivity and gratitude for the contributions of others.
Communicate Effectively in the Hybrid Workplace
COVID-19 sparked the meteoric rise of the hybrid workplace, and there is no going back. In all likelihood, some form of remote and in-office work is here to stay, and thus the need for hybrid workplace communication practices.
Knowing how to communicate effectively in the workplace involves understanding how to foster clear communication in hybrid settings that benefits employers and workers alike. Explore how the Maryville University online communication degree offerings can help you develop these skills, and learn more about Maryville Associate Professor Dr. Dustin York's work on communication as well as his vision for digitally transforming higher education.
Sources:
Fast Company, "How to Answer the Age-Old Question: Could This Meeting Have Been an Email?"
Fast Company, "Leaders: This Is Exactly What 'More Communication' Should Look Like"
LumApps, "10 Ways to Improve Digital Communication in the Workplace"
Pew Research Center, "COVID-19 Pandemic Continues to Reshape Work in America"
SAP Insights, "What Is a Hybrid Workplace Model and How Does It Work?"
SHRM, "10 Tips for Successfully Managing Remote Workers"
Sprout Social, "Kickstart Your Internal Communications Strategy with These Best Practices"
SurveyMonkey, "SurveyMonkey & Zoom Poll: Virtual Meetings Are Here to Stay"
U.S. Census Bureau, "The Number of People Working from Home Primarily Tripled between 2019 and 2021"
The Wall Street Journal, "This Could Have Been an Email and Other Ways to Have Better Meetings"
WFH Research, Survey of Working Arrangements and Attitudes
Wrkfrce, "How to Build Trust with Your Employer as a Remote Worker"