The Future of Education in the Digital Age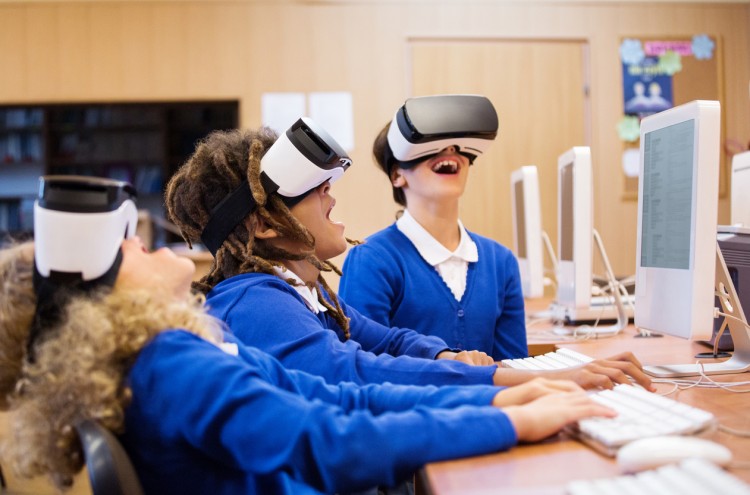 Technology has a long history of impacting how students learn, going back to the early 19th century with that potent visualization and organizational tool: the blackboard. Two hundred years later, education is undergoing rapid innovation, driven this time by digital technology supercharged by COVID-19.
Prior to the pandemic, virtual learning was already beginning to reshape how teachers teach and students learn. But stay-at-home orders for working parents and students caused K-12 and higher education to be immersed en masse in remote learning.
Teachers and other education professionals looking to understand how technology has changed education, and develop skills to deal with these changes, should consider Maryville University's online degree programs.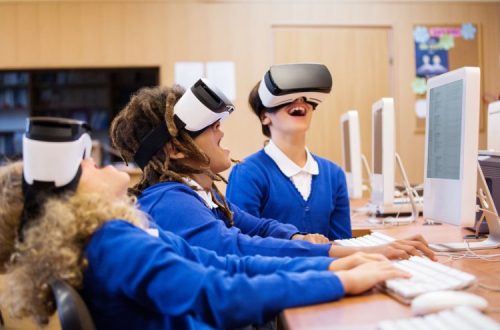 Technology Trends in Education
Technology is transforming learning and instruction for the better. Big data and artificial intelligence (AI) are helping educators improve their effectiveness and learning outcomes, while gamification (adding gamelike elements to a task) and immersive learning are making learning more experiential, fun, and engaging. For professionals looking to stay current, here are some technological trends worth noting that are impacting education now and are projected to do so in the future.
Big Data
Big data is just one of the ways in which technology has changed education. The term describes the large and continuously growing sets of data being collected by all types of organizations, including educational institutions. Big data in education can help universities and colleges transform their business models, students' academic outcomes, and professors' effectiveness. Additionally, insights derived from big data can help educational institutions improve their technology systems to better serve students and instructors.
In K-12 education, learning analytics can be used to better assess student performance, identify struggling students, and uncover potential opportunities for increased engagement. For example, faculty teams can analyze dropout rates, total enrollment for courses, and student success to improve instructional design.
Artificial Intelligence
The COVID-19 pandemic subjected teachers to unprecedented stress, causing many to retire or leave the profession. Those remaining often take on extra work. With teachers in such short supply, it's unrealistic to expect them to provide customized learning experiences for each of their students, from which the students would undoubtedly benefit. This is where artificial intelligence (AI) learning tools and apps can help. "AI learning apps are designed to meet each student where they are, both in terms of their skill level and learning style," according to LearnSafe, the education technology company.
Popular learning apps and tools include Gradescope (AI-assisted grading), Cognii (K-12 tutoring), and Knowjii (an audio-visual vocabulary app for language learners).
Gamification
As the term implies, gamification is the application of typical elements of game playing to activities such as learning to encourage engagement and help students master academic skills. Young children learn through play, so it's no surprise that gamification is most popular in K-12 education. Grade schoolers can win virtual points by completing tasks or compete with other students to top a leaderboard. Ample opportunities for gamification exist in higher ed as well. Gamification is used in higher ed to teach subjects such as economics and business. It's even applied in medical schools, where students can practice risk-free healthcare decision-making for virtual patients.
Immersive Learning
Virtual reality (VR) and augmented reality (AR) are immersive learning technologies that take students to places they couldn't otherwise go and provide novel experiences. VR — a computer-generated immersive experience that replaces a real-life environment with a simulated one — can make learning come alive for students. It can do so by enabling them to explore such unique destinations as the surface of Mars or the deep ocean floor, or experience life as a sea turtle from the classroom or lab.
A recent article from Inside Higher Ed describes a research program called Project SHELL (Simulating Living Habitat Experiences of Living Loggerheads). The project saw students don VR headsets to experience threats faced by Loggerhead sea turtles and develop empathy for the endangered reptiles.
The power of AR is that it gives students an enhanced view of a real image by overlaying information (think PokemonGo) to help explain complex concepts that plain images or even a hands-on experiment in a lab can't provide.
Benefits of Technology in Education
Remote learning and other digital technologies like videoconferencing were lifelines during the pandemic. Despite their often-cited shortcomings, these technologies enabled instruction to continue while school buildings were closed. The lessons learned are reshaping how students learn, teachers teach, and how the broader U.S. education system works.
Teachers who were forced to pivot to remote learning in Spring 2020 received a crash course in digital content creation and virtual instruction technologies. And while many students couldn't wait to return to in-class instruction when the pandemic eased, others proved adept at online learning and want more of it or would prefer 100% online schooling.
Key among the benefits of how technology has changed education is expanded access to the college experience as well as for K-12 students. Remote learning not only improves access for students who have jobs or serious medical conditions or who just prefer virtual classes, but it offers students access to courses their schools may not offer. A student in a low-income neighborhood whose high school doesn't offer advanced placement classes or foreign language instruction now can join classes at other schools remotely.
Enrollment in full-time virtual schools and blended learning schools is growing. Two in 10 school systems are either adopting virtual schools or considering the idea, according to a study by the Rand Corp. cited in The Washington Post. Indeed, when school district leaders were surveyed, the majority said that adopting virtual schools was the innovative practice that would likely outlast the pandemic.
Other benefits of tech in education include increased opportunity for customization to meet students' diverse needs, and new ways to assess student performance. Finally, with so many students falling behind during the pandemic, digital technology offers opportunities for remediation through online tutoring and specialized content to help kids catch up. But that can only happen if students have access to digital devices like laptop computers and broadband access at home. These needs and inequities, and other examples of the digital divide exposed during COVID-19, must be addressed for technology's promise to benefit all students.
Teaching with New Technology
This much is clear: Technology has changed education and will continue to do so. As new technology-based education trends such as immersive learning, gamification, and AI become more ingrained in education in the future, teachers need to be able to use technology to teach in the most effective way.
Learn more about these educational advancements, and how the Maryville University online degree programs can help prepare you for the tech-propelled future of education. Maryville has offered online degree programs for the past decade and has applied advanced technology platforms to its learning experiences.
Recommended Reading
Maryville Online EdD: The Impact of COVID-19 on Higher Education
Using Data and Analysis in Higher Education
Sources
eLearning Industry, "Top Educational Technology Trends In 2020-2021"
Inside Higher Ed, "Virtual Reality Boosts Students' Empathy for Nature"
Inside Higher Ed, "Why Most Ed Tech Fails"
LearnSafe, "5 Educational Technology Trends for 2020"
Politico, "COVID-19 Changed Education in America – Permanently"
Unite.AI, "10 Best AI Tools for Education"
The Washington Post, "How the Pandemic is Reshaping Education"