Big Data in Education
Big data is a term that is used to describe the large and continuously growing sets of data being collected by all types of organizations. Scientists and engineers use quantitative and qualitative approaches to extract, analyze, and structure this data to gain insights that enable leaders to make better decisions. Those insights allow organizations to predict tendencies, learn people's behavior, and develop new solutions that deliver improvements.
Big data in education can help universities and colleges transform their business models, students' academic outcomes, and professors' effectiveness. Additionally, insights derived from big data can help educational institutions improve their technology systems.
Professionals with a knowledge of data science and analytics are key participants in transforming the education field. Individuals interested in helping universities and colleges understand the value of data and analytics may benefit from an online bachelor's in computer science degree.
What Is Big Data in Education?
Universities rely on different technology systems to run various aspects of their organization. This can result in siloed systems that do not communicate with each other. Big data provides academic institutions with opportunities to integrate critical systems, applications, and platforms. This in turn allows them to create efficiencies and reduce costs.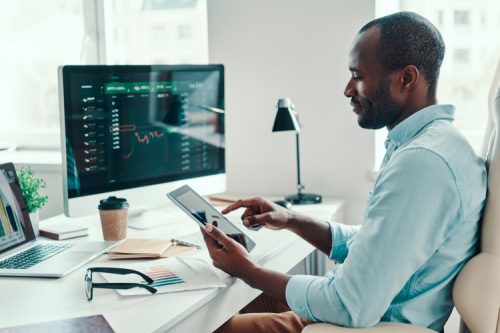 Big data is transforming how schools analyze information and make decisions in areas such as academic performance, faculty effectiveness, organizational outreach, and technology efficiency.
Academic Performance
Professors use data to assess student performance. The data may reveal potential opportunities for increased engagement. For example, faculty teams can analyze attrition rates, total enrollment for courses, and student success to improve instructional design.
Faculty Effectiveness
Faculty can use the insights gleaned from big data analysis to create better learning environments and to more effectively evaluate their lessons and courses. For example, analytics tools can provide data about students' wrong answers on tests and the time they took to complete a task. This provides vital information that allows faculty to adjust their instruction as needed. Through a feedback loop, detailed input from students can help ensure optimal output for students in future semesters.
Organizational Outreach
Amazon, Netflix, and others have leveraged big data to track their customers' activity in an effort to sell more products or services. Similarly, a college using recruitment tools such as customer relationship management (CRM) software can track the activity of prospective students across the web, through social media, and on mobile devices. If a prospect visits a college's advertisement or webpage, the CRM tool can use "cookies" (data about the user stored by a web browser) to retarget ads to that prospect on other websites. This can help increase enrollment and generate revenue through tuition dollars.
Technology Efficiency
Big data in education can also play a central role in improving the campus's financial and business operations systems. The result can include enhanced efficiency and productivity. For example, analysis of campus network logs can reduce response times for service desk requests.
How Big Data Is Transforming Education
Big data is transforming how administrators, professors, and students interact. It influences how schools attract and view prospective students and how professors serve current students. Additionally, new technologies and innovations are creating new opportunities for the future use of big data in education.
Planning for the Future
As data collection and analytics methods advance, administrators will have more information to make projections for future enrollment and decisions about admitting prospective students. This can help an educational institution drive growth and plan the use of its resources, not just organization-wide but for specific programs and degrees.
Empowering Professors
Developing digital literacy in faculty is a critical strategy for any big data in education initiative. Big data allows professors to create customized curricula through online resources, textbooks, e-books, and school software programs. Additionally, automation will enable faculty to create assignments and tests via tools such as learning management systems (LMS). This provides professors with more time to focus on instruction in the classroom.
Creating New Opportunities
Current and future digital trends include artificial intelligence, the ability to connect to the internet of things (IoT) devices, and the incorporation of virtual, augmented, and mixed realities in curricula. These innovations and technologies can facilitate personalized learning and interventions to improve student outcomes, enhance student experiences, and drive student engagement. They will also further fuel the growth of big data.
Undergirding the future of big data will be technology such as 5G cellular networks and blockchain. These technologies will provide academic institutions with the foundation to handle increased traffic demands, enhance mobile data capabilities, and keep student records secure.
The Benefits of Big Data in Education
Through big data analysis, professors can identify areas where students struggle or thrive, understand the individual needs of students, and develop strategies for personalized learning. It also allows students to choose their education paths. For example, big data analysis may show that traditional, in-person learning methods lead to problems in the performance of a student. The data may also reveal that the student does quite well via online learning. In this scenario, a professor or advisor can work with the student in choosing a program or course that's a better fit for their unique learning style.
An added benefit of a more personalized approach to education is that students feel empowered to align their academic experiences with their interests. This not only maximizes their academic progress but also creates opportunities for future career success.
Big data analytics is also helping administrators study student dropout rates. By identifying the root causes of students leaving college, administrators can build programs and strategies to improve student retention.
Prepare for the Future of Big Data in Education
Big data and analytics have been powering the consumer giants in the global marketplace. That's why it's no surprise institutions of higher learning expect positive outcomes from big data in education.
Individuals who want to contribute to the transformation of the education field can benefit from a degree in computer science. Maryville University's online Bachelor of Science in Computer Science program prepares graduates with a deep understanding of computer programming, artificial intelligence, blockchain technology, and data analysis, as well as problem-solving and critical thinking skills.
Explore how Maryville University's online Bachelor of Science in Computer Science degree can help you pursue a big data career in the education field.
Recommended Reading
Software Engineering Degree vs. Computer Science Degree
Careers with a BS in Computer Science
Check Out Our New Online Degree Programs Coming This Fall
Sources
APM Reports, "Under a Watchful Eye"
Colocation America, "Big Data in Education: Help or Harm?"
Data Flair, "How Big Data Is Transforming the Education Sector"
EdTech, "What Can Real-Time Data Analytics Do for Higher Education?"
ELeap, LMS Software and Big Data
Forbes, "The Top 5 Tech Trends That Will Disrupt Education In 2020 — The EdTech Innovations Everyone Should Watch"
Inoxoft, "Impact of Big Data on Education: History, Benefits and Examples"
InsideBigData, "Big Data & Higher Education: How Are They Connected?"
Inside Higher Ed, "The Babel Problem with Big Data in Higher Ed"
IntechOpen, "Improving Online Education Using Big Data Technologies"
Learning A-Z, "Data in Education"
McKinsey & Company, "How Higher-Education Institutions Can Transform Themselves Using Advanced Analytics"
SmartDataCollective, "How Big Data and Education Can Work Together to Help Students Thrive"