He pursued equity in education. Maryville helped him bridge the gap.
Zachariah Seiden
Doctor of Education – Higher Education Leadership
For many, finding the courage to chase a dream is often stalled due to timing. But Zachariah Seiden, a former engineer and now educator, realized a long time ago that there would never be a perfect moment to start a doctoral program.

There's never a right time. That's the big secret.
This attitude led Zachariah to try new things in his life, which had worked well for him. By 2021, he'd started two companies (Education Excellence Initiative and Education Encompassed), had earned a couple of master's degrees, and was a part-time bodybuilder training for the Arnold Classic.
Now, with clients depending on his insight, Zachariah knew he needed to enhance his expertise in higher education to better support his organizations and the credentials to be taken seriously in his industry.
"I needed to understand higher ed more, and part of the reason why my organizations exist is that there are gaps in the education system that need to be fixed," he says.
These drivers led Zachariah to apply for Maryville's Online Doctor of Education in Higher Education Leadership degree.
From careful first steps to all-in trust in Maryville University
When searching for a suitable doctoral degree, Zachariah knew he needed a flexible program that could fit his busy schedule of entrepreneurship, training, and fatherhood. He found Maryville University through a social media advertisement, and the online program fit his budget.
But life kept getting in the way. Between working at various different companies, raising his children, and navigating a pandemic, Zachariah describes his life during that time as "chaos."
It was also his second attempt at a doctorate, so he was extra cautious in the process. But Zachariah delayed his application; he'd completed everything except his personal statement and essay. That's when Maryville reached out to him.
"Every time I disappeared, the admissions advisor for Maryville would reach out and say, 'Hey, I haven't heard from you in six weeks. Are you OK? Finish your application.'"
Zachariah enjoyed how the Maryville staff checked in on him, which, according to his prior experiences, was more personal and authentic. He was also further encouraged by the online flexibility of the program since he already earned a couple of online degrees.
"I knew that I could succeed and that it would be an opportunity," he says.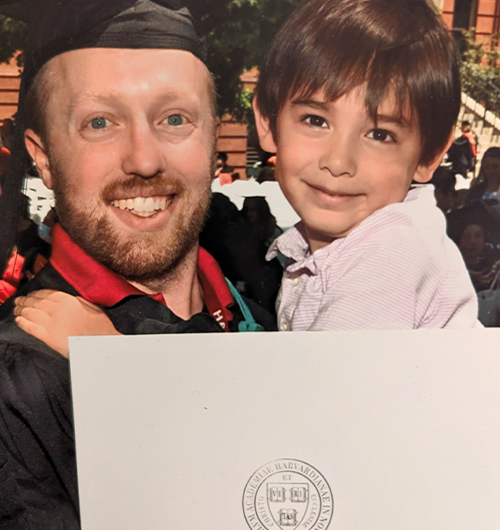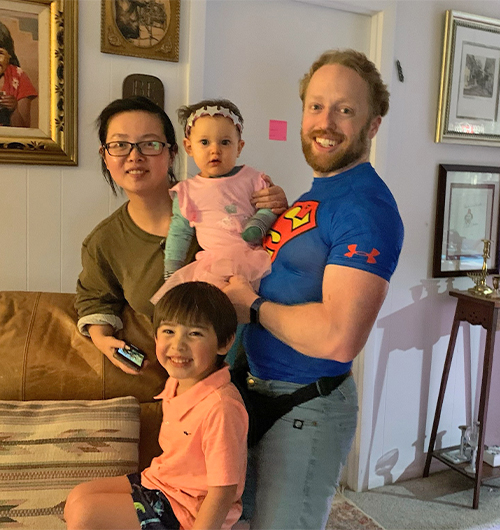 Not his first doctoral experience — but his best
For Zachariah, the biggest obstacle to overcome was the bad experience in his doctoral program before Maryville's. It left him with a pattern of thinking that relied on self-preservation.
"Anytime I started a degree program, I used to go in ready to quit," he says. "I'd sign up and consider the worst-case scenario. I knew I could just quit and end up happy again."
After hearing Dr. Grebing, a faculty member in the Higher Education Leadership program, speak more about the program, he was able to move past his fears and embrace the process.

I've got a work environment, a price point I can afford, a timeline that's not going to go decades, and I'm able to explore the research topics I want.
Previously, Zachariah had studied a formal engineering Ph.D. program, and the format did not work for him. With Maryville Online, he began to see why.
"There's still a lot of attachment to the classic graduate school doctorate college model. And I think that if 2020 taught us anything, it's that the old ways aren't always the best ways."
He also found that every class he's taken has impacted his organizations, which are both focused on supporting marginalized students with educational access to building equity.
"Diversity, equality, and equity helped our organization with recognizing that we do need to treat all students the same and to a certain extent, we have to account for the differences… then there were other classes focused on organizational structures that I was able to use to understand how I'm running the organization, and how best to improve it, and recognize the values of others, and where I need to be more strategic."
Zachariah leveraged the insights of his professors, as well. He respected the pace of leadership that Dr. Grebing had set; from day one, she was clear that all of the doctoral candidates needed to meet a standard. Zachariah also appreciated the support and guidance he received from other professors as he navigated the research process and other challenges throughout the program.
There were also times of connection, such as the on-campus weekend in St. Louis, Missouri, which allowed him to meet with his cohort and professors and to hear course lectures in person.
"One of my favorite parts was the on-campus weekend," he says. "Maryville University campus is just amazing!"
He also experienced unexpected growth moments. During that weekend, Zachariah heard a lecture from a professor who described her experience as a person of color — which helped to change much of his perspective on himself and how he ran his businesses.
Overcoming Obstacles and Pursuing a Bright Future
Zachariah credits his success in his doctoral studies and balancing his many roles to time management, communication, and a strong support system in his wife and children. It also helps to have a flexible online degree format to provide a much-needed, work-life balance.
Zachariah often reflects on how far he's come since his first doctoral experience:
"Initially, I had to overcome the bad experiences from my engineering Ph.D. program, and I even had to sit down with my Maryville chairperson once for like two hours," he says. "I told him, 'The last time I went through this it didn't go well.' But he assured me to take a breath and that this was all part of the process."
Zachariah learned to recognize his stress and respond to situations with a fresh perspective. In addition, his professors also supported him when his children were sick or when life got too hectic. By overcoming these obstacles, Zachariah has fulfilled a lifelong goal of becoming an expert in his focus area, which, he says, was part of his upbringing.
"I always knew I was going to college. It was never a question because that's just how I was raised, to go as far as I can go," he said. "I'm hoping my kids will have that same sense that getting a doctorate is just something you can do if that's what you want."
The experience has also made him a better entrepreneur, which he freely shares with the students and former students who are fellow entrepreneurs now.
"The first thing is to always ensure you have your government documents set up. Then, determine your strategy and key competitors and take some time to do a basic SWOT analysis. That's a great value."

I firmly believe that there is a place in the world for every idea. It just takes time, energy, patience, and networking.
Looking for more Tales of the Brave?
Find more stories from students like Zachariah who prove that you can achieve your goals on your own terms with Maryville.
Trending Now
Celebrating our outstanding nursing graduates
Learn more about our online degree programs.
Be Brave
Bring us your ambition and we'll guide you along a personalized path to a quality education that's designed to change your life.