Unique Communication Careers: How to Become a Creative Director
Unique Communication Careers: How to Become a Creative Director
Unique Communication Careers: How to Become a Creative Director
When professionals have the right set of tools, skills, experience, and passion, their creativity can be the driving force to pursue a rewarding career. Becoming a creative director requires the expertise that comes from years of real-world experience as a designer, copywriter, or advertising manager, combined with the interpersonal skills to move a team toward a common goal. Creative directors represent the pinnacle of creativity and leadership within an enterprise, and their direction influences a brand's entire ecosystem, from advertising and marketing to public relations (PR) and sales.
A creative director is not just the mastermind behind big ideas but also the strategist who brings together the right team members to turn abstract concepts into reality through channels such as social media campaigns, TV commercials, and email marketing. Individuals wondering how to become a creative director can choose from several potential paths.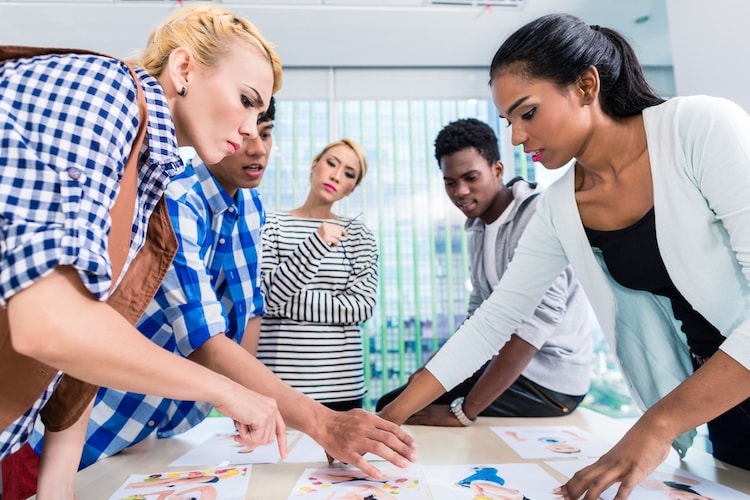 What Does a Creative Director Do?
To understand how to become a creative director, it's important to consider the role's responsibilities. As The Balance Careers highlights, what a creative director does is define the vision and style of a brand through color choices, graphic design, and messaging. Creative directors communicate with their teams to execute a vision. For example, Southwest's tricolor scheme and heart-centered branding differentiate it from other airlines and create a sense of cohesion and warmth across channels.
Not only do creative directors manage a brand's overall vision, but they also oversee day-to-day operations and work with other departments, such as sales or PR, to ensure the brand's consistency. Brand consistency plays a key role in marketing because it makes a brand easily recognizable and builds awareness, and over time, inspires consumer trust and loyalty.
The job of creative directors, as noted by Creative Bloq, is not to execute the ideas themselves but to use the visionary thinking they've honed during their years of experience working with clients, presenting ideas, and designing to lead and inspire a team of junior creatives. The projects a creative director might lead can vary greatly, depending on the industry or work environment. In essence, creative directors fall into two categories: in-house and agency. An in-house creative director is employed by a specific company, while an agency creative director works in an advertising or marketing agency and likely supports several different client accounts.
A creative director's responsibilities depend on the scope of the role. The U.S. Bureau of Labor Statistics (BLS) reports that some lead the design and content of websites, while others serve as art directors for publications or media outlets. Creative directors may also oversee copywriting, which could include scripts for TV commercials or radio spots. Those who work in advertising may be involved in casting commercials or approving location, props, styling, etc.
How to Become a Creative Director
Most creative directors have a bachelor's degree in journalism, advertising, or communications, according to the BLS. Additionally, courses in business, management, finance, computer science, and graphic design can equip creative directors with skills in technology, design, and more. Some creative directors may also pursue a master's in strategic communication and leadership to improve their leadership skills, practical and theoretical graphic design knowledge, technical competency, and communication skills.
A master's degree program typically includes immersive projects and coursework with real-world applications. The advanced curriculum prepares students to pursue a career as a creative director or in a similar role in PR, social media, marketing, community relations, or a related field. Both undergraduate and graduate students can participate in an internship during their course of study or attain certification in areas such as digital marketing and Google Ads.
Many creative directors begin their careers as copywriters or graphic designers, working on a creative team to develop their skills. As professionals gain experience, they can qualify to advance to senior copywriter, senior designer, or senior art director.
To advance to a creative director role, professionals must hone not only their creative skills but also their technical and industry knowledge, as well as their management abilities. Many creative directors are multitalented, possessing a combination of skills in writing, graphic design, search engine optimization (SEO), and photography. Depending on the brand they support, they also have strong industry expertise, such as in music, food and beverage, retail, or technology, from years of experience executing creative campaigns.
What Is a Creative Director Salary?
Several factors contribute to a creative director's salary, including location, industry, education level, and years of experience. While pay can vary, creative directors are generally well compensated for their advanced skills and ability to lead teams of creative professionals. Glassdoor reports the median annual salary of creative directors is around $133,000.
Creative Director Job Outlook
Advertising, promotional, and marketing campaigns are essential to a brand or organization's success, as they help drive market share, increase sales, and introduce new products to the market. The BLS projects the employment of advertising, promotions, and marketing managers will grow 10% between 2016 and 2026, faster than the average for all occupations (7%). Employment growth will vary by occupation. For example, the rapid growth of digital media has resulted in expanding opportunities for talented professionals with expertise in social media and SEO.
Learn More About How to Become a Creative Director
The way consumers connect, communicate, and collaborate with marketing and advertising constantly changes. Creative directors use creativity, storytelling, technical knowledge, and leadership skills to influence the future of advertising and marketing. Maryville University's online master's in strategic communication and leadership includes immersive projects that can prepare you for a role as a creative director, bringing to life principles learned in the course of your studies. Maryville can help you develop the expertise to build better communication plans, make stronger connections with your audience, and rise as a leader in this dynamic field.
Sources
The Balance Careers, "How To Become a Creative Director"
Creative Bloq, "Creative Director: Pro Advice for Snagging the Top Spot"
Glassdoor, Creative Director Salaries
Maryville University, Master's in Strategic Communication and Leadership
U.S. Bureau of Labor Statistics, Advertising, Promotions, and Marketing Managers
Be Brave
Bring us your ambition and we'll guide you along a personalized path to a quality education that's designed to change your life.