The Bright Future of Virtual Reality Software Development
The Bright Future of Virtual Reality Software Development
The Bright Future of Virtual Reality Software Development
When virtual reality (VR) first appeared 30 years ago, its capabilities fell vastly short of its sci-fi movie promise. But now, the technology has evolved to the point where VR software developers can create photorealistic virtual environments that people can navigate using a VR visor connected to two hand-held controllers.
With so much progress in the development of VR hardware, some software developers are turning their attention to introducing alternative applications for the technology, such as augmented reality (AR) and 3-D development platforms. Students pursuing a master's degree in software development can learn how to develop VR applications, giving them a competitive edge when they apply for virtual reality software development jobs.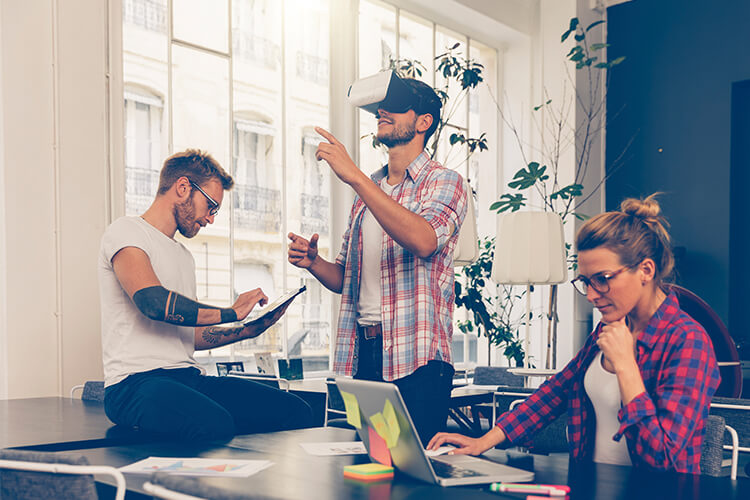 Where VR Software Development Is Headed
Thanks largely to the success of the augmented reality game Pokémon Go in 2016 and the rising popularity of smartphone headsets, VR and AR are now the biggest trends in the tech world. Since the release of Pokémon Go, an abundance of mobile games that feature AR functionality have emerged. Yet VR has seen more success so far, as the technology is further along in its development cycle. As the two technologies continue to evolve, developers can expect to work with the following features when creating new VR applications:
Headsets. VR headsets will continue to increase in popularity as more players enter the market. Facebook/Oculus, Google, and Samsung are already competing, and Intel, Apple, and Amazon are poised to join them soon.
Haptic Feedback. Until recently, VR technology focused on visual and auditory senses. Haptic feedback systems will simulate the sense of touch through gloves and other wearable devices.
3-D Engines. Unity and Unreal will expand their capabilities as more software developers turn to 3-D engines. CryEngine and CopperCube will also continue to grow, and the major VR players may decide to develop their own proprietary 3-D engines.
Social Activities. Social networking activities will see more inclusion of VR technology soon. Videos with 360-degree capability are now VR-ready on both Facebook and YouTube.
Entertainment. While it may be some time before Hollywood makes a full transition to VR glasses in lieu of the silver screen, the first virtual reality theater opened in Amsterdam in 2016.
Wireless. A major challenge for VR has been battery life. "Apple is partnering with a company called Energous on a breakthrough wireless charging solution that will allow the next generation of iPhones to charge from across a room," AR expert Joe Bardi claims in a Marxent blog post. "The tech exists, and if Apple really does roll out what Energous has developed, it would instantly create a new product ecosystem around wireless charging."
And VR won't just be limited to smartphones, video games, and entertainment. Advanced VR training programs are springing up everywhere, especially in those industries in which VR can simulate expensive or dangerous training scenarios. According to the United Kingdom's Virtual Reality Society, the military is already using virtual reality gear for training. Flight, battlefield, and medical simulators are common among technologically advanced armed forces.
Developers, Be Prepared
As the VR industry grows, so does the need for qualified developers. Competent developers with a working knowledge of VR and AR will need to fill these vacancies.
"Gaining the knowledge you need to do work in VR and then demonstrating your skills with small self-driven projects is the best way to show a potential employer what you're capable of doing," VR developer Adrienne Hunter explains on augmented reality blog Virtual Reality Pop.
"There's no need to work for anyone else for free — you can tailor your own learning experiences to the projects you want to work on.
"Hands-on experience building VR prototypes on your own (or with a group of people) might be the most time-consuming approach, but right now, it is also the fastest way for anyone in any discipline to get hired."
Hunter also gives the following advice to students and working developers wishing to make themselves more marketable in the VR industry:
Spend extra time working with Unity and Unreal 3-D engines. A background in C++ and C#, along with experience working with spatial environments, even in two dimensions, would also be advantageous.
Learn about topics such as embodied recognition, spatial processing, cognitive load, proprioception, human factors, and ergonomics.
Get as much experience as possible using 3-D animation tools, including Blender and 3ds Max, and practice importing 3-D assets into a 3-D engine.
Spend time learning about 3-D audio spatialization and the physics of sound, since most virtual reality includes an audio element.
In other words, acquire some VR equipment and get familiar with it.
As an additional boost to their resumes, aspiring virtual reality software developers should consider learning proper storytelling and narrative design, as well as WebVR, and gain experience using VR equipment from the perspective of a consumer. Having these competencies can help them break into a career developing virtual reality video games.
The Jobs Are Out There
The applications for VR technology are limited only by imagination and a shortage of qualified developers. VR and AR can be used for everything from urban and environmental planning to mass casualty training, therapy, and gaming.
Oculus is pushing for a VR/AR social platform that provides "a sense of individual presence." According to Oculus developer Mike Howard, "Being able to see, hear, and interact with other people provides an unlimited source of enjoyment and memorable experiences."
The skills that developers need to achieve this goal include making apps easy to discover, connect to, and share. The experience itself also has to be engaging enough to bring people back for more.
Several companies are already offering large-scale, professional VR services to individual and corporate clients. For example, ExxonMobil has contracted EON Reality to develop a 3-D immersive program to improve its field training. Cubicle Ninjas offers VR services such as virtual product tours and presentations, tourism applications, healthcare tools, and educational events and trade shows.
There are approximately 1.3 million active software development jobs in the U.S., and the U.S. Bureau of Labor Statistics projects a 22 percent increase in the employment of software developers between 2019 and 2029. People who pursue an advanced education can now be primed to join the virtual reality software development field while it is still in upstart mode to help VR reach its full potential.
Explore a Career in VR Software Development
Maryville University's online master's in software development program delivers a convenient, high-quality education for those who aspire to develop computer programs, web applications, and cutting-edge technologies. This postgraduate program thoroughly covers data structures, web applications, object-oriented coding, agile systems analysis, and advanced topics. Contact Maryville University today to learn more about this and other online degree programs.
Sources
AppReal, "15 Virtual Reality Trends We're Predicting for 2017"
Bureau of Labor Statistics, Software Developers
Cubicle Ninjas, "VR for Business"
ExxonMobil, "Immersive 3D Operator Training Simulator technology"
Marxent, "5 Top Virtual Reality and Augmented Reality Technology Trends for 2017"
Oculus, "Social Platform Series: Avatars and Sharing for Mobile Apps"
Virtual Reality Pop, "How to Get a Job in VR"
Be Brave
Bring us your ambition and we'll guide you along a personalized path to a quality education that's designed to change your life.