MHA Population Health Management Concentration
MHA Population Health Management Concentration
MHA Population Health Management Concentration
Healthcare helps others. Learn how to be a leader in the field
At its core, quality healthcare provides important help to those in need. One of the most proactive and progressive ways to deliver this need is population health management. This special branch of healthcare focuses on using analytical data to find more efficient ways to provide quality care to a community or group. It's a noble goal, but finding success in this discipline requires leadership. Our online MHA with a Population Health Management concentration gives you the tools you need to be at the forefront of this forward-thinking healthcare movement.
Why choose Maryville for your online Population Health Management MHA?
Maryville University's online MHA with a Population Health Management concentration stands out among population health graduate programs because of its availability and convenience. You can complete 100 percent of your MHA with a Population Health Management concentration online, with no campus visits, in as little as two years. The program's three start times during the year allows you to pursue an MHA degree at a time that works best for you. Once enrolled, you'll be immersed within a dynamic interactive learning environment, where you'll have the chance to collaborate with peers striving for the same goal. You'll also have the chance to learn practical, real-world lessons from a faculty of seasoned industry veterans.
Four concentrations offered
Immediately apply what's learned to real-world healthcare scenarios
Expand your professional network
A few of our business partners include:
SSM Health System
Centene
Advanced ICU Care
What does our online MHA population health management program cover?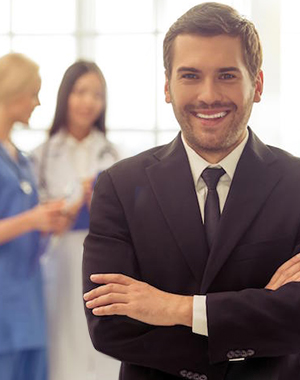 Maryville's online MHA with a Population Health Management concentration is designed to educate students on the fundamentals of population management, from improving community health to curtailing the threat of epidemics. Key courses in this concentration's curriculum include:
Population Health Management: Discover the management fundamentals that drive healthcare standards, from understanding the genesis of disease to exploring strategies used to improve patient outcomes.
Healthcare Financial Management: Learn how to handle the economic side of the healthcare field, including the process in which financial decisions are executed within the context of health care.
Managerial Epidemiology: Examine key epidemiological motifs such as data gathering methods and analyzing health event incidents. Students will learn how to apply these motifs to various healthcare aspects, from policy development to finance.
Community Health: Take a deep dive into the foundational elements of how health agencies function within communities. Students will explore the ways that various political, biological, and socio-economic factors help govern outcomes within populations.
What careers can you pursue with your online MHA with a Population Health Management concentration?
Earning an MHA with a Population Health Management concentration could provide you with the skills needed for a satisfying health services management leadership career, such as a medical and health services manager or administrator.
Several branches of the healthcare industry need leaders in health service management, including:
Hospital Administration
Government Health Service Administration
Outpatient Care Center Administration
Physician Office Administration
Nursing Home Administration
The Bureau of Labor Statistics (BLS) also reported projected job growth of 20 percent for the health services manager position by 2026, spread across various healthcare fields.This growth rate represents a much faster pace compared to the average professional industry.
BLS also estimates the following median pay for fields within the medical and health services managers profession as of May 2017:
Hospital Administration: $107,200
Government Health Service Administration: $106,200
Outpatient Care Center Administration: $89,900
Physician Office Administration: $89,700
Nursing Home Administration: $83,000
Meet our MHA faculty
When you enroll in an MHA program, you're entrusting your future to a faculty that draws expertise from real-world clinical experience, has deep collective knowledge of the latest research developments, and a zeal for molding the next generation of healthcare leaders. These faculty members understand the challenges that face those in healthcare population management.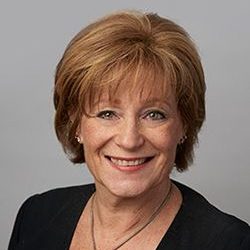 Director and Assistant Professor of Healthcare Management and Health Administration Programs
As director and assistant professor of healthcare management and health administration programs at Maryville, Karen Schechter, RHIA, MBA, CMPE, oversees the development and implementation of the online Bachelor of Science degree in Healthcare Management and the new online Master of Health Administration program. Professor Schechter is the owner and senior healthcare advisor of Schechter Healthcare Advisors, LLC, which provides physicians and hospitals with practical solutions to address the ever-changing healthcare environment.
In both this role and as a professor of healthcare management/administration at Maryville, Professor Schechter draws from her 30 years of experience in healthcare management and consulting. She has focused on operations, revenue cycle management, medical practice transitions, quality-performance measurement, and project management. Previously, she served as group administrator of medical specialties at St. Anthony's Physician Organization in St. Louis, and she spent 14 years as director of healthcare services at Stone Carlie & Co., where she directed marketing efforts for the healthcare services group, provided consulting services, and participated in the client service planning process.
Professor Schechter earned her Master of Business Administration and Bachelor of Science in Health Information Management from Saint Louis University. She has developed a deep expertise in a number of areas within healthcare, including the implementation of quality-performance metrics programs, population health management, compliance, strategic planning and physician integration, and electronic medical records systems.
Why earn your MHA with a Population Health Management Concentration online?
Our online MHA with a Population Health Management Concentration program is designed to make pursuing a degree more manageable. Our flexible, interactive program provides an easy, streamlined learning environment, one that allows you to solely focus on attaining your degree.
When you enroll in our online MHA with a Population Health Management concentration, you can:
Learn at your pace. Our program is built on a foundation of flexibility, allowing students to pursue their degree without having to disrupt their busy schedule.
Have access to personal and technical support. We want all of our students to succeed. That's why we offer a wealth of support throughout the program from enrollment to graduation. This support also includes online coordinators that can lend a hand with any technical questions you may have about our learning platform.
Engage in collaborative interaction. There are no walls in a virtual classroom, and there are no boundaries to the interactive opportunities you'll have with professional faculty and fellow students through e-mails, message boards, chats, and more.
Admissions requirements for our online MHA with Population Health Management Concentration
Our MHA programs are designed with your busy schedule in mind. Our online MHA with Population Health Management concentration program requires no campus visits, providing individuals with an added layer of convenience. We've also designed the program to have no application fee and no GRE or GMAT entrance exam requirements. We also don't require letters of recommendation, making it even easier to get started with our program.
The following criteria are considered during the MHA admission process:
Bachelor's degree obtained from a regionally accredited institution
3.0 cumulative GPA — required for complete admission
GPAs under 3.0 can be considered for conditional admission
Personal letter mapping out graduate work qualifications
To ensure success within the online MHA program, it's crucial to have previously learned basic statistics. If you have previously completed a statistics class, this requirement may already be satisfied. If you have not, Maryville University offers an abbreviated online statistics course to meet this requirement. This self-paced, shorten course can be taken along with your first class.
Learn more about these requirements on our admissions page.
Sources
Athena Health, "What is Population Health Management?"
Bureau of Labor Statistics, Medical and Health Services
Bureau of Labor Statistics, Medical and Health Services, Pay
Health Catalyst "What is Population Health Management?"
Institute for Healthcare Improvement, "Populations, Population Health, and the Evolution of Population Management: Making Sense of the Terminology in US Health Care Today"
Maryville University, Master's in Health Administration Online
Maryville University, Online Master's Degree in Health Administration Curriculum
Apply to the online master's degree in health administration program at Maryville University.
Be Brave
Bring us your ambition and we'll guide you along a personalized path to a quality education that's designed to change your life.