MHA Healthcare Leadership Concentration
MHA Healthcare Leadership Concentration
MHA Healthcare Leadership Concentration
Healthcare Starts with a Plan. Learn How to Build One.
The ability to provide quality healthcare doesn't happen by accident. It's a proactive process — one that's built on a thorough understanding of the needs of today's healthcare consumers. Professionals equipped with this understanding are poised to confidently lead others in the ever-changing business of healthcare. Maryville University's online Master of Health Administration (MHA) with a healthcare leadership concentration prepares graduates to be leaders in strategic planning in healthcare organizations, which can give them the ability to shape healthcare's future.
Why choose Maryville for your online MHA with a concentration in Healthcare Leadership?
Healthcare leaders must remain one step ahead of the industry. They need to not only anticipate the changes that constantly happen in healthcare, but they also need to devise plans to adjust to these changes quickly and efficiently. Maryville University's online MHA with a healthcare leadership concentration rises above other graduate programs because it makes it easy for students to further hone essential skills.
What does the online MHA with a Healthcare Leadership concentration cover?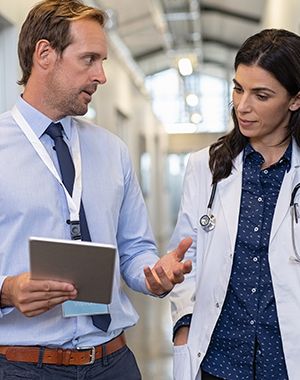 Maryville University's online MHA with a Healthcare Leadership concentration is built to equip students with a deep understanding of the essential concepts that are used to formulate effective healthcare plans of action, from marketing theories to economics. The concentration includes two courses in addition to the core MHA curriculum:
Healthcare Marketing: This course allows students to discover how marketing theories and methodologies apply to healthcare and the consumer decision-making process, with an emphasis on social media and digital marketing techniques.
Health Policy and Economics: This course offers a holistic review of applied economics and policy-making processes pertaining to the roles of government and markets in healthcare.
What careers can I pursued with an MHA with a Healthcare Leadership concentration?
Obtaining an MHA with a Healthcare Leadership concentration can equip students with the skills needed to excel in a leadership role within the health services management field. This degree, when combined with years of work experience in either a clinical or administrative role, could lead to careers in the growing field of healthcare leadership.
According to the U.S. Bureau of Labor Statistics (BLS), positions associated with the development and execution of healthcare strategies, including healthcare executives, earned a median annual salary of just over $98,000 in 2017. Additionally, BLS reports a projected job growth of roughly 20 percent within the industry from 2016 to 2026 — a much faster pace than the average of all professions.
There are several career paths that can be explored once an MHA with a Healthcare Leadership concentration is achieved. Some of those paths include:
Hospital administrator
Healthcare analyst
Healthcare strategy consultants
Patient accounts supervisor
Project manager
Healthcare marketing manager
Meet our MHA faculty
Enrolling in an MHA program means receiving important guidance from experts. Maryville University's healthcare faculty possess a wealth of real-world experience, deep understanding of the latest developments in healthcare, and passion for guiding the next generation of healthcare leaders to success.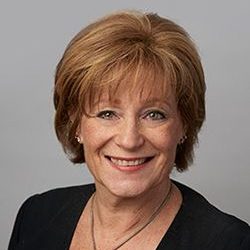 Director and Assistant Professor of Healthcare Management and Healthcare Administration Programs, Maryville University
As owner and senior healthcare advisor of Schechter Healthcare Advisors, LLC, Karen Schechter uses her 30 years of healthcare management experience to deliver hospitals and physicians practical solutions that meet the constantly evolving demands of the healthcare environment head-on.
As professor of healthcare management/administration at Maryville, Professor Schecter uses that same wealth of experience to prepare students to confidently meet the challenges of the healthcare industry. Her expertise comes from all corners of the healthcare field, from operations and marketing to project management and consulting services. She's seen and done it all. At Maryville, her unique perspective gives students insight that can serve them brilliantly as they enter the field.
Admissions requirements for the online MHA with a Healthcare Leadership concentration
Maryville University takes a simplified approach to education, one that's open and flexible to highly motivated individuals that want to advance their career. This is why we've designed our online MHA with a Healthcare Leadership concentration to have no application fee and no GRE or GMAT requirements. All you need to do is start your classes at a time that works best for you; Maryville University offers three different starting points during the year.
We're ready to help you reach your goals when you're ready. Below are the admission requirements:
Bachelor's degree from a regionally accredited college or university
Minimum 3.0 cumulative GPA.
Personal letter that describes your qualifications for graduate work
Those with a GPA under 3.0 can still be qualified for conditional admission.
It's important for students to have a fundamental grasp of basic statistics. Those who have previously completed a statistics class may have already met this requirement. Students who need additional preparation can enroll in an abbreviated online statistics course to get the where they need to be. This special course is self-paced and can be taken concurrently with the MHA coursework.
International students must demonstrate English proficiency through either a test score (TOEFL IBT 79, IELTS 6.0, PTE 58), a college degree earned in the U.S., or a college degree where the medium of instruction was English.
Low sub-scores may disqualify international students, and test dates must be within 5 years of application.
Why earn an MHA with a concentration in Healthcare Leadership online?
Earning an online MHA with a concentration in Healthcare Leadership helps students achieve their goals with a flexible schedule. Our user-friendly online courses simplifies the task of earning your advanced degree, giving you more time to concentrate on studies rather than administrative or technical concerns.
Learn at your convenience: Earn your online MHA in a way that fits your schedule. Our program is built to accommodate students who are also working professionals or have family obligations.
Take advantage of individualized support: We only succeed when you find success. Therefore, you can take comfort in knowing that you'll have support at every step, from the moment you enroll to the moment you graduate.
Collaborate with students and faculty: Even though you're not in a physical classroom with other students, you can still easily team up to study, compare notes, and find help through emails, message boards, and chats.
Utilize online tech support: You don't have to be a computer whiz to earn your MHA. You can excel with basic technical skills, and our online coordinators are happy to help.
Pick a starting time that works for you
We all have obligations, which is why we make achieving your online MHA with a concentration in Healthcare Leadership possible even for those with a busy work or family schedule. Maryville University offers multiple start times throughout the year. With our program, it is also possible to graduate in as few as two years.
We have start dates in the spring, summer, and fall terms, so starting your journey toward achieving an advanced degree could be just around the corner.
Be Brave
Bring us your ambition and we'll guide you along a personalized path to a quality education that's designed to change your life.