Business Intelligence vs. Data Analytics: Similarities and Differences
Business Intelligence vs. Data Analytics: Similarities and Differences
Business Intelligence vs. Data Analytics: Similarities and Differences

From a business management and operations standpoint, both business intelligence and data analytics are critical in an organization and rely on historical and current data trends to make sound predictions for the future. When comparing business intelligence vs. data analytics, it is helpful to note that while they may rely on many of the same techniques, they are very different in terms of scope, reporting, and more.
Individuals with experience and education, including those who pursue an online MBA in Data Analytics, can enjoy several exciting and fulfilling career paths in either of these disciplines.
Definitions: Business Intelligence vs. Data Analytics
Business intelligence and data analytics are deeply intertwined, but each field plays a unique role in an organization's decision-making process. While business intelligence focuses on improving overall performance, data analytics is more about facilitating growth.
Business Intelligence
Business intelligence is all about utilizing data in ways that make information easy to understand. It often involves creating accurate reports with visualizations such as charts and graphs. These tools help businesses assess changes in their overall performance — down to the department or team level — then make informed decisions about the future.
There are two primary types of business intelligence: traditional and modern. Traditional business intelligence focuses on accuracy over everything else, and it is most commonly used by finance or regulatory teams. An example of traditional business intelligence could be a financial report generated from a company's accounting system that includes information such as revenue, expenses, profits, and other financial metrics.
On the other hand, modern business intelligence focuses on providing quick results to identify actionable trends and respond with haste. For example, finding sales trends quickly can help e-commerce companies make better decisions about the products they list. Modern business intelligence also uses more interactive visualizations.
Data Analytics
Data analytics is a field that relies heavily on sophisticated software and tools to map out patterns in past data that can make predictions about the future. With data analytics, companies can uncover incredible insights that may otherwise go undiscovered. In some ways, it is a more advanced and highly specialized type of business intelligence.
There are four types of data analytics, and each one serves an important purpose.
Descriptive: Descriptive data analytics uses historical data to find averages or medians. Because it is descriptive, it does not require extensive research. Website traffic and engagement reports are great examples. These rely on raw data to measure current trends against historical ones, which describes the site's effectiveness.
Diagnostic: Diagnostic data analytics can solve problems or point out strengths. For example, finding correlations between sets of data can help company executives figure out what is holding them back or which service brings in the most revenue.
Predictive: Predictive data analytics involves making predictions about the future and finding ways to avoid unwanted outcomes. An example of this is predicting staffing needs in a hotel or restaurant. Data can provide insight into the expected guest turnout and help to avoid overstaffing and understaffing.
Prescriptive: Finally, prescriptive data analytics is all about implementing hypothetical changes to determine how they might impact the company in the future. Investment decisions are almost always a form of prescriptive analytics because they rely on past and current data to make predictions about potential returns.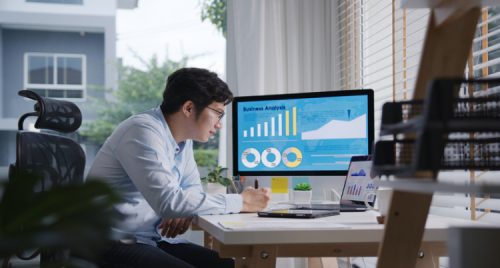 Business Intelligence vs. Data Analytics: Similarities
There are many similarities between business intelligence and data analytics. In fact, data analytics is often thought of as a more advanced and in-depth version of business intelligence. Business intelligence analysts and data analysts have similar backgrounds in technology, business, and data science.
Business intelligence and data analytics work together in an organization to either produce a desired outcome or avoid an unwanted one. They are both critical for helping businesses create short-term and long-term strategies, as well. The visual insights and flexible reporting from business intelligence paired with the data modeling and financial forecasting from data analytics paint a complete picture of a department or company.
Business Intelligence vs. Data Analytics: Differences
Even though business intelligence and data analytics have many similarities, they also have prominent differences. When organizations need to choose between having a business intelligence analyst vs. a data analyst, they consider several factors. Some of these include scope, coding, reports, and data type.
Scope
When it comes down to determining whether business intelligence or data analytics is best for their needs, an organization often thinks about the scope of reporting. Companies that require a high-level overview may bring in someone who is well-versed in business intelligence. On the other hand, when a business is trying to find an important correlation buried deep within data, it may want to employ the services of a data analyst instead.
Coding
Since business intelligence is intended to provide an overview, business intelligence analysts generally don't need to have complex coding skills. On the other hand, data analyst careers tend to require knowledge of programming languages like Python due to the sheer complexity of the data being analyzed.
Reports
When a company has a specific need — such as an overview of its revenue growth for the last five years — they rely on business intelligence for its speed. On the other hand, when a company is unsure of its needs or next steps, data analytics can provide highly accurate reports that can illuminate those needs and predict future trends.
Data Type
A BI analyst usually uses pre-structured data pulled from databases or spreadsheets. Data analytics is different because it often requires the analyst to pull data from multiple sources and combine it using sophisticated programs and software.
Data Analytics and Business Intelligence Curriculum
A master's degree in business administration with a data analytics concentration can provide the knowledge required to succeed. It teaches in-demand skills in some of the world's most powerful technologies, including PowerBI, Python, R, and many others. Maryville's MBA program consists of 36 credit hours for the general track and 39 credit hours with a concentration, allowing students to earn their graduate degrees 100% online in as little as 12 or 14 months.
Core courses include Business Ethics, Strategic Marketing, Corporate Financial Policies, Business Economics, and several others. In the data analytics concentration, courses include Data Analytics, Data Visualization, and Forecasting and Predictive Modeling, all of which offer aspiring business professionals the skills they need to thrive in the in-demand roles of the future.
Influence the Future of Business in a Data-Driven World
Business intelligence and data analytics are very similar, and each one is important to the overall success of companies across every industry. Separately, they offer their organizations invaluable reports based on very different types of data. Together, they prevent unwanted outcomes such as revenue loss or understaffing and facilitate growth through predictive or diagnostic analysis.
Whether you want to work toward the betterment of tomorrow's biggest companies or you want to learn how to grow your business from the ground up, an online Master of Business Administration (MBA) degree from Maryville University can serve as the foundation of your career.
Recommended Readings
Data Analytics in Higher Education
Is a Data Analytics Degree Worth It?
Demand is High for Data Analytics Grads
Sources:
Analytics Steps, "5 Differences Between Business Intelligence and Data Analytics"
Datapine, "What Is The Difference Between Business Intelligence And Analytics?"
Hevo, "Business Intelligence vs. Data Analytics: 7 Critical Differences"
IntellectData, "Big Data Analytics Impact on Business Decision-Making and Strategy"
Investopedia, "Data Analytics: What It Is, How It's Used, and 4 Basic Techniques"
Investopedia, "What Is Business Intelligence (BI)? Types, Benefits, and Examples"
Be Brave
Bring us your ambition and we'll guide you along a personalized path to a quality education that's designed to change your life.