What Is an AI Engineer?
What Is an AI Engineer?
What Is an AI Engineer?

Artificial intelligence (AI) has a wide range of applications that affect business professionals and consumers. Typical uses for AI range from task automation to big data analysis to robotics, all with the potential to improve efficiencies, products, and services in nearly every industry. While AI's future is still unclear, it's likely to transform the nature of many jobs. In fact, adaptive and dynamic, human-like technologies are already all around us.
AI technologies involve machine learning — the ability for a machine to improve its performance based on the results of specific actions. AI technologies analyze data to identify patterns and anomalies; they then adapt their behaviors to improve their own processes.
A common misconception is that AI technologies are used predominantly in manufacturing, but AI is being implemented in many industries. The financial sector, for example, uses AI to learn the habits of users to identify fraudulent and suspicious activity. AI is also useful in the healthcare sector as a tool to improve accuracy, reduce costs, and save time. Furthermore, customer management systems like Salesforce use it to keep databases updated with customer information and behaviors.
All these applications are developed by AI engineers. An AI engineer is a programming and software professional who designs new programs that can complete sophisticated machine-learning tasks. Given the growing number of applications for this technology, the work done by AI engineers is likely to have a significant impact in multiple professional fields for decades to come.
Common AI Engineer Duties
AI engineers are tasked with building computing technologies and programs that have adaptive algorithms and deep learning capabilities. AI engineer duties include developing, programing, implementing, and managing complex AI networks and systems designed to perform specific tasks. They're rarely required to write code; more often, they work at pulling data from specific sources and then creating application program interfaces (APIs) to build and implement AI into machines.
AI engineers often work closely with users to understand their experience with the technology and product managers to understand the desired outcomes of the tools they build. They typically perform statistical analysis and interpret data to improve the AI's performance.
AI engineers transform machine learning models into APIs that can be replicated and interact with other machines; thus, AI engineers need to have a clear understanding of engineering processes, such as running experiments and tests, and the fundamentals of software engineering.
Even after an AI technology is in use, these engineers continue to analyze its function and output to enhance the efficiency and quality of the product or service.
How to Become an AI Engineer
In some ways, the question "What is an AI engineer?" is still being answered. Because the role is relatively new, becoming an AI engineer can look different for various candidates. Most positions require at least a bachelor's degree, but the major or specialization can vary. For example, AI engineers might have a Bachelor of Science (BS) in one of the following fields:
Computer science
Data science
Information technology
Statistics
Finance
AI engineering roles require proficiency in a set of technical skills and core competencies, including the following:
Statistics, algebra, and calculus
Programming languages (such as Python, R, or Lisp)
Critical thinking and analytical skills
Communication and collaboration skills
Earning an advanced degree such as a Master of Science in Artificial Intelligence is one way to deepen a graduate's proficiency in these key skills and thus significantly expand their opportunities for a career in AI engineering. A master's curriculum in this field builds proficiency in crucial areas like the ethics of AI, problem-solving, machine learning, computer programming, natural language processing, and robotics.
Those interested in the AI career path can also look at AI online certificate programs, which offer training in essential AI engineering concepts and can give candidates a competitive edge in the application process. With this option, an aspiring AI engineer can master the basic concepts and programming languages of AI.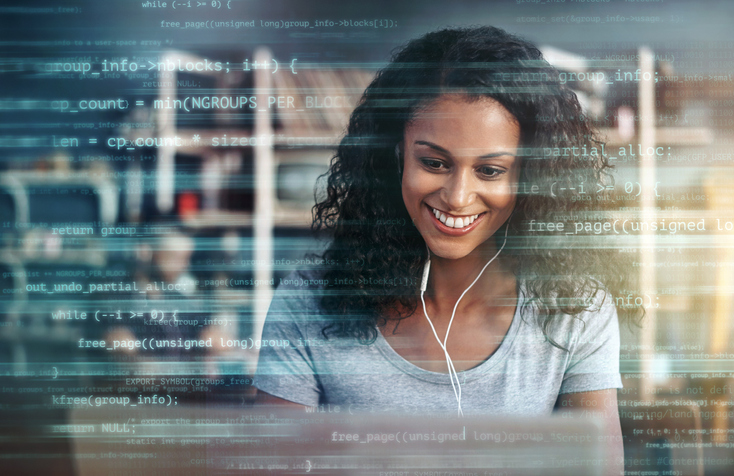 What Is the Typical AI Engineer Salary?
The median annual salary of AI engineers is around $132,000, according to September 2022 data from Payscale. Entry-level salaries are around $98,000, while more experienced AI engineers, with over 10 years in the field, report a median annual salary of around $159,000. Salaries can vary dramatically by industry and job location, and the data suggests earning an advanced degree may qualify an AI engineer for promotions. The salary for an AI engineer can also increase if they're promoted to a managerial position overseeing other AI engineers.
With the global market for AI solutions projected to grow dramatically, according to International Data Corp. (IDC), demand for AI engineers is increasing. LinkedIn listed AI practitioners among its top 15 "Jobs on the Rise" for 2021. The area of AI devoted specifically to machine learning looks particularly lucrative due to increasing demand. And data from the U.S. Bureau of Labor Statistics suggests similar roles, such as software developer, may grow as much as 25% between 2021 and 2031.
Engineer a Bright Future in AI
With potential applications for AI in nearly every industry, AI engineers will play a pivotal role in the future of the workplace. These professionals have the challenging but exciting responsibility of improving current business and industrial processes to optimize productivity and create new ways of accomplishing complex tasks for decades to come.
If you're interested in learning more about what an AI engineer is and how to become an AI engineer, start by reviewing Maryville University's online Master of Science in Artificial Intelligence, as well as its two AI certificates. These programs can help pave the way for an exciting career in artificial intelligence engineering.
Recommended Reading
Predictive Analytics in Insurance: Types, Tools, and the Future
Data Analysis Tools for Your Business
The Future of Big Data in Business: Using Data Analytics to Provide Insight
Sources:
Business News Daily, "How Artificial Intelligence Will Transform Business"
Indeed, "Everything You Need to Know About the Role of an AI Engineer"
International Data Corp., "IDC Forecasts Companies to Increase Spend on AI Solutions by 19.6% in 2022"
LinkedIn, "LinkedIn Jobs on the Rise: 15 Opportunities That Are in Demand and Hiring Now"
Payscale, Average Machine Learning Engineer with Artificial Intelligence (AI) Skills Salary
Payscale, Salary for Skill: Artificial Intelligence (AI)
TechTarget, "How to Become an Artificial Intelligence Engineer"
U.S. Bureau of Labor Statistics, Software Developers, Quality Assurance Analysts, and Testers
Be Brave
Bring us your ambition and we'll guide you along a personalized path to a quality education that's designed to change your life.