Careers in Higher Education
Careers in Higher Education
Careers in Higher Education
Universities, colleges and other academic organizations are constantly searching for leaders interested in increasing their institutions' overall effectiveness and influence. Innovative professionals who expand their careers in education offer insight, knowledge, and fresh strategies that are in high demand at higher learning institutions worldwide. Education professionals who are prepared to pursue a higher education leadership position are reflective and focused on the future of higher learning. Proficiency in this area requires knowledge and insight into higher education governance, policy, and financing in order to establish effective institutional change.
The U.S. Bureau of Labor Statistics projects that the field of postsecondary education administration will grow by 4 percent between 2019 and 2029. The growth in this field is attributed to increasing enrollment in colleges and universities. Those with careers in higher education can expect to make a median salary of about $95,000 per year.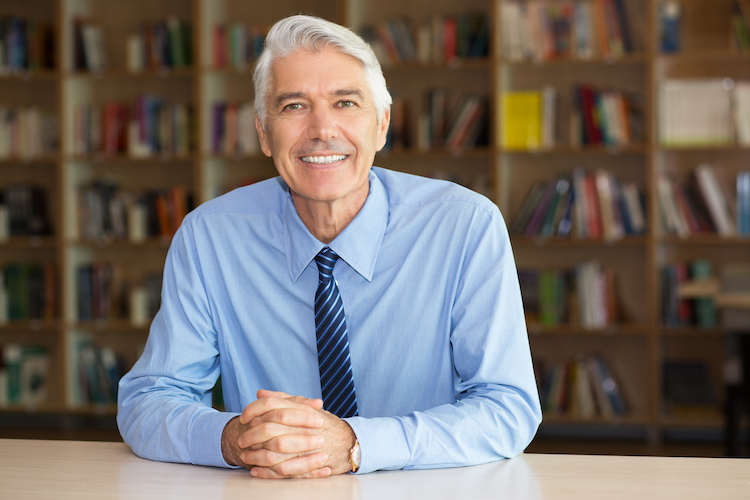 Popular Careers for Doctor of Education Graduates
Students might wonder, "What can I do with a Doctor of Education degree?" There are myriad options in higher education available to individuals with graduate degrees in education. However, it is important to note that while a graduate degree in education can help an individual learn some of the skills needed to pursue professional success, obtaining employment in this field may require additional training, certifications, or other advanced degrees. Here are a few of the more popular careers in higher education.
Academic Dean
Professionals who want to be academic deans can expect to have a hand in all matters of managing and developing faculty and academic staff at a higher education institution. They're responsible for managing all aspects of their respective departments, including hiring, firing, and providing budgetary oversight. Academic deans work closely with professors and other faculty members to create plans of action, execute those plans, and evaluate the results. They're responsible for setting department standards and reviewing faculty and staff performances to ensure those standards are met. They may also assist with recruitment and marketing efforts.
Academic deans need to understand the complexities of their particular institutions and understand how to meet the needs of many people with varying agendas. The median salary for an academic dean is about $92,000 per year.
Skills recommended to succeed:
Budget management
Strategic planning
Team leadership
Understanding of administrative techniques
Admissions Director
Admissions directors lead a college or university's admissions team, setting goals and making sure those goals are met. They lead department meetings, manage and direct the workflow, research and compile reports, and respond to faculty and staff questions and concerns. These professionals work with the marketing departments at their institutions to develop strategies, branding, and image, and to actively recruit students. Often, admissions directors will meet directly with students and prospective students either one-on-one or at welcome events.
Admissions directors earn, on average, about $68,000 per year.
Skills recommended to succeed:
Customer relations
Strategic marketing
Budget management
Recruiting
Chief Academic Officer
Those seeking a career in higher education as a chief academic officer should ensure that their institutions operate efficiently and as expected. CAO duties include providing direction for staff and faculty, monitoring academic programs, and making sure rules and regulations are followed. These professionals help set up curricula and academic programs and are often involved in creating and implementing budgeting plans. While specific job descriptions vary from school to school, CAOs are integral in ensuring that everything needed is in place and in working order to create the best possible academic environment for the students, faculty, and staff members.
CAO positions require a master's or doctoral degree, and their salaries reflect this higher education requirement. CAO's earn, on average, about $136,000 per year.
Skills recommended to succeed:
Leadership
Time management
Problem-solving
Communication
Attention to detail
Department Chair
Higher learning institutions have many departments, each with its own area of expertise and each requiring its own leadership. Department chairs fill this role and work to implement the institution's vision by formatting the department's curricula and setting its goals. Department chairs oversee the teaching faculty and support staff while also communicating with the school's administrators. The person in this position also oversees the department finances and works directly with faculty members to assess and fulfill their supply needs within a reasonable budget. Sometimes a department chair acts as an instructor, giving lectures, preparing and administering exams, and grading students' work. Other times, a department chair will spend time conducting research or writing academic journal articles.
The average salary for a department chair is approximately $84,000 per year, and the role requires excellent organization, a passion for education, and the ability to coordinate the efforts of diverse groups.
Skills recommended to succeed:
People management
Budget management
Research analysis
Leadership
Provost
A provost can also be classified as a higher learning institution's chief academic officer underneath the president. The provost is responsible for creating and implementing a school's academic priorities and determining how to best allocate resources to support those priorities. Provosts work closely with department deans, heads, and student services employees to guarantee the highest possible quality of the offered education programs. The provost ensures an institution is recruiting and retaining quality faculty and staff members. Oftentimes, a provost recommends professors for tenure, authorizes other academic appointments, sets salaries, and reviews faculty grievances.
The median salary for a provost is approximately $151,000 per year, depending on the institution and the job duties.
Skills recommended to succeed:
Management
Communication
Organization
Performance analysis
Higher Education President
A college or university president is the chief officer who reports to the board of trustees. The professional in this role is responsible for executing, either directly or via delegation, all executive and administrative duties required to successfully run a higher education institution. Among those duties are making recommendations to the board regarding policy, personnel, and the budget. The president is the direct line of communication between the board of trustees and the day-to-day workings of the institution and is responsible for researching, organizing, and compiling all reports the board requests. The president recommends the establishment of campus improvement projects and citizen advisory committees, and is responsible for reporting on the status of the institution's finances each budget year.
Presidents at higher institutions often have high salaries that reflect their great responsibility. According to a recent study by the Chronicle of Higher Education, many public college presidents earn upward of $500,000 per year, and some of the highest-paid private college and university presidents' salaries top the $1 million mark.
Skills recommended to succeed:
Delegation
Communication
Management
Budgeting
College Administrator
A general option for those seeking careers in education is to become a college administrator. College administrators' duties run the gamut: handling admissions issues, planning curricula, managing budgets and payroll, and supervising faculty and staff. Many higher education administrators choose to focus on one area, such as admissions and financial aid, marketing and information management, or undergraduate or graduate student services. Entry-level positions are available to those holding only a bachelor's degree, but administrators who exert more influence over institutional activities usually hold a master's degree or doctorate.
According to the U.S. Bureau of Labor Statistics, college administrators earn about $46 per hour, or around $95,000 per year, on average. There are about 190,000 higher education administration jobs nationwide, and job growth is projected to be at 4 percent.
Skills recommended to succeed:
Management skills
Interpersonal skills
Finance and budgeting
Computer proficiency
Registrar
At a college or university, registrars are responsible for organizing, storing, and relaying information for students regarding their academic standing, financial records, enrollment, and class schedules. Registrars manage large amounts of information about records and finances, either themselves or by delegating the task to other staff members. Registrars are responsible for planning and implementing procedures for student registration, including coordinating times and locations where classes will be held; resolving scheduling conflicts; determining students' graduation status; planning commencements; and maintaining honors lists, class rankings, and transcripts.
Many registrars hold a bachelor's degree in a field such as accounting or social work, with an advanced degree in education. On average, Registrars can earn between $58,00 and $93,000 per year.
Skills recommended to succeed:
Budgeting
Finance
Communication
Management
Attention to detail
Organization
Those interested in pursuing a leadership role at an academic institution should consider enrolling in a doctor of education degree program. A program of this type often features coursework that helps students explore the techniques and concepts required to lead an academic institution. A doctor of education program can potentially help a dedicated academic professional to grow both professionally and personally.
If careers in education interest you, find out more about doctor of education programs and how they can help you prepare.
Curious about earning an EdD degree online? Check out Maryville University's online Doctor of Education program here.
Sources
Payscale, Average Academic Dean Salary
Payscale, Average Admissions Director Salary
Payscale, Average Chief Academic Officer Salary
Payscale, Average Department Chair Salary
Payscale, Average Provost Salary
Payscale, Average Registrar Salary
Quartz, College tuition is at record high. College presidents' pay is, too
The Washington Times, Public college presidents salary tops 500000
The Princeton Review, College Administrator
U.S. Bureau of Labor Statistics, Postsecondary Education Administrators
Related Articles
Be Brave
Bring us your ambition and we'll guide you along a personalized path to a quality education that's designed to change your life.