How to Become a Conservation Scientist: Careers in Sustainability
How to Become a Conservation Scientist: Careers in Sustainability
How to Become a Conservation Scientist: Careers in Sustainability

Keeping forests intact is about more than preserving natural landscapes. Reducing deforestation is critically important for a variety of reasons, such as safeguarding biodiversity, mitigating climate change, and protecting human health.
Recent happenings in the Amazon rainforest serve as a prime example. The forest, which is often referred to as Earth's lungs, spans 1.2 billion acres across eight South American countries. It produces 20% of the world's oxygen and absorbs roughly 25% of the atmospheric carbon taken in by global forests each year.
However, in 2019, more than 74,000 fires were reported in the Amazon rainforest between January and September. More than 4.6 million acres burned, creating a devastating environmental impact. A spokesperson from the European Union's Copernicus Climate Change Service said the blazes caused a spike in carbon monoxide and carbon dioxide, which posed a threat to human health and global warming.
The rising occurrence of deforestation and other climate-impact events amplifies the need for qualified conservation scientists and foresters, who play an important role in preserving Earth's natural resources. Completing an educational program that focuses on environmental issues, such as Maryville University's online bachelor's in sustainability, can be an important step in becoming a conservation scientist.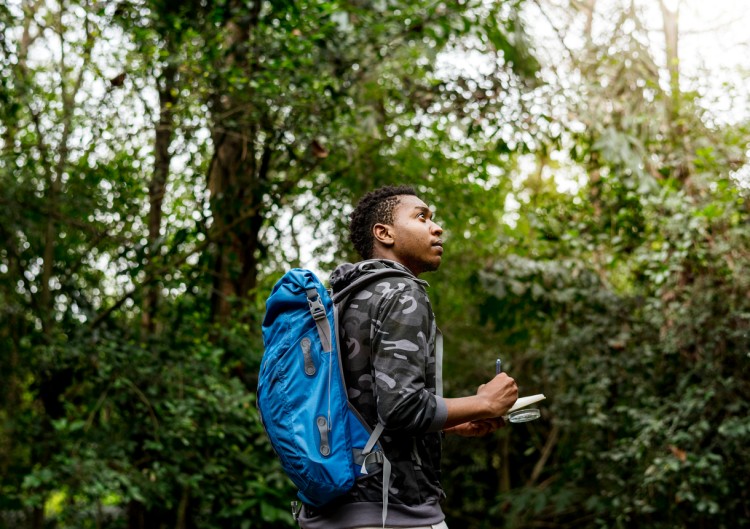 What Does a Conservation Scientist Do?
Individuals who are interested in learning more about how to become a conservation scientist likely have questions about the job duties and day-to-day tasks associated with this career path. Conservation scientists are responsible for managing the overall land quality of parks, forests, rangelands, and other related natural resources.
They oversee forest conservation efforts, negotiate the terms and conditions of forest harvesting projects, and monitor cleared lands to make sure they're suitable for future use. Conservation scientists also advise agricultural managers, farmers, and ranchers on how they can improve their land quality and control erosion.
While the responsibilities and duties of conservation scientists are similar to those of foresters, the positions aren't the same. For example, sample job duties of foresters include monitoring the regeneration of forests; directing fire suppression tasks; and seeking ways to remove dead, rotting, and potentially dangerous timber in ways that minimize environmental damage. Although the positions themselves are separate, conservation scientists and foresters often work together.
Steps to Become a Conservation Scientist
Individuals must take several educational and professional steps on their path toward becoming a conservation scientist or a forester. Candidates must start by completing a bachelor's degree in a related field, such as an online bachelor's degree in sustainability from Maryville University.
Coursework in Maryville's program curriculum includes classes such as Introduction to Sustainability, Biology, Environmental Science and Health, and Climate Science, all of which have been designed to provide students with the practical skills they'll need to properly maintain, implement, and grow sustainable conservation and forest management programs.
Professionals who want to pursue advanced positions and/or managerial roles may require further education or professional certification beyond a bachelor's degree. They may also need to gain experience in the field as a forest worker or conservation worker.
Individuals who are interested in how to become a conservation scientist or a forester must have strong technical analysis skills to conduct field tests and computer models. They must also develop the following leadership skills to be effective in land management careers:
Communication
Organization
Critical thinking
Decision- making
Public speaking
Conservation Scientist Salary
Several factors affect the salaries of conservation scientists, such as the location where they work, their education level, and the years of experience they have working in the field.
Data from the U.S. Bureau of Labor Statistics (BLS) reflects that as of May 2019, conservation scientists in the lowest 10% earnings range had annual salaries of about $39,270, while the median annual salary was $62,660. Entry-level foresters had a salary of $38,890, up to a median annual salary of $61,790.
Conservation Scientist Job Outlook
According to the BLS, employment of conservation scientists and foresters combined is projected to grow by 3% between 2018 and 2028. The growth in this field is expected to be in state and local government-owned forestlands, especially in the western part of the U.S.
It's believed that governmental agencies will continue to hire more conservation scientists and foresters because the prevention and suppression of wildfires has become a top concern. The need to replace retiring workers is also expected to create job opportunities in this field. The BLS further states that job prospects are likely to be most favorable for those who have a strong understanding of remote sensing, geographic information system (GIS) technology, and other related software tools.
Your Path Toward a Career as a Conservation Scientist Starts at Maryville
Individuals who want to pursue a career that allows them to make a positive impact on the environment must start by developing the skills and knowledge they'll need to be successful. Enrolling in and completing a bachelor's degree program in a related field, such as Maryville's online Bachelor of Science in Sustainability, is an important first step on the path to becoming a conservation scientist.
At Maryville, you'll develop the skills you need to help promote a more sustainable future. Let's be brave together. Discover how Maryville's online Bachelor of Science in Sustainability program can help prepare you to pursue a career as an environmental steward.
Sources
AgCareers.com, Forester
Forbes, "What Is the Amazon (Fire) Effect on Our Environment and Businesses?"
Houston Chronicle, "Environmental Scientists vs. Conservation Scientists"
National Association of Counties, "Nevada's Topography Makes State Forester Role Interesting"
Pacific Standard, "The Importance of Keeping Forests in Tact"
The Week, "The Destruction of the Amazon, Explained"
ThoughtCo, "Requirements and Training for Becoming a Forester"
U.S. Bureau of Labor Statistics, Conservation Scientists and Foresters
Be Brave
Bring us your ambition and we'll guide you along a personalized path to a quality education that's designed to change your life.