How to Become a Geriatric Social Worker
How to Become a Geriatric Social Worker
How to Become a Geriatric Social Worker
Social work is one of society's most important vocations. Social workers assist individuals who have fallen on hard times, helping them overcome challenges related to employment, child welfare, mental health, and a variety of other issues. The field of social work is broken up into several different specialties based on the demographics of the clients being served.
Geriatric social workers are professionals who work exclusively with older adults, typically those aged 65 and older. Common problems older clients may face include financial difficulties, healthcare challenges, mental health problems, substance abuse, and issues related to abuse or mistreatment. Some seniors lack the ability to advocate effectively for themselves, which makes it all the more important that someone acts on their behalf.
The path to becoming a geriatric social worker starts with the desire to help others. You will also benefit from an education specializing in social work if you wish to pursue this field as a career.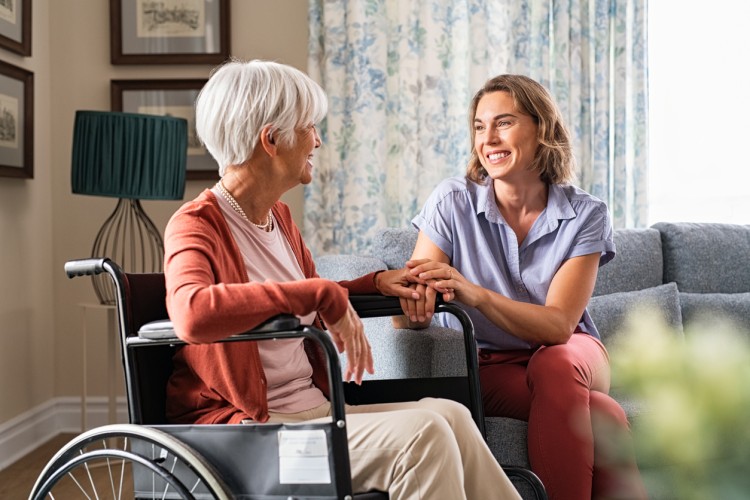 Geriatric Social Worker Job Description
Geriatric social workers, also known as gerontology social workers, typically work in nursing homes, hospitals, long-term healthcare facilities, and hospice settings. A geriatric social worker's job description may include any of the following duties:
Assessing clients' needs and evaluating their strengths and weaknesses to learn their capabilities and limitations and plan support accordingly
Helping clients transition to an elder care facility and acclimating them to their new surroundings
Helping clients cope with major life changes, such as dealing with a healthcare challenge or the loss of a loved one
Helping clients determine their eligibility for programs such as the Supplemental Nutrition Assistance Program (SNAP), Meals on Wheels, or government-subsidized housing
Tracking clients' progress and communicating their findings to family members and caretakers
Advocating on behalf of clients to ensure that their rights are protected and that they are being treated well by their caretakers.
Keeping up with government policies and legislative changes that may affect their clients
Educating caretakers and families about the psychosocial needs of their clients and providing the necessary training to ensure these needs are met
Arranging social activities at elder care facilities to keep clients mentally and socially engaged
Handling administrative tasks such as maintaining case files and attending staff meetings
Steps to Become a Geriatric Social Worker
To enter the geriatric social work field, you'll first need to complete an education in a related field. Maryville University's online Bachelor of Social Work (BSW) prepares students with the skills and education to make an immediate impact with their clients.
The BSW program follows the nine Council on Social Work Education (CSWE) competencies, which are critical to becoming a social worker in the gerontology field. You will learn to demonstrate ethical and professional behavior, how to assess clients and their families, how to engage in policy practice, and other hallmarks of the profession. Once you've earned your degree, you'll be able to apply for entry-level jobs in the geriatric social work field so you may begin assisting clients, though some employers may require a master's degree.
For those interested in pursuing a clinical role in the field, the next step is becoming licensed as a clinical social worker. Licensed clinical social workers (LCSWs) are required to have a Master of Social Work (MSW) and must pass the Association of Social Work Boards exam to establish their competence in the field. Additionally, they must meet the minimum amount of post-MSW clinical hours to meet their state's licensure requirements.
Other advanced roles in social work may require additional credentialing. Within geriatric social work, the highest credential offered is the advanced social worker in gerontology (ASW-G) credential. The eligibility requirements are:
A Master of Social Work (MSW) from an institution accredited by the Council on Social Work Education
Twenty hours of professional continuing education relevant to geriatric social work
Either two years or 3,000 hours of documented experience working with older adults
Either a current state MSW-level license or a passing score on an Association of Social Work Boards MSW-level exam
Adherence to the NASW Code of Ethics and the NASW Standards for Continuing Professional Education
Geriatric Social Worker Salary
According to the U.S. Bureau of Labor Statistics (BLS), social workers, including geriatric social workers, had a median annual salary of $51,760 in 2020. Those in the top 10th percentile made more than $85,820.
Actual salaries can be affected by a variety of factors, such as education level, advanced certification, experience, region, and hiring organization. For instance, the BLS reports that the median annual wage for social workers employed by local governments (excluding schools and hospitals) was $57,660. Comparatively, social workers employed by state governments (excluding schools and hospitals) had a median annual salary of $49,860.
Employment Outlook for Social Workers Working with Seniors
The BLS projects positions for social workers will increase by 12% between 2020 and 2030, which is faster than the average growth projected for all occupations. That's an estimated 89,200 new social worker positions being added to the workforce. The aging of the baby boom generation and longer life expectancies are driving the need for more geriatric social workers.
Fundamental Skills for Geriatric Social Workers
To be effective, geriatric social workers should possess a certain skill set:
Communication: Geriatric social workers must be able to communicate effectively with their clients, some of whom may have difficulty communicating (due to loss of hearing or inability to speak clearly, for example). They also need to be able to communicate with those who have memory issues or dementia. Additionally, social workers must regularly communicate with the families and caretakers of their clients.
Emotional control: Geriatric social work can be emotionally challenging, and often involves sensitive subjects. Social workers must maintain composure and professionalism, interacting with clients in a respectful, positive, and nurturing way.
Perceptiveness: As a geriatric social worker, you'll be working with clients on a one-on-one, intimate basis. Part of your role will be to get to know your clients and understand their needs, even when they're uncomfortable verbalizing them.
Problem-solving: Clients will regularly have personal issues or problems that need to be addressed. These problems may relate to mental health, medication, or physical ability. Geriatric social workers must be able to synthesize solutions from different sources, often involving collaborating with families, caretakers, and government agencies.
Take Your First Step to Becoming a Geriatric Social Worker
A career as a geriatric social worker provides the opportunity to do important work with a demographic in increasing need of support. There's never been a better time to get involved, and the road to making a difference begins with education.
Maryville University's online Bachelor of Social Work can help provide you with the educational foundation and skills to pursue a rewarding career in the field of social work. Take your first brave step toward becoming a geriatric social worker today.
Recommended Reading
Social Work vs. Sociology Degrees: Explaining the Difference
What Is Social Work? Definition, Careers, and Key Topics
Sources
American Geriatrics Society, Training for Geriatric Social Workers
Caring Village, What Is a Geriatric Social Worker?
Healthcare Global, "Gerontological Social Workers: The Growing Demand for Elder Advocacy"
Houston Chronicle, "Responsibilities of Social Workers in Elderly Homes"
National Association of Social Workers, Read the Code of Ethics
National Association of Social Workers, Advanced Social Worker in Gerontology (ASW-G)
Be Brave
Bring us your ambition and we'll guide you along a personalized path to a quality education that's designed to change your life.