Eligibility Worker: Job Description, Skills, and Salary
Eligibility Worker: Job Description, Skills, and Salary
Eligibility Worker: Job Description, Skills, and Salary
Nearly 600,000 people in the U.S. were experiencing homelessness on a given night in 2020, according to the National Alliance to End Homelessness. The U.S. Department of Agriculture reports that 10.2% of the country's households lacked adequate food at some point during 2021. Additionally, healthcare access remains a challenge, with about 43% of Americans ages 19 to 64 being underinsured in the first half of 2022, according to The Commonwealth Fund.
These statistics illustrate the social and economic issues that many people in the U.S. face today. Social services strive to make an impact on the lives of struggling individuals and families but enrolling or staying enrolled in these programs can be complicated.
Eligibility workers use their training and skills to inform people seeking assistance about programs they qualify for and help them navigate the application process. Individuals interested in pursuing a career in social services can benefit from earning a Bachelor of Social Work degree.
What Is an Eligibility Worker?
An eligibility worker is a specialized office employee who reviews applications to ensure a person's eligibility to qualify for various social service benefits. These services can range from state-run medical programs to the Supplemental Nutrition Assistance Program (SNAP). Eligibility workers collect and analyze applicants' information via interviews, references, and personal and financial data verification.
They also help coordinate with appropriate agencies to arrange the right services for those deemed eligible. In addition, they help individuals by identifying their precise needs, answering their questions about the programs, helping them fill out forms, and referring them to the appropriate services. They also provide applicants with updates on the progress of their applications.
In a sense, eligibility workers act as gatekeepers whose aim is to identify people in need of services and make sure that they receive them. The role is crucial and requires in-depth knowledge of different programs and what they offer. Those in the role also need to monitor changes in laws that can impact an individual's current or prospective eligibility.
Work Settings for Eligibility Workers
Government agencies at the local, state, and federal levels employ a vast majority of the country's eligibility workers. This type of social worker often meets with individuals and reaches out to potential applicants.
Their work settings often involve interacting with vulnerable people or groups, many in desperate need of assistance. Therefore, eligibility workers may find themselves in stressful, contentious, and emotionally draining situations. However, helping people in need can be highly rewarding.
Healthcare and nonprofit organizations also employ eligibility workers. In these settings, they often work in call centers and office facilities, where most of their interactions with individuals are primarily via phone and email.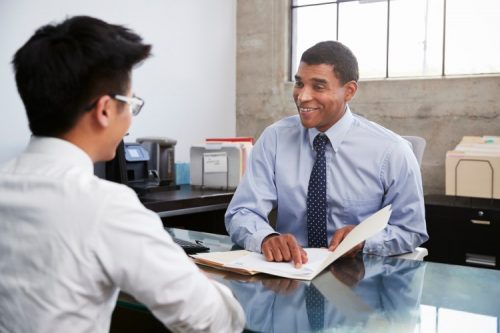 Eligibility Worker Assistance Programs
Below are common types of public assistance programs and examples of their requirements.
Employment Insurance
People who lose their jobs and have difficulty finding new ones may qualify for unemployment insurance. This benefit can help individuals remain financially afloat until they find a new job.
Baseline requirements include being separated from previous employment through no fault of their own. Another factor determining eligibility for unemployment benefits includes work and wage requirements, which vary by state.
Eligibility workers explain eligibility requirements for these programs, guide individuals through the application process, and communicate legal rights to applicants.
Housing Assistance
The U.S. Department of Housing and Urban Development reports that roughly 970,000 households live in public housing units.
Each of these households had to go through the eligibility determination process. This process includes reviewing an applicant's annual gross household income and considering other factors, such as a person's age, family status, and whether they qualify as having a disability.
Along the journey, eligibility workers provide applicants with information and guidance. Their work also includes checking an applicant's references to make sure they'll be good tenants.
Fundamental Skills for Eligibility Workers
Professionals in this role work closely with clients, many of whom may be experiencing personal challenges. Therefore, eligibility workers need to be able to exhibit compassion and patience to people from all walks of life. Additionally, critical thinking and problem-solving skills enable them to find resolutions to often complicated enrollment issues.
Eligibility workers may have to deny benefits to an individual or a family, potentially creating a contentious situation. The ability to form trust-based relationships and stay composed in stressful situations can contribute to positive outcomes.
Core essential skills for eligibility workers include the oral communication skills necessary to engage with individuals. Oral communication competencies come with active listening skills, which are vital to understanding individuals' needs and demonstrating compassion. Written communication skills are necessary because social services often require a lot of paperwork. Additionally, eligibility workers may need to reach out to or follow up with individuals through email and other electronic forms of communication.
Eligibility Worker Salary and Job Outlook
The median annual salary of an eligibility worker was about $42,000 as of November 2022, with those in the top 10% of the category making roughly $62,000, according to the salary aggregate website Payscale. Factors that can influence salary include experience level, education, and location.
The U.S. Bureau of Labor Statistics (BLS) doesn't specifically record data for eligibility workers, instead including them in the category of social and human services assistants. The job outlook for this field is strong, with the BLS projecting 12% growth between 2021 and 2031. This is significantly higher than the 5% job growth BLS projects for the labor market as a whole.
Why Become an Eligibility Worker?
Eligibility workers can have a profound impact on the lives of people in need. Their knowledge of agencies and social programs helps them guide people through the complex and ever-changing array of available services. These programs meet basic needs, such as food, housing, and healthcare, ensuring people can access the services they're entitled to, which can vastly improve their quality of life.
The goal of an eligibility worker is to act as a guide for people in need of crucial services. For those seeking a career that truly helps others, eligibility workers meet that goal every day.
Make a Positive Difference for Individuals and Communities as an Eligibility Worker
Eligibility workers use their knowledge of social work to address inequity one individual and family at a time. Earning a social work degree teaches them the skills to help marginalized individuals, families, and groups access programs and tools to overcome struggles with homelessness, unemployment, lack of healthcare, and more. They use their compassion and wide breadth of communication, problem-solving, and analytical skills to help people find the help they need to improve their lives.
Discover how Maryville University's online Bachelor of Social Work can help you develop the skills to become an eligibility worker and have a positive impact on people's lives every day.
Recommended Reading
What Is Grief Counseling? Techniques and How It Helps
BSW vs. MSW: Exploring Two Social Work Degrees
Police Social Workers in Emergency Response Situations
Sources:
The Balance, "How to Qualify for a Section 8 Voucher"
The Commonwealth Fund, The State of U.S. Health Insurance in 2022
National Alliance to End Homelessness, State of Homelessness: 2022 Edition
ONet, Eligibility Interviewers, Government Programs
Payscale, Average Eligibility Worker Hourly Pay
U.S. Bureau of Labor Statistics, Social and Human Service Assistants
U.S. Department of Agriculture, Food Security in the U.S.
U.S. Department of Housing and Urban Development, HUD's Public Housing Program
U.S. Department of Labor, Unemployment Insurance
Be Brave
Bring us your ambition and we'll guide you along a personalized path to a quality education that's designed to change your life.