What Is Child Welfare Social Work?
What Is Child Welfare Social Work?
What Is Child Welfare Social Work?
Child welfare social workers protect children. They are prepared with the skills and knowledge needed to ensure the welfare and well-being of infants, children, teens, and families.
A vital aspect of the child welfare social worker role is to work closely with children who have been impacted by various social issues. These can include teenage pregnancy, homelessness, poverty, discrimination, misbehavior, truancy, or poor academic performance. In cases of physical and mental abuse, neglect, and mistreatment, social workers conduct investigations to decide whether temporary or permanent removal from a family is necessary to protect the child.
Child welfare social work requires mental and emotional fortitude, but it is a career path that can make a significant impact on society. Professionals in this field focus on providing essential social services to protect society's most vulnerable and help enhance the well-being of families. An online Bachelor of Social Work (BSW) program can prepare you for a career of helping people through challenging times and circumstances.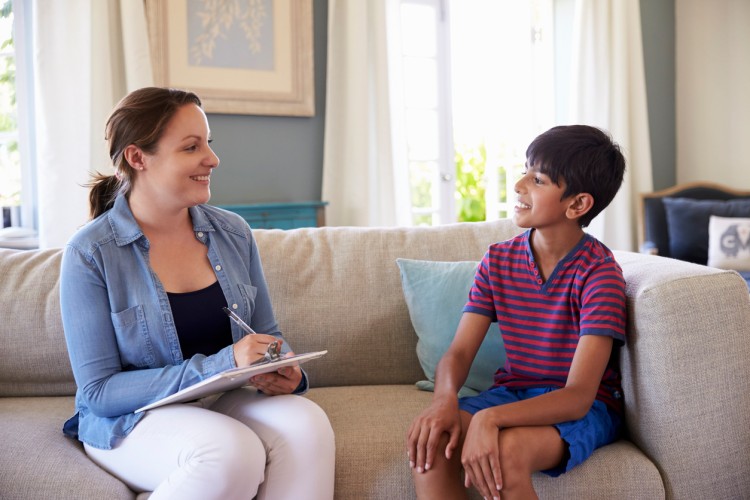 Work Settings for Child Welfare Social Workers
Child welfare social workers typically are employed by government agencies, nonprofits, community organizations, and foster care and adoption agencies. States in the U.S. employ child welfare social workers in agencies with names such as the Department of Child and Family Services or Child Protective Services. Social workers typically work full time and are often on call and available for clients in the evenings and on weekends and holidays.
Child welfare social workers perform a variety of tasks in the office, including preparing documentation, organizing case files, and maintaining important client and court records. In the field, they visit with clients in their homes and schools.
Child welfare social workers may work remotely. They can help people in need via videoconferencing, mobile apps, web-based intervention programs, and interactive tutorials, among other technology tools. Technology provides new ways for social workers to communicate with clients, collect information, and maintain electronic records and sensitive information in secure digital environments.
What Does a Child Welfare Social Worker Do?
The day-to-day responsibilities of a child welfare social worker are wide-ranging. They make home visits to investigate reports of abuse or neglect, assess children's living situations, and provide services. These services can include counseling, housing assistance, and parent education and support, as well as helping families apply for social benefits or child care assistance.
When investigating a case of abuse or neglect, a child welfare social worker interviews the child, his or her siblings, and the child's parents or guardians. Additionally, the child welfare social worker may reach out to relatives, teachers, neighbors, doctors, and others who may know the child, with or without the permission of the child's parents or guardians. They gather information from their interviews and research to determine whether children are properly cared for and safe in their homes.
In cases where the evidence points to a crime, such as sexual or physical abuse, child welfare social workers report their findings to the police to protect the child from further abuse. Social workers may need to make recommendations as to whether a child should be temporarily or permanently placed in an alternate living situation, such as foster care or adoption. In some cases, child welfare social workers are required to testify in court.
Fundamental Skills in Child Welfare Social Work
Child welfare social work requires a diverse range of knowledge, qualities, and skills. Individuals aspiring to pursue this career path should have the following skills:
Organization: To manage high caseloads and maintain files and records
Time management: To set appointments to interview people and conduct timely follow-ups with clients
Compassion: To demonstrate empathy, get a deep understanding of how their situations impact clients, and forge trust-based relationships
Critical thinking: To assess clients' situations and develop programs and services that meet their needs
Communication: To listen effectively and speak with people of various ages and from different backgrounds, from children and parents to medical professionals and lawyers
Ability to work independently: To stay on top of paperwork and field work for assigned cases
Resilience: To effectively handle emotionally challenging situations and high levels of stress
Decision-making: To respond to crises in a timely fashion and determine whether children should be separated from their families and placed into a foster home
Child welfare social workers should also enjoy working with children and have a personable and approachable personality. These skills and attributes can help them become successful in the field, and it is essential that they hone them throughout their careers.
Salary Range for Child Welfare Social Workers
The median annual salary for child welfare social workers was $51,030 in 2019, according to the U.S. Bureau of Labor Statistics (BLS). California, New York, Pennsylvania, Texas, and Illinois employ the most child welfare social workers, with New York and California having the highest median wages, $60,380 and $59,990, respectively.
Most entry-level administrative positions require a Bachelor of Social Work. In contrast, clinical roles require a Master of Social Work (MSW) and state licensure, which usually requires passing a written exam and a minimum number of clinical experience hours.
Child Welfare Social Work Job Outlook
According to the BLS, projected growth for child welfare social worker roles is 7% between 2018 and 2028. Recent data reported by the U.S. Department of Health and Human Services (HHS) highlights the growing need for child welfare social worker roles. HHS reports an uptick in the number of cases where children were victims of maltreatment, from 674,000 in 2017 to 678,000 in 2018. Consequently, there is an increased demand for healthcare and social services to help prevent child abuse. Child welfare social workers can find alternative homes for children who are unable to live with their biological families.
Your Path Toward a Career in Child Welfare Social Work Starts at Maryville
Bachelor's in social work graduates can choose from various career paths. For those interested in helping infants, children, teens, and families overcome the struggles of life, Maryville University's online bachelor's in social work program can prepare you with the communication, critical thinking, organization, and decision-making skills to succeed. The curriculum is based on teaching students the values and ethical standards of social work practice using the National Association of Social Workers Code of Ethics. Students also explore topics such as social justice strategies, the dimensions of diversity and identity, and human rights from a policy perspective.
Social workers help people in need and advocate for the vulnerable and marginalized. They also give a voice to the voiceless. Those interested in protecting children, helping to provide them with safer and happier lives, and promoting strong families should consider a degree in social work. Learn more about how Maryville can help you change lives today.
Recommended Reading
Protecting Child Welfare and Preventing Abuse: A Guide for Social Workers and Educational Professionals
A Mental Health Crisis Guide for Schools
Social Media Safety Guide for Parents
Sources
Administration for Children and Families, Child Abuse, Neglect Data Released
Child and Family Services Agency, When Child Welfare Investigates Your Family
Houston Chronicle, "The Job Description of a Child Welfare Social Worker"
National Association of Social Workers, "Technology in Social Work Practice"
U.S. Bureau of Labor Statistics, Child, Family, and School Social Worker
Be Brave
Bring us your ambition and we'll guide you along a personalized path to a quality education that's designed to change your life.