How to Become a Project Coordinator
How to Become a Project Coordinator
How to Become a Project Coordinator
Project coordinators are responsible for ensuring all the disparate elements of a project stay on track until completion. As project coordinator Nikki Letendre mentioned in an interview with the U.S. Bureau of Labor Statistics (BLS), she has always "enjoyed puzzles" and "making sense of the chaos." This is true for successful project coordinators across the board — they are invested in fitting elements together to create the larger picture or reach a project goal.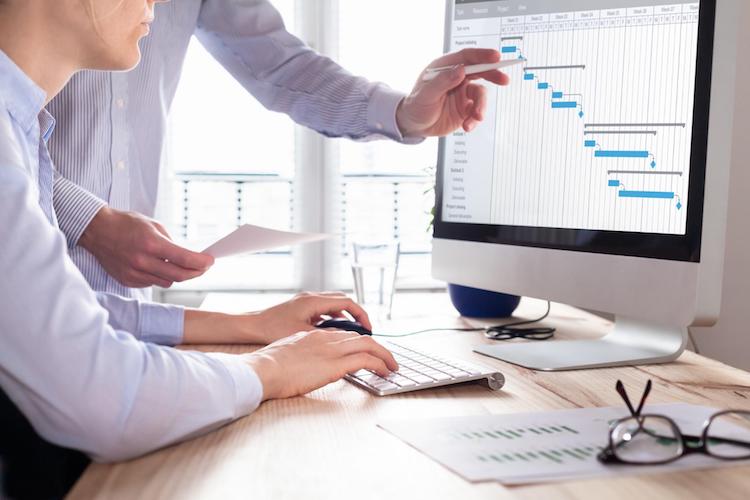 What does a project coordinator do, and why are these professionals so critical to an organization? They act as the linchpin holding all the project aspects together and keeping everyone on task. For professionals wondering how to become a project coordinator, there are a few factors to consider, as outlined below.
What Does a Project Coordinator Do?
Project coordinators manage the different elements of a project, keeping track of the progress in each section until completion. Their job is to organize what needs to happen as it is happening, focusing on efficiency, accuracy, and cohesion.
Improve Efficiency. A main part of a project coordinator's job is to make the entire project run as smoothly and efficiently as possible. Miscommunication and vague instructions can result in mistakes, which can halt progress and even make projects miss deadlines, depending on the severity of the error. Project coordinators try to avoid this by facilitating communication between team members and stakeholders.
Ensure Accuracy. Another element of a project coordinator's position is to ensure accuracy in the work being done by each member or team on a project. If one team is working from incorrect instructions or toward a skewed goal, then when everyone's work is integrated, the final product may be not as accurate as anticipated or may even fail to meet the client's standards. A project coordinator checks in with team members throughout the process to make sure everyone is on the same page.
Facilitate Cohesion. Sometimes, individuals or teams may receive the same instructions or goal, yet as a result of differences in style, assumptions, or other factors, they may not be on the same trajectory. This negatively affects the result. Project coordinators help to avoid this by ensuring all contributors are aligned on all aspects of a project.
The responsibilities of a project coordinator largely depend on the project. For example, different projects may require coordinators to compile and analyze spreadsheets, set and monitor dates and goals, and assess files sent by different professionals working on the project. Some project coordinators may even try to lighten the load of their peers and assist them with paperwork or other tasks.
Steps to Become a Project Coordinator
A combination of the right education and experience can translate to a successful career as a project coordinator. Here is an overview of the key elements involved in this career path.
Education
At a minimum, individuals aspiring to become a project coordinator must possess a high school diploma. However, to fully develop the necessary skills and to gain experience, many future project coordinators also pursue a bachelor's degree. While there are many specific degrees students can choose, selecting a Bachelor of Arts in Liberal Studies offers an advantage that many of the specific degrees do not — the flexibility to build one's own curriculum tailored to what interests them. After earning bachelor's degree, some project coordinators who are interested in seeking larger roles decide to further expand their skill sets by attaining master's degrees or doctorates, as well as certifications, such as those offered by the Project Management Institute.
Skill Development
To ensure projects run as efficiently, accurately, and cohesively as possible, project coordinators must possess certain skills. In particular, the following skills help them manage the moving parts of a big project:
Organization. The core of what a project coordinator does is organize. Coordinators organize people, project goals, money, and much more. They may manage nearly every larger aspect of a project. Therefore, they need impeccable organizational skills to prevent oversights.
Communication. Along with organization, communication is crucial to successfully managing projects. Ensuring that all individuals, teams, and administrators are on the same page requires clear communication. For project coordinators, communication may be not only face-to-face but also through email, messaging, and other communication apps. As such, interpersonal communication is one of the most important skills that a project coordinator can have.
Adaptability. Projects often have to adapt to unforeseen circumstances. Whether this pertains to the budget, the estimated date of completion, or a team member or machine, the project coordinator needs to be able to assess the situation, pivot toward the best outcome, and then work to adapt to the new plan. Luckily, adaptability tools focused on more efficient and consistent software delivery and organization, such as Scrum Project Management and Scrum Methodology, can help with new approaches to changing projects.
Accounting Skills. Many project coordinators are responsible for budget management, which includes establishing the budget and balancing it throughout the duration of the project. Accounting skills allow project managers to ensure financial resources are accounted for and appropriately allocated.
Technical Skills. As projects grow in size, project coordinators need to manage larger elements. To keep track of all the different parts, it is essential that project coordinators be proficient in organizational applications. Spreadsheet software proficiency, in particular, is an excellent skill to have, as it allows coordinators to sort categories easily to stay on track.
Project Coordinator Salaries
The U.S. Bureau of Labor Statistics does not specifically collect data on project coordinator salaries. However, it does have information for business operations specialists, who have similar occupational responsibilities. In 2017, the BLS reported that over 1 million people were currently employed as business operations specialists across the U.S. Their mean annual wage was $75,740. The highest-paid professionals in this field usually have additional education and extensive professional experience.
Future Growth Opportunities for Project Coordinators
Project coordination is a growing field, with many of the top industries hiring project coordinators, also called project managers. According to The Balance Careers, the top five industries currently hiring project managers include: engineering, construction, healthcare, financial services, and technology. To help provide a general outlook for future growth opportunities as a project coordinator, here are the projected future career statistics for managers within each of those top fields:
Engineering. According to the BLS, architectural and engineering managers made a median annual pay of $137,720 in 2017. These management positions are projected to grow by six percent — that's an additional 9,900 jobs — between 2016 and 2026, which is as fast as average across all professions, according to the BLS.
Construction. Managers working in the construction industry made a median salary of $91,370 in 2017, according to the BLS. The BLS also notes that the career of construction managers is expected to grow by 11 percent, which is faster than the average for all occupations, adding an additional 44,800 jobs into the construction industry between 2016 and 2026.
Healthcare. The BLS notes that medical and health services managers made a median pay of $98,350 in 2017. These managerial positions are anticipated to increase by 20 percent, which is much faster than the average for all other occupations, adding 72,100 more management careers into the industry between 2016 and 2026, according to the BLS.
Financial services. In 2017, financial managers made a median salary of $125,080, according to the BLS. The financial manager occupation is projected to increase by 19 percent between 2016 and 2026, which is much faster than the average growth of all other occupations. The BLS also notes that during that decade, 108,600 new financial management positions are expected to open.
Technology. Computer and information systems managers made a median pay of $139,220 in 2017, according to the BLS. The BLS estimates that these management positions are going to grow by 12 percent between 2016 and 2026 — an additional 44,200 jobs — which is much faster growth than other occupations.
Get Started Today
It may come as no surprise that the job outlook for project coordinator and manager careers in the U.S. is promising. As projects in all sectors become more complex with the emergence of new technologies and remote work forces, a project coordinator's talent for streamlining work and maximizing efficiency will become even more important.
If you enjoy bringing order out of chaos and are looking to enter a burgeoning field, a career in project coordination may be the perfect fit. Maryville University's online bachelor's degree in liberal studies is an excellent way for professionals to start in a general direction of their choosing before embarking on the journey toward becoming a project coordinator.
Sources:
The Balance Careers, "Top Industries Hiring Project Managers"
Maryville University, Careers for Liberal Studies Graduates
Maryville University, Online Bachelor's in Liberal Studies Curriculum
Project Management Institute, Certifications
U.S. Bureau of Labor Statistics, Career Outlook: Project Coordinator
U.S. Bureau of Labor Statistics, Occupational Outlook Handbook: Architectural and Engineering Managers
U.S. Bureau of Labor Statistics, Occupational Outlook Handbook: Computer and Information Systems Manager
U.S. Bureau of Labor Statistics, Occupational Outlook Handbook: Construction Managers
U.S. Bureau of Labor Statistics, Occupational Outlook Handbook: Financial Managers
U.S. Bureau of Labor Statistics, Occupational Outlook Handbook: Medical and Health Services Managers
Be Brave
Bring us your ambition and we'll guide you along a personalized path to a quality education that's designed to change your life.