How to Become a Foreign Service Officer
How to Become a Foreign Service Officer
How to Become a Foreign Service Officer
The United States' foreign relations began in the late 1770s, when Benjamin Franklin served as the country's first official international representative, establishing a relationship with France that proved crucial to the nation's victory in the Revolutionary War. In the over two centuries since the U.S. has opened embassies and consulates in nearly every country in the world — only Bhutan, Iran, and North Korea currently do not have U.S. embassies. Nearly 10,000 Foreign Service Officers staff those embassies and consulates as crucial players in our international relations.
To navigate the often-complicated waters of international relations, aspiring Foreign Service Officers should come equipped with plenty of knowledge and relevant skills. Some of the crucial knowledge for this career could be found in a carefully designed foreign service degree, such as an online Bachelor of Arts in International Studies through Maryville University.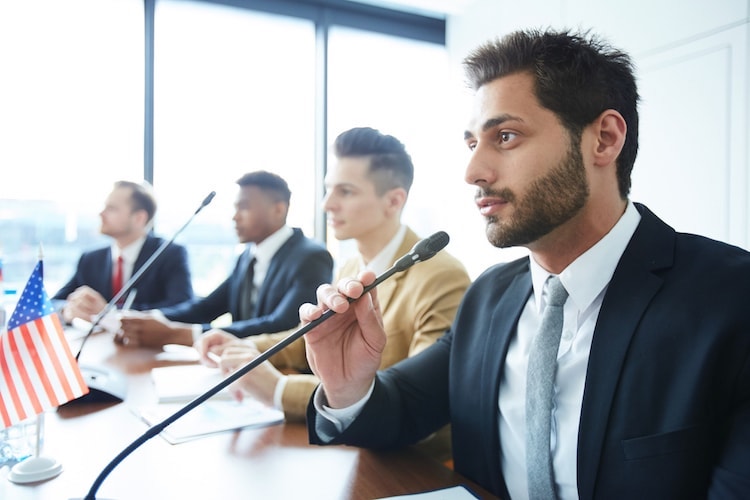 What does a Foreign Service Officer do?
Foreign Service Officers, also known as diplomats, help manage political and economic relations with a specific country. Their areas of expertise can encompass a variety of issues from economics and financial sectors to health, politics, military, and entertainment. Diplomats work for the State Department and under the direction of the secretary of state.
What a Foreign Service Officer does will differ based on one's specific path. The State Department lists five different types of U.S. Foreign Service Officer careers:
Consular officers address humanitarian issues such as adoption, the evacuation of American citizens in another country, and fighting human trafficking
Economic officers work with foreign governments and other governmental agencies on issues ranging from technology and science to economics and trade
Management officers work in embassy leadership, learning about real estate, budgeting, and human resources management to make sure the embassy or consulate runs smoothly
Political officers specialize in the politics of the country in which they work, staying in touch with government officials at various levels, and keeping a close eye on any potential issues down the road
Public diplomacy officers help influence public opinion on important matters, working with non-governmental agencies, think tanks, and society in general to "promote mutual understanding and support for U.S. policy goals"
Why become a Foreign Service Officer?
Foreign Service is a highly demanding and dynamic career that can offer many enriching, and even possibly dangerous, opportunities. A career in Foreign Service may include stints in unstable or unpleasant conditions to carry out diplomatic efforts, but these potential risks also come with many positive aspects.
One of the most compelling reasons to become a Foreign Service Officer is the Foreign Service community, which has been developed by the shared experiences and occupational interests of its professionals, and in which an officer can form close bonds with other officers.
Foreign Service Officers are responsible for engaging with foreign officials and can have an influence on the United States' relationships with other countries. The role can include cultivating and maintaining alliances while learning to understand other cultures in constructive and hopeful ways. In an increasingly interconnected global community, Foreign Service Officers continue to grow in relevance.
The position also comes with other benefits, such as the opportunity to experience cultures all over the world. This could mean learning new languages and meeting new people, as well as appreciating local cuisines, architecture, and art. Some may find excitement in knowing that the job can change so much from one station to another, keeping life fresh, interesting, and open to new possibilities.
Foreign Service degree and career requirements
Foreign Service work requires that the applicant hold U.S. citizenship, be between 20 and 59 years old, and have the ability to work globally and in Washington, D.C. Otherwise, the U.S. Department of State does not require any specific degree, experience, or knowledge of extra languages for Foreign Service officers. However, in the climate of a competitive selection process, relevant education can be valuable for standing out among one's peers. Though a bachelor's degree isn't required, those aspiring to a Foreign Service position frequently earn one, with some going even further to earn a graduate degree.
Related skills and knowledge can be good indicators of how prepared someone is for the role. These competencies include, but are not limited to, leadership potential, information analysis capabilities, objectivity, staying calm under pressure, and excellent written and verbal communication abilities.
How to become a Foreign Service Officer
Planning how to become a Foreign Service Officer takes forethought. The right academic background combined with passing the State Department's rigorous testing regimen are just the first steps toward qualifying for this demanding and competitive role.
#1: Earn a bachelor's degree
The first step in learning how to become a Foreign Service Officer is to equip yourself with the right education. A Bachelor of Arts in International Studies is an excellent Foreign Service degree to pursue. This program offers students the opportunity to explore global issues in preparation for working overseas and includes an optional internship and study abroad opportunity. Diplomats also need a thorough understanding of the host country and its political climate, with a broad understanding of global and regional politics that will help them prepare for the job.
#2: Gain experience and learn global politics
Beyond the classroom, it's important to stay up to date with world events, especially in regions where an aspiring Foreign Service Officer would like to work. Hands-on experience, intensive internships, study abroad programs, and volunteer efforts allow graduates to apply classroom learning in the real world.
#3: Apply to work for the federal government
The State Department describes an eight-part procedure for becoming a Foreign Service officer. Prospective diplomats need to select a career track before they apply because this is part of the registration process for the department's Foreign Service Officer Test (FSOT).
Applicants who pass the FSOT's multiple-choice and essay sections need to submit a personal essay and participate in a day-long oral assessment covering the 13 aspects of Foreign Service work. Those still in the running will then complete medical and background clearances and be reviewed by a panel of professionals before they are placed on a list of individuals approved for federal service, sorted by career track.
Foreign Service Officer salaries
Because Foreign Service Officer is a government job, it's part of the federal pay scale — a complex system based on a series of grades, each with its own steps, or pay levels. The Foreign Service Officer (FSO) pay scale has three grades, each containing 14 steps that indicate a different level of experience and seniority, as well as a different rate of pay.
When one is first hired as a Foreign Service Officer, the grade and step (and therefore salary) depend on education level and qualifying experience. As a result, the salary range is quite wide. PayScale.com reports that the median salary of a Foreign Service Officer is about $89,000 as of August 2020.
Employment outlook for Foreign Service Officers
The growth of the Foreign Service Officer field is difficult to predict and is often based on federal events. According to the American Foreign Service Association (AFSA), the primary union of U.S. Foreign Service workers, there were more than 13,592 Foreign Service employees in December 2019 — 7,905 generalists and 5,687 specialists. The current number of diplomats depends on administration and policy.
Learn more about how to become a Foreign Service officer
An exciting, meaningful career as a Foreign Service Officer could begin with the right Foreign Service degree — one that prepares candidates for a life abroad in the foreign relations sphere. Explore Maryville University's online Bachelor of Arts in International Studies for curriculum details and more on how to become a Foreign Service Officer.
Recommended Reading
6 Tips for Conducting International Business
International Studies vs. International Relations: What's the Difference?
International Studies vs. Political Science: Which Degree Is Right for You?
Sources
American Foreign Service Association, "HR Fact Sheet 2019"
American Society for Public Administration, "Life with My Dad as a Foreign Service Officer"
CNN, "24 Hours with a U.S. Diplomat"
Path to Foreign Service: "Foreign Service Officer Salary: A Comprehensive Guide (2020 Update)"
PayScale.com, "Foreign Service Officer Salary"
U.S. Bureau of Labor Statistics, "Political Scientist"
U.S. Department of State, "5 Career Tracks for Foreign Service Officers"
U.S. Department of State, "13 Dimensions: Foreign Service Officer Qualifications"
U.S. Department of State, "Foreign Service Officer"
U.S. Department of State, "FSO: SOP 134A3 – Careers U.S. Department of State, Mission"
Be Brave
Bring us your ambition and we'll guide you along a personalized path to a quality education that's designed to change your life.