What Is a Recruiting Manager? Job Description and Salary
What Is a Recruiting Manager? Job Description and Salary
What Is a Recruiting Manager? Job Description and Salary
Recruiting managers play an important role in helping organizations find the right fit for each position. Businesses can succeed only if they're staffed with experienced, knowledgeable, and productive employees. Poor hiring decisions can cost companies valuable time and money. That's where recruiting managers come in. These professionals establish hiring processes and lead teams that carry out recruitment, training, and retention strategies. Their work ensures that their organizations are made up of people who can contribute to overall business goals and create future growth. Prospective recruiting managers can obtain the knowledge and skills they need to pursue this career with a comprehensive degree in the field, such as Maryville University's online Bachelor of Science in Human Resource Management.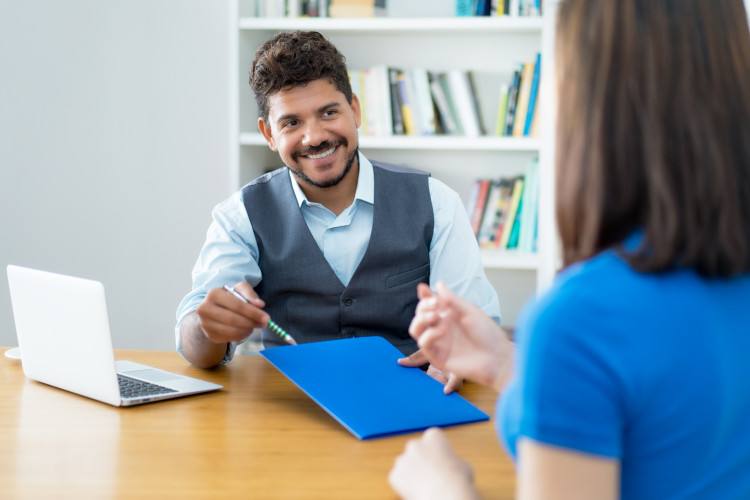 Recruiting Manager Job Description
Recruiting managers fill job vacancies with the most qualified candidates, overseeing the sourcing, screening, and interviewing processes for an organization. They also participate in company decisions regarding future staffing needs, create job descriptions and qualification lists, and often oversee their own staff of recruiters. Company culture is increasingly recognized as crucial to job satisfaction, performance, and company success. A McKinsey & Company study found that organizations with strong company cultures reported a 60% higher return to shareholders than those with weaker cultures. Recruiting managers play a key role in building company culture in how they attract and select employees.
​​Recruiting managers also strive to increase diversity and inclusion in the workplace by proactively seeking employees from a range of backgrounds and experiences. According to a recent study in the Academy of Management Journal, organizations with racial diversity in upper- and lower-management positions reported higher productivity than those with less diversity. The study also found that those with less diverse management were less capable of making good business decisions and standing out from their competitors.
Overall, the recruiting manager job description encompasses a wide range of responsibilities, including:
Build recruitment processes that align with the organization's hiring needs and business goals
Act as a spokesperson for the company and communicate the benefits of working there for prospective hires
Conduct initial rounds of interviews and coordinate follow-up interviews
Collaborate with other company managers and executives to set clear hiring goals and analyze their progress toward reaching them
Actively seek to diversify talent and deepen company culture
Research and understand current labor laws and government hiring regulations
Use applicant tracking systems to automate and streamline hiring processes
Attend job fairs, workshops, conferences, and hiring events to source new employees
Anticipate future job openings to start hiring early and keep positions filled
Train and supervise team members on using updated recruiting techniques and tools
Travel for networking and sourcing opportunities in other states or countries
Recruiting Manager Skills
Recruiting managers must cultivate key skills to perform their jobs successfully. These important skills include:
Interpersonal skills. Professionals in this role must be able to lead informative conversations with potential hires, other managers, and executives when building and carrying out recruiting processes. They must also be able to assess a candidate's fitness for a certain role based on their interactions, either in person or virtually.
Technological skills. Recruiting managers should be able to use digital tools such as applicant tracking systems to automate and streamline hiring, vetting, and training processes. They should also be comfortable using online platforms such as LinkedIn and Indeed to source and communicate with new talent.
Decision-making skills. These managers must be able to make short- and long-term decisions about new hires and filling vacant roles to keep production running smoothly and meet a company's overall goals.
Leadership skills. Recruiting managers must be capable of organizing and overseeing their own teams of recruiters and HR professionals. This might include finding and training team members to carry about new and updated programs.
Organizational skills. Because recruiting managers have many responsibilities, they should be able to properly prioritize tasks and coordinate schedules for themselves and their team members as needed.
Recruiting Manager Salary and Job Outlook
According to the U.S. Bureau of Labor Statistics (BLS), the median annual salary for human resources managers, including recruiting managers, was $121,220 as of May 2020, with those in the top 10% making upward of $208,000. Salaries for this role can vary based on many factors, including location, experience, and skill level. PayScale reports that skills in organizational development, data analysis, event management, negotiation, and process improvement can help recruiting managers earn higher salaries. The BLS predicts that job opportunities for human resources managers will increase by 9% between 2020 and 2030, adding 14,800 new jobs to the field. In the future, companies will be working to stay up to date with employment laws and to fill vacancies left by retiring baby boomers. As a result, they'll need talented recruiting managers to build, lead, and advance their hiring processes.
Build Your Career as a Recruiting Manager
Recruiting managers can make an important impact on others' careers and their employers. With the right educational foundation, the recruiting managers of the future can start building their careers. Maryville University's online Bachelor of Science in Human Resource Management is designed to provide future HR professionals with the knowledge and skills they need to succeed in their chosen field. Coursework covers current recruitment trends, technologies, regulations, and principles, and the program provides opportunities for experiential learning through real-world case studies, comprehensive capstones, and internships.
Take the first brave step in the rewarding field of recruiting management with Maryville University, and discover how an online Bachelor of Science in Human Resource Management can make a difference in your career and the careers of others.
Recommended Reading
How to Maintain a Healthy Workplace Post-COVID-19
Importance of Training and Development for Employees
Risk Management Techniques and Tips for HR Professionals
Sources
Academy of Management, "The Effects of Racial Diversity Congruence Between Upper Management and Lower Management on Firm Productivity"
Factorial, "Recruitment Manager: Traits, Roles, Responsibility"
McKinsey & Company, "Culture: 4 Keys to Why It Matters"
PayScale, Average Recruiting Manager Salary
Recruitee, "24 Skills to Become a Recruitment Manager"
Be Brave
Bring us your ambition and we'll guide you along a personalized path to a quality education that's designed to change your life.