Youth Director Job Description
Youth Director Job Description
Youth Director Job Description
Safe, nurturing, and stable communities give young people a chance to explore their potential and thrive. Youth development programming can help build such communities. Thoughtfully planned community service activities, mentorship programs, and extracurricular activities can give children and adolescents a chance to develop a strong sense of identity and a positive outlook on their futures. These programs also nurture the social, emotional, and behavioral skills young people need to mature into well-adjusted adults.
Youth directors play a vital role in successful youth programs. Those interested in the youth director job description and its impact can equip themselves with the skills and knowledge the job requires by earning a bachelor's degree in a field such as human development and family studies.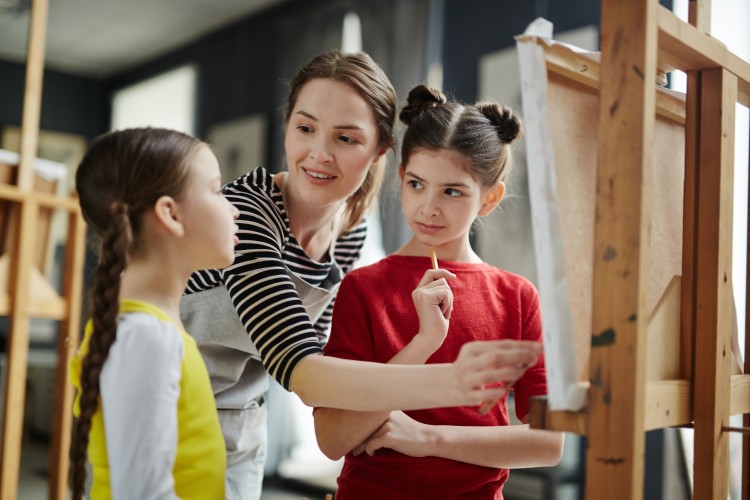 Work Settings for Youth Directors
The work of youth directors frequently takes them into the community and nontraditional work settings. Youth directors may lead activities in places as varied as skating rinks, public libraries, parks, and museums. It all depends on the focus of the youth development programming, the creativity of the youth director, and the needs of the youths being served.
While youth directors often carry out many of their responsibilities in diverse environments, the organizations that hire them tend to include:
Churches and other houses of worship
Government facilities
School districts
Community service and advocacy organizations
What Do Youth Directors Do?
Youth directors strive to create programs that help young people develop self-esteem, positive habits, and resilience within a network of supportive adults and peers. Not only can youth directors help children and adolescents lead happier lives and connect with caring people, but numerous studies have shown that youth development programs reduce violent behavior and substance use among young people.
Youth Director Job Responsibilities
Developing and supervising youth programming make up the bulk of a youth director's job. This work involves duties related to program evaluation, relationship building, and staff supervision.
To begin, youth directors head specific programs geared to children and/or adolescents that may address any number of goals, such as:
Religious education
Community building and collaboration
At-risk youth outreach
Academic support and enrichment
For example, a youth director may lead a program at a community center designed to help children succeed in school by pairing them with high school student volunteers who would serve as their tutors and mentors. The program could also focus on teaching adolescents leadership skills and preparing them for college.
A youth director's job description may include developing a curriculum to teach the young mentors about how to be role models. The job could also involve planning activities focused on building the teenagers' professional skills and helping them apply to universities.
Program Building and Expansion
In addition to overseeing existing programs, youth directors may work on expanding current programs to include more offerings or serve more young people. Youth directors may spearhead new program initiatives as well.
This could require identifying potential partnerships with organizations, such as cultural or recreational centers, as well as other resources and means of support. Launching or expanding programs could also involve:
Recruiting programs staff, volunteers, and student participants
Participating in marketing and fundraising efforts
Conducting program evaluations to identify areas for growth and improvement
Program Leadership and Supervision
Youth directors ensure programs offer welcoming environments and quality activities responsive to children and adolescent needs. To that end, youth directors build positive relationships with youth participants, staff, and parents. They also handle program logistics such as ordering necessary supplies, coordinating trip details, and making arrangements for guest presenters.
More broadly, youth directors guide and supervise program staff and volunteers to help them realize program missions and goals. This may involve:
Organizing staff/volunteer development and training
Participating in hiring decisions
Conducting staff performance reviews
Planning and leading program activities
Fundamental Skills of a Youth Director
In addition to getting familiar with the job description of a youth director, learning about the fundamental skills needed to succeed in the role is also important. Those pursuing the career should have a passion for youth and community building. They should also excel in the following areas.
Communication
Youth directors must effectively communicate with a host of people, including the staff they supervise, the volunteers they lead, and the community members they serve. Whether teaching teenagers about coping skills or training staff how to work sensitively with people from diverse cultural and socioeconomic backgrounds, youth directors need to demonstrate respect, empathy, and clarity when they communicate.
Forming partnerships with community organizations and providing meaningful feedback and support to program staff also calls for active listening, responsiveness, and openness.
Leadership
To motivate young people and their parents and inspire teamwork among program staff, youth directors need leadership skills. Youth directors often serve as role models to the youths under their charge, so they should demonstrate integrity and possess mentorship skills. Additionally, to hold their staff accountable, youth directors need to project confidence.
Conflict Resolution
Children and teenagers regularly experience physical and psychological changes as a natural part of their development. These changes can sometimes lead them to act out or argue with their peers. Youth directors need to help the youths they lead peacefully resolve their differences.
Youth directors may also provide guidance to young people about how to manage their stress, as well as teach them methods for managing their emotions during tense situations. Additionally, youth directors can help young people learn how to compromise and accept others as they are.
Organization
Youth directors often juggle many responsibilities, from planning events to managing staff to coordinating new initiatives with organizational leaders. This requires excellent time management and the ability to prioritize tasks.
Carrying out job responsibilities in nontraditional environments that can change from one day to the next also requires youth directors to have excellent organizational skills.
Analysis and Problem-Solving
Evaluating a program's effectiveness, as well as coming up with ways to make improvements, demands strong analytical skills. Developing programs that effectively address a youth community's particular needs also calls for the ability to accurately assess information and find solutions.
Youth directors may encounter budgetary constraints, limited resources, or staff issues that need attention. Therefore, they should be able to come up with creative alternatives and devise useful solutions.
Salary Range for Youth Directors
Youth directors earn a median annual salary of about $36,000, according to PayScale data as of February 2022. Top youth director salaries can reach up to $51,000 a year. Years of experience, education level, and geographic location all impact how much a youth director earns.
Your Path Toward a Career as a Youth Director Starts at Maryville
Youth directors can make a powerful impact on young people's lives. By developing and delivering thoughtful youth development programming, youth directors create safe environments where children and adolescents can form meaningful bonds and grow.
Those interested in directing youth programs should consider Maryville University's online Bachelor of Arts in Human Development and Family Studies. With five tracks to choose from, Maryville University's program can help prepare individuals to take on the various responsibilities in any youth director job description. Explore the program and discover how you can make a difference in the lives of young people.
Recommended Reading
Children and Technology: Positive and Negative Effects
Cultural Influences on Child Development
Early Childhood Education vs. Child Development
Sources
Act for Youth, Toolkit: Youth Program Planning
Centers for Disease Control and Prevention, Positive Youth Development
Houston Chronicle, "Responsibilities of a Church Youth Director"
PayScale, Average Youth Director Salary
Providence Center, Providence Center Job Description
Texas Health and Human Services, Positive Youth Development
Youth.gov, Effectiveness of Positive Youth Development Programs
Zippia, "What Does a Youth Director Do?"
ZipRecruiter, "What Is a Youth Program Director and How to Become One"
Be Brave
Bring us your ambition and we'll guide you along a personalized path to a quality education that's designed to change your life.