Youth Director Job Description
Youth Director Job Description
Youth Director Job Description
Whether it pertains to pandemic-related depression, panic attacks, post-traumatic stress disorder, or a host of other mental, behavioral, or emotional issues, mental health is a crucial matter that touches all of us. The National Alliance on Mental Illness reports that 1 in 5 adults in the United States suffered from a mental illness in 2020, with anxiety and depression affecting an estimated 69 million people. With only 46% of adults with mental illness accessing treatment in 2020, the need to help people who require it most is urgent.
The essence of what a mental health counselor does daily involves joining forces with psychiatrists and primary care providers to help identify and treat mental health disorders. The work of mental health counselors typically includes therapy, treatment strategies, behavior analysis, and crisis intervention.
While most mental health counselors earn a master's degree, pursuing a bachelor's degree in a field such as human development and family studies offers students a solid foundation to achieve their goals. For individuals who are passionate about helping others, becoming a mental health counselor can launch a challenging and fulfilling career.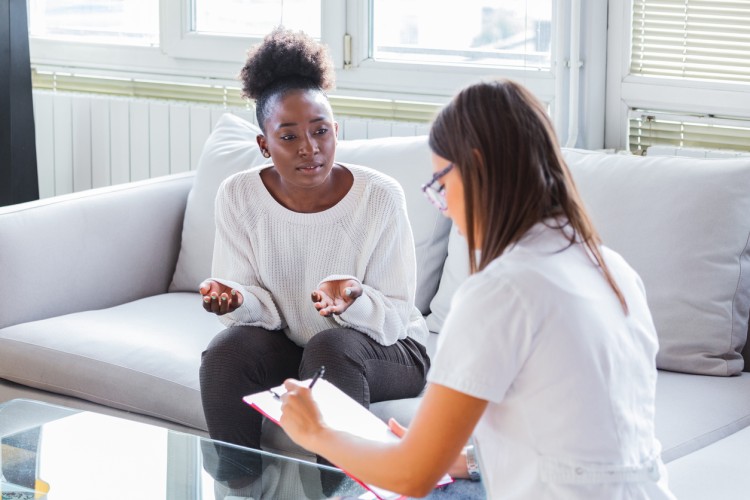 Duties of a Mental Health Counselor
The day-to-day challenges of counseling and what a mental health counselor is responsible for can be demanding and rewarding, including:
Assessing and diagnosing clients
Collaborating with other health professionals
Establishing treatment plans and protocols
Building relationships with clients, families, and communities
As skilled professionals, mental health counselors play an essential role in communities, giving counsel, care, and resources to people in need. Whether it be through one-on-one and group counseling sessions or crisis intervention, mental health workers are often on the front lines of our best and worst days — and can make all the difference in people's lives.
Work Environment for Mental Health Counselors
As the mental health epidemic in the United States continues to rise, with diseases including anxiety, depression, and PTSD affecting nearly 20% of the adult population and increasing among young adults, the demand for mental health resources is rising with it. In response, job opportunities for counselors are available in a variety of settings, including:
Hospitals
Substance abuse centers
Family services agencies
Schools
Prisons
Juvenile detention facilities
An aspiring mental health counselor can choose from a variety of advanced education concentrations and certifications in areas such as youth development, marriage and family counseling, rehabilitation, and addiction recovery.
Through specialization and an advanced education, experienced counselors can prioritize factors such as emergency casework versus long-term care, or community outreach versus research or administrative roles.
Mental Health Counselor Qualifications and Skills
The path to becoming a qualified mental health counselor can be intensive, typically involving earning a master's degree in counseling or a related field, such as psychotherapy, and applying for a state license. In many states, counselors must complete the Licensed Clinical Mental Health Counselor (LCMHC) exam administered by the National Board for Certified Counselors (NBCC).
Building the foundational knowledge of human behavior required to treat patients takes time and a focused education. Pursuing a bachelor's degree in a related field — such as human development, psychology, or family studies — can help many prospective counselors gain a well-rounded introduction to their field, making it easier to grasp the in-depth concepts covered in their master's degree program or future certifications.
Mental Health Counselor Skills
Helping patients struggling with mental health issues is a challenging role and requires a broad skill set. Taking concepts from theory to practice can look different from client to client: Each has their own history and personal challenges. To provide quality care to patients, what a mental health counselor does calls for hard and soft skills, allowing them to build rapport with clients and choose the right treatment strategy.
Hard Skills
Therapeutic techniques: Providing patients with different strategies and resources to combat their illnesses
Treatment planning: Putting together an individualized program to address each patient's unique set of challenges and work toward a productive and positive solution
Behavior analysis: Applying an understanding of human behavior to identify and treat an individual's condition, as well as determine which solutions are more or less likely to be beneficial
Crisis intervention: Planning an immediate and often short-term emergency response to a patient's illness while keeping negative repercussions to a minimum
Soft Skills
Listening and communication: Skills such as active listening and compassion that allow counselors to build rapport and better understand a patient from their point of view
Empathy: The ability to understand and share the feelings of their patients while keeping a safe emotional distance and avoiding emotional fatigue
Emotional intelligence: The ability to identify and counsel patients on understanding and managing their emotions
Critical thinking and problem-solving: Identifying the stressors and factors contributing to an individual's mental illness and formulating a strategy to address those factors
Through a measured balance of strategies, techniques, and communication, a mental health counselor can guide individuals through crises and equip them with tools to improve their lives.
Mental Health Counselor Salary and Job Outlook
Mental health counselors play a crucial role in the lives of individuals and their families. From counseling programs to emergency resources and substance abuse programs, what a mental health counselor does can mean the difference between healing and trauma. With increased stress associated with the coronavirus pandemic, there is a growing need for qualified mental health professionals who can address the challenges facing all societal demographics.
The U.S. Bureau of Labor Statistics (BLS) reported that the median annual pay for substance abuse, behavioral disorder, and mental health counselors was $47,660 as of May 2020. Depending on factors such as work experience, level of education, and geographic location, counselors have many opportunities to earn additional certifications, qualifying them for coveted roles and the increased salaries that often accompany them.
Additionally, the BLS predicts a 23% increase in employment for substance abuse, behavioral disorder, and mental health counselors between 2020 and 2030, significantly higher than the average projected job growth of 8%.
Launch Your Career in Mental Health
What a mental health counselor does has the potential to significantly improve the lives of others by applying the techniques, guidance, and resources to help them cope with mental health issues. With a solid foundational education that explores the physical, social, and emotional development of people and families, counselors can better understand their patients on a fundamental level, tailoring treatment and working toward finding individualized solutions.
Maryville University's online Bachelor of Arts in Human Development and Family Studies can give prospective mental health counselors crucial foundational knowledge. Featuring core courses in interpersonal relations and sociology of the family, as well as the opportunity to choose from concentrations including Early Childhood Development, Youth Development, Family Life Education, and Adult Development and Aging, Maryville's fully online degree program offers students the focused education they need to move forward in their careers with confidence. Discover how you can make a positive impact and pursue a fulfilling career as a mental health counselor.
Recommended Reading
Cultural Influences on Child Development
Early Childhood Education vs. Child Development
What Is Family Life Education?
Sources
American Counseling Association, Overview of State Licensing of Professional Counselors
Healthline, "What Is a Mental Health Counselor? Plus Where You Can Find One"
Kaiser Family Foundation, "The Implications of COVID-19 for Mental Health and Substance Use"
Mental Health America, The State of Mental Health in America
National Alliance on Mental Illness, Mental Health by the Numbers
U.S. Bureau of Labor Statistics, Substance Abuse, Behavioral Disorder, and Mental Health Counselors
Verywell Mind, "Mental Health Counselor Training, Skills, and Salary"
ZipRecruiter, "Mental Health Counselor Must-Have Resume Skills and Keywords"
Be Brave
Bring us your ambition and we'll guide you along a personalized path to a quality education that's designed to change your life.