How to Become a Museum Technician: Job Description and Salary
How to Become a Museum Technician: Job Description and Salary
How to Become a Museum Technician: Job Description and Salary
Museums aren't just fun and interesting places to visit — they're important cultural and educational institutions. Whether what's on display belongs to a museum's permanent collection or is part of a temporary exhibit, each object, document, and artifact can provide visitors with deep insight into a period of history, an important event, or a civilization's culture and traditions. Moreover, museum visits serve to shape an individual's perspective, providing historical touchstones to better understand modern life and aspects of our heritage often taken for granted.
For a museum to do its job well, each object in its collection needs to tell its part of the story to the fullest extent possible. This is the work and goal of a museum technician. By meticulously cleaning, preserving, and caring for each piece and artifact, museum technicians help to ensure that museum collections realize their unique storytelling ability. A museum's success depends heavily on the abilities of its technicians, making the role a demanding one that requires specialized knowledge and skills. At the same time, a career as a museum technician can be immensely satisfying.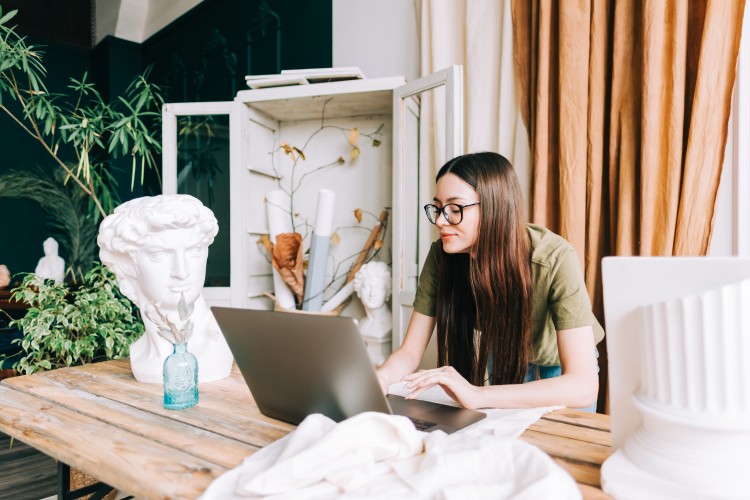 Museum Technician Job Description
Museum technicians' primary responsibility is to prepare a museum's collection in a manner that protects the physical or structural integrity of each object. Museum collections may include a wide variety of human-made and naturally occurring objects, such as verified historical documents, artworks, textiles, pottery, fossils, and skeletal parts. Museum technicians prepare these items for public display as part of an exhibit or for careful storage. They may also ready an object or artifact to be studied for research.
Museum technicians may also be tasked with overseeing a museum's process of acquiring objects of interest and loaning objects to other museums or similar venues. This can involve several important tasks, such as logistics planning for the safe transportation of objects and handling risk management concerns.
Engaging with the public by fielding questions about a museum's collection or providing information about a particular piece can also fall to a museum technician. Public engagement can be critical, as it can add depth and context to a piece's story.
Collectively, the duties of a museum technician play an important role in enabling each object in a collection to tell its full story, which translates into an enriching experience for visitors that aligns with the experience the museum aims to provide to its guests.
How to Become a Museum Technician
A bachelor's degree is typically the minimum requirement for a museum technician. The degree can be in any of a variety of subjects that relate to the museum field or in a cultural- or history-oriented subject like archaeology, art, history, or English.
It is also helpful for a future museum technician to gain experience through an internship or volunteer work while they pursue their degree. After completing a bachelor's degree, students can attend relevant conferences and workshops to deepen their knowledge of a particular subject or subjects. Gaining expertise in a given subject can help aspiring museum techs to stand out when they begin pursuing work in a particular museum or exhibit devoted to that or a similar subject.
Because a museum technician's work centers on the careful curation and safeguarding of precious objects and artifacts, they must have strong organizational skills and detail orientation. Strong analytical skills also are essential for the logistics of acquiring and loaning out objects.
Museum Technician Salary
The U.S. Bureau of Labor Statistics (BLS) classifies museum technicians under the category of archivists, curators, and museum workers. According to the BLS, the 2020 median annual salary for the category was $52,140. Many factors can influence the amount an individual makes in the role, such as education level and years of experience in the field. Location may also be a factor. A museum technician employed in a city with a high cost of living is likely to earn a higher-than-average annual salary.
The future looks promising for aspiring museum technicians. The BLS projects job growth for archivists, curators, and museum workers to be 11% between 2019 and 2029, significantly higher than the 4% average projected for all professions.
Make the Past Ready for the Present
Museum technicians do more than ensure that a museum's collection looks good for the public. Every object they prepare can tell the story of a person, culture, global region, or era long past. Their stories help visitors gain perspective on the world as it was compared to the world as it is and help people grow as humans. As such, the role of the museum technician can be deeply rewarding.
Maryville University's online Bachelor of Arts in History can help you take that important first step toward a fulfilling career in the museum field. Our program is designed to provide students with the knowledge and skills needed to evaluate and communicate the context and significance of each object in a collection, ultimately bringing renewed energy and life to these objects. Learn how Maryville University can help prepare you to embark on this fascinating professional journey.
Recommended Reading
Exploring Different Types of Museum Careers
Notable Women in American Politics
Sources
American Alliance of Museums, Museum Facts & Data
MoCa Cleveland, Exhibition Technician — Ongoing
Small Museum Association, Collections Move Technician — Historical Collections
U.S. Bureau of Labor Statistics, Archivists, Curators, and Museum Workers
U.S. Department of the Interior, Museum Specialist and Technician
Be Brave
Bring us your ambition and we'll guide you along a personalized path to a quality education that's designed to change your life.