What Is a Wellness Director? Salary & Job Outlook
What Is a Wellness Director? Salary & Job Outlook
What Is a Wellness Director? Salary & Job Outlook
Anyone interested in teaching people about behaviors that promote wellness is likely to be drawn to a career as a wellness director. But what exactly is a wellness director's role? And what are the job outlook and salary range for wellness directors?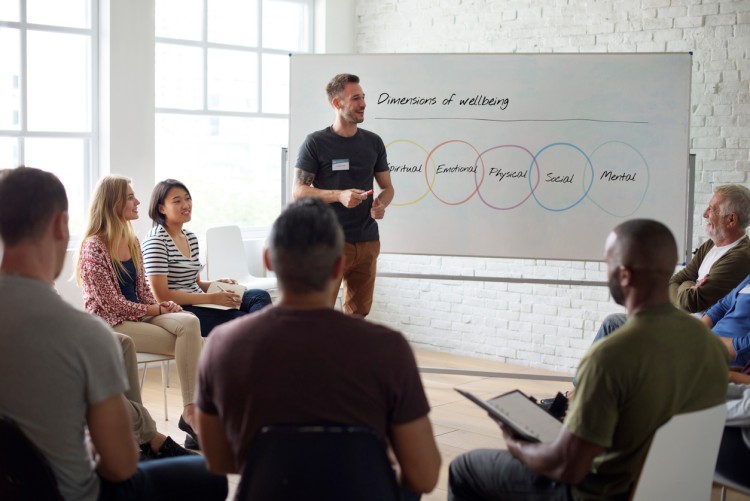 Professionals who choose this career path are responsible for developing and overseeing programs aimed at promoting health and preventing disease. They also monitor and implement a variety of programs for employees, families, and individuals, all of which are designed to improve well-being. In some instances, this may involve conducting seminars to teach healthy habits, covering topics such as how to quit smoking or the benefits of starting an exercise program. In other cases, wellness directors create and monitor programs to improve the physical and mental health of the populations they serve.
Aspiring wellness directors often find that earning a degree in a relevant field, such as an online Bachelor of Science in Exercise Science, can help them develop the skills and knowledge needed for this career.
Possible Work Settings for Wellness Directors
Some wellness directors work for community organizations, while others oversee corporate programs. Individual job duties may vary based on the place of employment, but regardless of the setting, most work full time in an office. Professionals who choose this career path may sometimes travel to attend meetings, conferences, or seminars.
Work settings for wellness directors include:
Civic, grantmaking, religious, and professional organizations
Community health clinics
Corporations
Governmental agencies, such as public health departments
Healthcare facilities
Individual and family service providers
Nonprofit organizations
Schools, colleges, and universities
Outpatient care centers
Wellness Director Job Responsibilities
Students wondering what wellness directors are and what they do should know that they play an important role in their organizations. For example, individuals who work for community-based programs, government institutions, hospitals, or nonprofit organizations may develop programs and activities for the public. They may be charged with monitoring the progress of programs and reporting on health outcomes. In this setting, programs may be aimed toward promoting health and preventing disease.
Wellness directors who work for private companies, on the other hand, may be tasked with evaluating healthcare plans or ensuring their organizations are compliant with applicable health codes. They may also organize employee diet and exercise programs and arrange employee seminars on topics such as nutrition or stress reduction. Corporate wellness directors might also conduct worker surveys to identify health needs.
Other wellness director job duties may include:
Identifying disparities in the communities they serve and responding to those needs
Collecting data and evaluating the effectiveness of various programs
Leading outreach and marketing efforts for upcoming programs and seminars
Supervising staff charged with implementing various programs
Managing wellness program budgets and assessing healthcare-related costs
Fundamental Skills for Wellness Directors
Aspiring wellness directors should focus on developing skills that can help them accomplish two essential goals: teaching behaviors that promote wellness and implementing programs aimed at improving individuals' health. Consequently, students who want to pursue this career path should develop the following hard and soft capabilities:
Analytical Skills: Before a wellness director can develop programs to solve a problem, they must analyze which problems need to be solved. For example, if a wellness director works for an organization that serves a community where heart disease is prominent, they may focus on developing educational programs for smoking cessation and the benefits of exercise.
Computer Skills: Wellness directors need to keep records, track the effectiveness of programs, and communicate with various stakeholders, such as managers, staff members, and program directors. Developing strong computer skills, such as the ability to create and manage spreadsheets, is essential.
Critical Thinking: Professionals who choose this career path will need to decipher the effectiveness of various programs. Critical thinking skills help wellness directors identify and improve the programs that need to be strengthened.
Interpersonal Skills: Wellness directors need to lead and motivate teams. Individuals who have strong interpersonal skills often find they're able to develop and promote strong working relationships with their co-workers and the populations they serve.
Written and Verbal Communication Skills: In addition to developing educational programs, wellness directors must ensure they communicate each program's message in a way that the target audience understands. By honing their communication skills, these professionals can ensure their work is both informative and engaging.
Wellness Director Salary Range
The career path for a wellness director has the potential to be lucrative. The U.S. Bureau of Labor Statistics (BLS) classifies wellness directors under the blanket category of health educators, who made a median annual salary of $55,220 in May 2019. Earners in the lowest 10% made less than $32,890, while the top 10% reported annual earnings of more than $98,680.
However, it should be noted that the wellness director salary range can vary widely based on several factors including geographic location, place of employment, and the employee's level of experience and education (i.e., whether they've completed a bachelor's, master's, or doctorate).
Wellness Director Job Outlook
The BLS projects the employment of health educators to grow by 11% between 2018 and 2028, which is much faster than the average for all occupations. Potential drivers of this growth include efforts to reduce healthcare costs and improve health outcomes by teaching people how and why to adopt healthy behaviors. Job prospects may improve for candidates who have completed a higher education program in a relevant course of study. Enhanced opportunities may also be available for individuals who are bilingual and understand the culture of the community they intend to serve.
Your Path Toward a Career as a Wellness Director Starts at Maryville
Individuals interested in becoming a wellness director will need to develop certain knowledge and skills to be successful. Maryville University's online Bachelor of Science in Exercise Science can help equip students to pursue this career path. The dynamic online program explores how exercise, health, and wellness can help individuals live healthier lifestyles.
Are you ready to take the first brave steps toward a career you're passionate about? Discover how Maryville's online Bachelor of Science in Exercise Science can help prepare you for a career as a wellness director.
Recommended Readings:
The Future of Healthcare: Trends, Technology & New Skills for Success
The Future of Public Health: Skills for Helping Communities Thrive
Sources:
Betterteam, Health Educator Job Description
Corporate Wellness Magazine, "A Day in the Life of a Wellness Director"
Houston Chronicle, "Job Description for a Corporate Wellness Director"
SmartRecruiters, Community Health and Wellness Director Job Description
Be Brave
Bring us your ambition and we'll guide you along a personalized path to a quality education that's designed to change your life.