How to Become a Nutritionist
How to Become a Nutritionist
How to Become a Nutritionist
Nearly 40% of adults in the U.S. were obese as of 2019, according to the Global Nutrition Report. Many health problems can arise from being overweight. A nutritionist is a healthcare provider dedicated to supporting clients' dietary needs. An individual wondering how to become a nutritionist should become familiar with a few important aspects of the role.
To do this specialized work, nutritionists typically earn a bachelor's degree in a relevant area, such as an exercise science degree or other health-focused degree. These programs can help equip individuals with the education, experience, and skills to be successful nutritionists.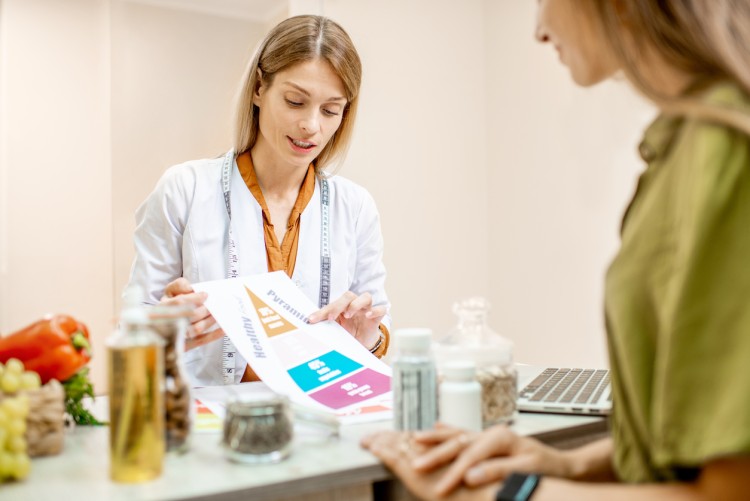 What Does a Nutritionist Do?
A nutritionist's duties focus on supporting clients in achieving their dietary goals. A workday for a nutritionist can include any of the following tasks:
Meeting with clients: Initially, a client will come to see a nutritionist by referral or on their own. This meeting may be either virtual or in person.
Evaluating clients' dietary needs: During the initial meeting, the nutritionist will seek to better understand if there are certain foods the client must avoid, such as dairy products, or if there are certain food types that the client needs to eat more of, such as lean protein.
Assessing clients' health needs: A nutritionist may begin working with a client due to a desired lifestyle change, such as wanting to have more energy, or a medical necessity, such as having diabetes. Knowing the metric by which success will be measured is crucial.
Working with clients to help them develop customized nutrition plans: Once the full details of a client's history are understood, the nutritionist will then develop a custom nutrition plan tailored to the client's needs. This plan may quantify the amount and frequency certain foods should be eaten.
Advising and counseling clients about how to improve their eating habits: Nutritionists need to be good communicators when counseling their clients about how to achieve their nutrition goals, since even the best advice is only as good as the client's willingness to follow through.
Staying current with the latest nutritional science research: When a nutritionist develops client nutrition plans, they should rely on up-to-date research to determine the most effective strategies. The world of nutrition science is constantly evolving and moving past disproven ideas about how food impacts our health.
Monitoring clients' progress: A nutritionist needs to monitor clients regularly to measure their ongoing progress. This could involve monthly meetings to discuss how things are going as well as regular blood tests to check on the impacts the nutritional changes are having on the client's body.
Steps to Become a Nutritionist
People curious about how to become a nutritionist should know about some crucial steps to follow to enter this field. These steps center on education, experience, and certifications. Following these steps can help prepare individuals to compete in the job market as a qualified nutritionist.
Earn a Bachelor's Degree in a Related Field
First and foremost, earning a bachelor's degree is a necessary prerequisite to becoming a nutritionist. The degree should ideally be in a relevant subject, such as dietetics, exercise science, or food and nutrition.
Maryville University's online curriculum for its bachelor's in exercise science program offers core exercise science courses that are especially relevant to this career path. These include courses on personal and community health, movement in health and exercise, and the nutrition of exercise management.
Gain Applicable Training and Work Experience
An immensely valuable step toward becoming a nutritionist is the practical experience gained through internships and entry-level positions. Training and work experience allow students to apply their knowledge in hands-on settings as well as build their professional network. These are critical parts of entering any professional field.
Pursue Certifications
While not required to become a nutritionist, gaining advanced education and credentials can be valuable for individuals seeking to distinguish themselves while furthering their professional goals. Relevant certifications include the following:
National Academy of Sports Medicine (NASM) Certified Nutrition Coach
National Council on Strength and Fitness (NCSF) Sport Nutrition Specialist
American Council on Exercise (ACE) Fitness Nutrition Specialist
Nutritionist Job Outlook and Salary Range
The median annual salary of nutritionists as of 2021 was $61,650, according to the U.S. Bureau of Labor Statistics (BLS). Salaries can vary depending on the state where a nutritionist is employed, with California, the District of Columbia, Hawaii, New Jersey, and Rhode Island ranking at the top for annual mean wages as of May 2021.
The number of jobs for nutritionists is projected to grow 11% between 2020 and 2030, according to the BLS, which is faster than average.
Fundamental Skills for Nutritionists
Every nutritionist will need certain core skills in addition to their functional knowledge of exercise and nutrition:
Analytical skills are important, since each client's problem is going to require a unique solution. A nutritionist has to be able to interpret data to create an effective, individualized dietary plan for each client.
A nutritionist needs to be compassionate. Empathizing with the struggles many people go through when they are faced with changing their diet and nutrition habits is an important part of the job.
Nutritionists have to juggle the ongoing dietary plans of several clients at once, so they should have superior organizational skills. They will be expected to maintain their calendar of client appointments, as well as keep detailed logs of their clients' progress.
Nutritionists need to have good problem-solving skills. Since each client's health is influenced by many factors, the results of dietary changes can be unpredictable. Nutritionists are often required to make informed pivots when deciding how best to treat their clients.
Become a Nutritionist and Help People Live Healthy Lives
Nutritionists will play an important role in the future of public health, transforming people's lives by helping them adopt a healthier diet. The food we eat and our physical activity are crucial to our overall well-being, but people often need support to accomplish their nutrition goals. If you are inspired to help address this need, take an important first step to becoming a nutritionist by exploring Maryville's online Bachelor of Science in Exercise Science program.
Recommended Reading
Growth of Virtual Exercise: The Fitness Industry After Coronavirus
Maryville Online Bachelor's in Exercise Science — Program Overview
Psychology of Exercise: Improvements in Mental Health
Sources
The Balance Careers, "Best Online Nutrition Certification Programs"
Betterteam, Nutritionist Job Description
Global Nutrition Report, Country Nutrition Profiles, USA
Indeed, "How to Become a Nutritionist or Registered Dietician: Careers in Nutrition"
U.S. Bureau of Labor Statistics, Dietitians and Nutritionists
U.S. Bureau of Labor Statistics, Occupational Employment and Wages, May 2021, Dietitians and Nutritionists
Be Brave
Bring us your ambition and we'll guide you along a personalized path to a quality education that's designed to change your life.