Exercise Science vs. Athletic Training
Exercise Science vs. Athletic Training
Exercise Science vs. Athletic Training
The benefits of physical activity are well-documented:
Weight control
Disease prevention
Improved mood
Higher energy
Better sleep
Yet the World Health Organization reports that only 25% of adults worldwide get the recommended level of exercise. Staying active is a crucial component of maintaining health and well-being.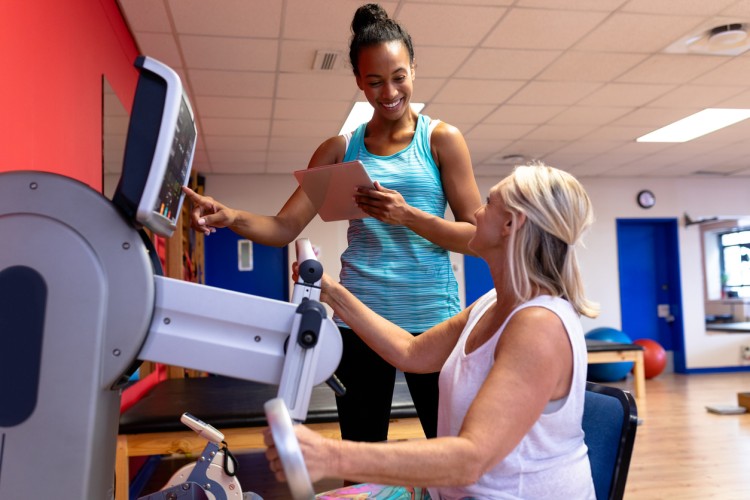 Exercise science professionals and athletic trainers promote the benefits of routine aerobic and muscle-strengthening exercise for physical fitness, disease prevention, and improved mental health. Working with a professional helps people create exercise and fitness plans that are tailored to their needs. Degree programs such as Maryville University's online Bachelor of Science in Exercise Science program are helping to meet the growing demand for exercise science professionals in fitness facilities, wellness centers, government agencies, and many other organizations.
People investigating exercise science vs. athletic training for a career should know how to distinguish between the two as well as how the two fields are similar. This comparison examines the characteristics of and relationship between exercise science and athletic training.
Definition: Exercise Science vs. Athletic Training
The field of exercise science covers a broad scope of research and application of kinesiology, physiology, and other physical sciences. Athletic training is a subset of exercise science practice that focuses exclusively on the application of physical exertion for the purpose of treating and rehabilitating athletic injuries. Athletic trainers typically are not concerned with the technique and craft of physical performance, but rather on helping athletes heal and recover.
What Is Exercise Science?
Exercise science is a discipline based on theory and research in two areas:
Evidence-based benefits of physical activity
Solutions for health problems that result from physical inactivity
Within the broad category of exercise science are subfields that include kinesiology, which studies human movement, and exercise physiology, which focuses on the physiological mechanisms, or flesh and bone, that underlie physical and mental health via regular exercise.
The Exercise Science Approach to Individual Fitness
When devising a fitness regimen for a particular person, the five basic principles of exercise science help ensure that the program will contribute to achieving the individual's fitness goals.
The overload principle states that a person's body will adapt to the work that is imposed on it. The more frequently the body engages in the activity, the more easily the body accomplishes it.
The frequency, intensity, time, and type principle, or F.I.T.T., allows physical workloads to be increased progressively over time to achieve long-term physical goals.
The specificity principle ties a person's custom exercise regimen to their goals, such as health and weight management, total body strength, or cardiovascular health.
The rest and recovery principle highlights the importance of giving the body a break between exercise sessions, although low-intensity cardio exercises can be done every day.
The use it or lose it principle states that muscles build strength with use (hypertrophy) and lose strength with disuse (atrophy).
How Exercise Science Benefits a Person's Fitness Strategy
The goal of a physical fitness regimen based on the five principles of exercise science is to ensure the best results possible for each individual. It emphasizes the prevention of injury and overtraining by closely monitoring the person's progress and adjusting the exercise program as necessary.
What Is Athletic Training?
Athletic training involves the study and application of techniques to prevent, examine, diagnose, treat, and rehabilitate acute and chronic physical injuries and medical conditions. The National Athletic Trainers' Association explains that athletic trainers work as part of a healthcare team that includes physicians and other health professionals.
How Athletic Training Approaches Individual Fitness
The U.S. Bureau of Labor Statistics (BLS) describes the duties of athletic trainers as:
Identify and evaluate injuries
Offer first-aid and emergency care
Prevent injuries in athletes and others by providing and applying tape, bandages, braces, and other preventive equipment
Design and implement rehabilitation plans for athletes and others who are overcoming injuries
Create injury-prevention plans and customized exercise regimens for athletes and others
Maintain records of training and rehabilitation programs, and write reports on their outcomes
Athletic trainers work with many people who are not amateur or professional athletes. They often work with patients in primary care facilities and outpatient rehabilitation centers. They also educate people about injury and re-injury prevention, which helps to speed the rehabilitation process and reduce absenteeism from work and school.
How a Person's Fitness Strategy Benefits from Athletic Training
People of all ages and backgrounds benefit from the work of athletic trainers in helping to prevent and recover quickly from physical injuries and medical conditions. In addition to helping people devise and sustain a personalized training and rehabilitation regimen, athletic trainers are often the first medical professionals to respond to injuries when and where they occur.
Athletic trainers play a key role in assisting physicians in discussing injuries and treatment options with patients. They are distinguished from personal trainers and fitness instructors by their extensive education and background in anatomy and physiology.
Similarities Between Exercise Science and Athletic Training
Exercise science and athletic training both contribute to the individualized fitness strategies that are designed to maintain a person's health or help them recover from injury or illness. While exercise science is a broader field that entails research in and application of exercise principles in a variety of settings, athletic training involves many of the same concepts and strategies that exercise science investigates.
Both Fields Study Exercise and Its Effects on the Body
At the heart of both exercise science and athletic training is the impact various forms of exercise have on the human body. In both fields, professionals assess a person's medical history and risk of injury or re-injury during exercise. They both entail using specialized equipment to conduct fitness and stress tests and analyze the results, and both fields must be familiar with key patient health indicators, such as blood pressure, heart rhythm, oxygen levels, and circulation.
Professionals in Both Fields Work with People of All Ages and Abilities
In some ways, the title "athletic trainer" is a misnomer, because people in the profession work with clients across the spectrum of age and ability, not solely with athletes. In this sense, the groups of people whose needs are met by exercise science professionals and athletic trainers overlap. The goal of both professions is to prevent activity-related injuries, to treat injuries when they occur, and to help the injured parties return to full functionality.
Both Roles Create Individualized Fitness Regimens for Their Clients
Another aspect the fields of exercise science and athletic training have in common is that they both work directly with individuals to set health goals and craft exercise plans to achieve those goals. Serving as part of a comprehensive healthcare team, both professions conduct an in-depth assessment of a client's physical condition and apply their knowledge of exercise strategies to set goals and implement a personalized program designed to prevent or recover from injuries.
Both Fields Require a Bachelor's Degree in Exercise Science or a Related Field
Education distinguishes exercise science professionals and athletic trainers from personal trainers, fitness instructors, and those in similar occupations. A bachelor's degree in exercise science or other health-related field is the minimum requirement to qualify for a position in exercise science or as an athletic trainer.
The BLS highlights the importance of a program whose curriculum blends coursework with firsthand clinical experience, such as Maryville University's online Bachelor of Science in Exercise Science, which helps individuals cultivate the knowledge and skills needed to pursue a career helping people meet their physical fitness goals. Students can choose either the Strength and Condition concentration or the Wellness Management concentration, both of which feature a wide range of courses and opportunities for clinical field work.
Differences Between Exercise Science and Athletic Training
In many ways, athletic training can be viewed as a subset of the broader field of exercise science. Where athletic training focuses on the practical aspects of preventing and recovering from injuries related to physical activity, exercise science involves research into the physiological, neurological, and kinesiological aspects of human motion.
Exercise Science Emphasizes Scientific Interactions Between Exercise, Diet, and Health
An area where the scope of exercise science is broader than that of athletic training is the connection between exercise, nutrition, and other aspects of health. When creating an exercise plan for a client, an athletic trainer is part of a health team that includes others who provide expertise in health areas apart from exercise or physical activity. By contrast, exercise science professionals take a more holistic approach to their work in devising an exercise regimen that matches the person's needs and lifestyles.
Athletic Training Focuses on Physical Well-Being: Injury Prevention and Physical Therapy
When it comes to athletic training vs. exercise science, the former has a narrower focus, in that its emphasis is on physical health as it relates to the prevention of and rehabilitation from injury via exercise and physical therapy. The BLS reports that 36% of athletic trainers work for state, local, and private educational services, while 19% work for state, local, and private hospitals, and 14% work for physical, occupational, and speech therapy organizations.
Exercise Science Optimizes All Aspects of Human Physiology
Exercise scientists study all aspects of a person's physical well-being. Exercise science professionals typically work with fitness trainers, exercise physiologists, and others as part of a wellness team. Their clients include healthy people and patients dealing with controlled diseases. They work in a range of environments, including universities, corporations, and commercial and community health organizations to promote health and fitness-related activities.
Athletic Training Has a Narrower Focus on Achieving an Individual's Optimum Health
Athletic trainers usually deal with individual clients to develop and maintain an exercise program geared to a specific goal, such as improving performance in a particular sport or overcoming an injury. While the programs they create along with their clients may include information about nutrition and healthy lifestyles, the emphasis of their work is on rehabilitation and performance.
Exercise Science Applies to a Range of Disciplines Beyond Athletic Training
These are among the scientific fields that fall under the broad category of exercise science:
Biomechanics
Sports nutrition
Sports psychology
Motor control and development
Exercise physiology
Kinesiology
Strength and conditioning
In addition to assessing physical condition, exercise science professionals evaluate health behaviors and risk factors, prescribe appropriate exercises, and work with clients to help them avoid negative health habits and adopt positive behaviors.
A Career That Explores the Science of Physical Activity
The job outlook is bright for people interested in pursuing a career in exercise science as the healthcare industry focuses increasingly on promoting physical activity as a way to prevent disease and encourage healthy lifestyles. The training and experience students gain from programs such as Maryville University's online Bachelor of Science in Exercise Science program serve as the foundation for a successful career as an exercise science professional.
Discover more about how the online Bachelor of Science in Exercise Science degree from Maryville University prepares graduates for work in the growing field of exercise science.
Recommended Readings
Careers in Exercise Science: Kinesiology vs. Exercise Science Degree
Exercise Science Careers: The Outlook for Exercise Science Professionals
What Is an Exercise Physiologist?
Sources:
American Society of Exercise Physiologists, What Is Exercise Physiology?
Commission on Accreditation of Allied Health Education Programs, Exercise Science
Dragonfly Fitness, "The 5 Basic Principles of Fitness"
Mayo Clinic, "Exercise: 7 Benefits of Regular Physical Activity"
MedAlertHelp, "30 Exercise Statistics & Facts That Will Get You Moving"
National Athletic Trainers' Association, What Is Athletic Training?
U.S. Bureau of Labor Statistics Occupational Outlook Handbook, Athletic Trainers
U.S. Bureau of Labor Statistics Occupational Outlook Handbook, Exercise Physiologists
U.S. Bureau of Labor Statistics Occupational Outlook Handbook, Fitness Trainers and Instructors
U.S. Department of Health and Human Services, Importance of Physical Activity
Be Brave
Bring us your ambition and we'll guide you along a personalized path to a quality education that's designed to change your life.