What Is an Exercise Physiologist?
What Is an Exercise Physiologist?
What Is an Exercise Physiologist?
Exercise and fitness are keys to recovery from a variety of ailments and conditions, from tennis elbow to pulmonary disease. People interested in teaching others how to harness exercise and fitness programs for health will find inspiration in an exercise physiologist career.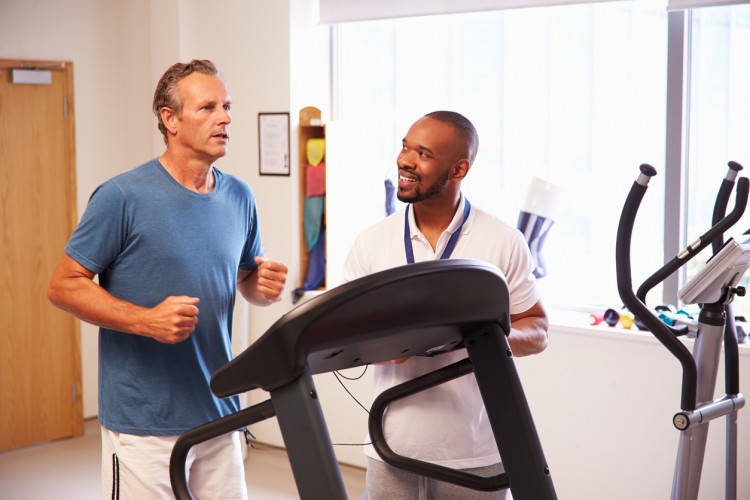 What is an exercise physiologist? An exercise physiologist helps patients participate in exercise programs to improve their cardiovascular health, flexibility, or body composition. They develop customized fitness plans that help patients reach individual health goals. Aspiring exercise physiologists can gain the skills and knowledge needed to succeed in this role by earning an online Bachelor of Science in Exercise Science.
Work Settings for Exercise Physiologists
Most exercise physiologists work full time and are self-employed. Work settings include state, local, and private hospitals, physical therapy offices, fitness centers, and clinics. They may also serve professional athletic teams.
Other settings include:
Rehabilitation centers
Doctors' offices
Governmental agencies, such as the Department of Veterans Affairs
College/university athletic offices
Primary care physicians may refer patients to exercise physiologists, who help them develop and follow fitness regimens. Additionally, exercise physiologists create individualized fitness plans that help relieve pain from a torn ligament, aid in weight loss, or improve blood pressure, for example.
Exercise Physiologist Job Responsibilities
Whether helping cardiovascular disease patients lower their heart rates or working with athletes regaining strength after surgery, exercise physiologists teach patients how to use fitness and exercise to their advantage. They also customize their approach to meet each patient's needs.
Exercise physiologists have a range of job responsibilities, including:
Closely analyzing a patient's medical history to assess any potential risks that exercise may pose
Performing fitness and stress tests on patients to determine their strengths and limitations, as well as the most appropriate starting point for a fitness program
Measuring and monitoring patient vital signs, such as heart rate, blood pressure, heart rhythms, and oxygen levels
Educating patients about their injuries and health conditions, such as lung disease and diabetes, and providing information about how to stay healthy
Teaching patients how to perform exercises safely and effectively
What does an exercise physiologist do? An exercise physiologist assesses patient fitness levels and designs specific treatment plans that help them reach optimal health. This role might entail creating fitness regimens that help diabetes patients control blood glucose levels or tailoring exercises for injured athletes to reduce recovery time and lower the risk of reinjury.
Fundamental Skills for Exercise Physiologists
Aspiring exercise physiologists should develop the following fundamental skills for success in this career path.
Active Listening
Exercise physiologists need excellent listening skills to record detailed information about their patients and effectively communicate with other healthcare providers about patient conditions.
Assessment Skills
Exercise physiologists must accurately assess their patients' strength, flexibility, vital signs, and other physical conditions to come up with appropriate treatment plans.
Communication
To successfully explain treatment plans, educate their patients, and share information with other healthcare providers, exercise physiologists need strong communication skills.
Compassion and Empathy
Exercise physiologists often deal with patients experiencing pain and serious health concerns. To help patients feel comfortable, treatment providers must demonstrate compassion and empathy.
Critical Thinking
Using health information to devise the right treatment plans requires thoughtful analysis and critical thinking. Any exercise physiologist would do well to develop their critical thinking skills.
Interpersonal Skills
Exercise physiologists regularly interact with patients, their families, and other healthcare providers. They may also deal with difficult situations as patients experience pain and confront health problems. To manage such situations, exercise physiologists need strong interpersonal skills.
Salary Range for Exercise Physiologists
Exercise physiologists earned a median annual income of $49,170 in May 2019, according to the U.S. Bureau of Labor Statistics (BLS). The lowest 10% of earners in this category made less than $34,990 annually, while the top 10% made more than $78,310 annually. Higher salaries tend to correlate with additional work experience and advanced levels of education.
Exercise Physiologist Job Outlook
The BLS projects the employment of exercise physiologists to grow by 10% between 2018 and 2028, exceeding the 5% average growth rate for all occupations. Healthcare providers' increased focus on using exercise as a means for improving overall health may account for this rising demand.
Additionally, the growing emphasis on exercise as a measure to help patients recover from pulmonary and cardiovascular diseases may also factor into the increased demand for exercise physiologists.
Launch a Career as an Exercise Physiologist at Maryville University
Does the opportunity to help others achieve their health goals through fitness and exercise inspire you? Learn more about what an exercise physiologist is and how Maryville University's online Bachelor of Science in Exercise Science prepares students to thrive in the field.
Recommended Readings
Exercise Science Careers: The Outlook for Exercise Science Professionals
Kinesiology vs. Exercise Science Degree
Coursework in Exercise Science: The BS in Exercise Science Online Curriculum
Sources:
Ethos Health, "How Can an Exercise Physiologist Help You?"
Houston Chronicle, "What Is the Difference Between Exercise Physiology and Physical Therapy"
Indeed, "Learn About Being an Exercise Physiologist"
Be Brave
Bring us your ambition and we'll guide you along a personalized path to a quality education that's designed to change your life.