Digital Media Specialists in Tech: How to Become a Digital Media Specialist
Digital Media Specialists in Tech: How to Become a Digital Media Specialist
Digital Media Specialists in Tech: How to Become a Digital Media Specialist
As outlined in a recent Forbes article, the internet is the "media world dominator," capturing the traffic of diverse demographics and much of the attention that once belonged to traditional media. In today's technological world, organizations need experts to create web content that allows their businesses to remain competitive and grow.
Digital media specialists have the technical ability and creative know-how to do just that. The skills of digital media specialists are essential because their content — from vlogs to infographics, webpages, and social media posts — can market an organization, connect it to new audiences, and build brand loyalty. Here we'll take a closer look at how to become a digital media specialist, outlining what they do and how much they typically earn.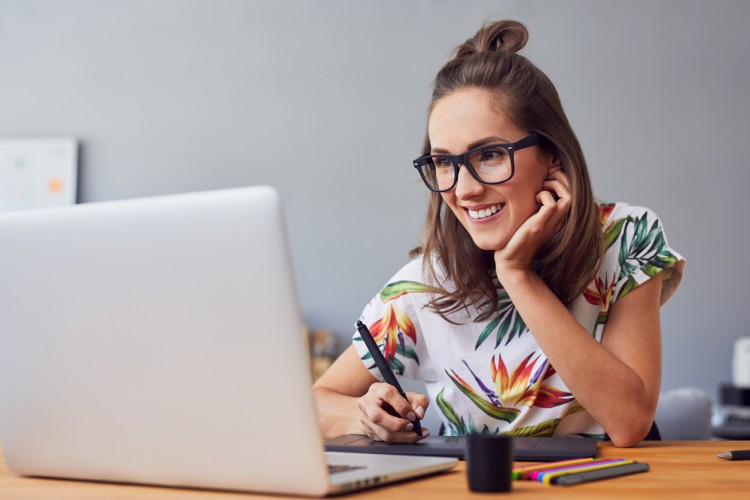 What Does a Digital Media Specialist Do?
Digital media specialists are in charge of digital content creation for an organization. They work in conjunction with marketing strategists to boost an organization's reach and brand loyalty by developing online marketing projects, monitoring the public's perspective on a service or product, optimizing content to show up in search engine results, and analyzing the data available to identify points of improvement.
Digital media specialists use a variety of digital marketing and design techniques, such as geomarketing (which uses location information to target ads), search engine optimization (SEO), email marketing, and video marketing. They often incorporate graphic design, video production, written and verbal communication skills, social media savvy, and an eye for analysis into their daily work. Since digital media evolves rapidly, keeping up with the latest online trends and search engine algorithm shifts is necessary. As such, these specialists must possess a willingness to adapt and a drive to continue to learn.
Digital media specialists tend to work in an office environment on a computer with a high-speed internet connection and the latest design software. Since their careers are largely online, some digital media specialists work remotely.
Steps to Become a Digital Media Specialist
To become a digital media specialist, professionals must develop skills in client relations, communication, collaboration, storytelling, and social media. Given that this is a broad field, some choose to specialize in a single aspect of digital media, such as digital illustration or web development and design. After graduation, gaining professional experience and continuing to engage with the latest trends can help individuals step into leadership positions and further develop problem-solving and creative abilities.
Earn a Degree
Digital media specialists typically hold a degree in digital media, such as Maryville University's online Bachelor of Fine Arts in Digital Media. Courses on UI/UX design, digital photography, contemporary communication, and motion graphics prepare students to land jobs in the field. Some aspiring digital specialists also earn degrees in computer science or computer programming.
Develop Your Skills
Digital media specialists must have strong organizational and problem-solving skills since they spend time synthesizing, organizing, and presenting information. They make decisions based on a wealth of analytics that measure engagement with social media posts, clicks, and time spent on a particular webpage.
Creativity and adaptability are also essential skills, allowing digital media specialists to cater to diverse markets. Computer fluency — from programming skills to graphic design and web development — contributes to success in this position. Capstone projects offered in degree programs such as Maryville's online Bachelor of Fine Arts in Digital Media teach students to apply classroom skills to real-world projects, a vital step in developing digital media skills.
Keep Learning
The internet never stops, and digital media specialists have to keep up. From familiarizing themselves with the latest social media platforms to capturing and analyzing metrics on their latest efforts, these specialists must evolve alongside digital trends. In such a position, it is vital to keep engaging with internet culture, changes in search engine algorithms, and new software that can improve content. Many aspiring and practicing digital media specialists pursue side projects, build a personal portfolio, and seek additional certifications to enhance their education.
Digital Media Specialist Salaries
What digital media specialists do brings together many different skills and competencies. According to PayScale data from August 2019, the average yearly salary for a digital media specialist is around $46,500. Pay increases with experience, with late-career specialists earning around $60,000 a year. Income tends to be higher in large cities such as New York City, where digital media specialist salaries are 25% above the national average. Digital media specialists with specific skills in project management or online marketing can earn as much 5% above the average.
Employment Outlook for Digital Media Specialists
According to Social Media Today, global online ad spending was up 4.9% in the first half of 2019, and location-based marketing was up 14%. Social referral traffic (wherein social media ads, posts, and videos drive traffic to a website) increased 110% in the past two years. This all bodes well for the future of digital media work, which includes user interface and user experience (UI and UX) designers and social media specialists, two of the fastest-growing jobs in the U.S. according to CNBC.
Learn More About Becoming a Digital Media Specialist
If you're interested in a versatile, fast-moving field, a career in digital media may be for you. Digital media meets evolving business needs and consumer sensibilities, so professionals with a desire to face new challenges will thrive. To learn how to step into this exciting world, explore Maryville University's online Bachelor of Fine Arts in Digital Media. Discover how a degree in this field can set you on the path to a career in digital media.
Sources
CNBC, The Fastest-Growing Jobs in the Future, Including Cyber Calamity Forecaster, Career Counselor, and Solar Engineer
Forbes, "Five Digital Marketing Trends for 2019"
Forbes, "What the Proliferation of Digital Media Means for Brands"
Houston Chronicle, "Careers in Digital Media"
Maryville University, Online Bachelor's in Digital Media
PayScale, Average Digital Media Specialist Salary
Social Media Today, "2019 Key Digital Marketing Growth Stats"
Be Brave
Bring us your ambition and we'll guide you along a personalized path to a quality education that's designed to change your life.