How to Become a Business Intelligence Analyst
How to Become a Business Intelligence Analyst
How to Become a Business Intelligence Analyst
Students with an interest in helping companies transform their data into meaningful insights are likely to be drawn toward a career in business intelligence (BI) analytics. What is the purpose of BI analytics? Professionals who choose this career help companies use data to increase revenue and minimize loss. To accomplish this, business intelligence analysts gather and analyze data, research industry trends, and make recommendations to an organization's stakeholders about maximizing profits.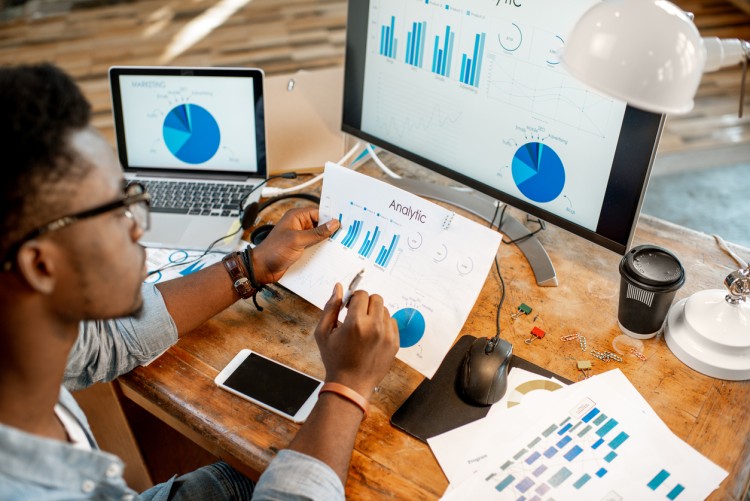 Individuals who want to learn more about how to become a business intelligence analyst can start by identifying the knowledge and skills they'll need to be successful in the role. Completing a degree program such as Maryville University's data science bachelor degree online program is an important first step toward pursuing a career in this field.
What does a business intelligence analyst do?
Business intelligence analysts use their skills to help companies streamline processes, improve operations, and increase profitability. Although precise tasks vary based on the organization, common job duties include the following:
Collecting, sorting, reviewing, and validating data
Developing policies and procedures for data collection and analysis
Researching and incorporating new data collection procedures
Analyzing how competitors use business intelligence data
Using data analytics to identify and solve problems in the areas of manufacturing, business logistics, and others
Communicating findings to management
Steps to become a business intelligence analyst
Those who are researching how to become a business intelligence analyst should know that many professionals with successful careers in the field began by pursuing the right education and training, and gaining hands-on experience. Although professional certification and an advanced education are not required, applicants who have developed advanced knowledge and skills are likely to have enhanced job opportunities.
Pursue an education: The first step toward a career as a business intelligence analyst is to complete a degree in a related field, such as Maryville University's data science bachelor degree online. The U.S. Bureau of Labor Statistics indicates that a bachelor's degree is often the minimal requirement for entry-level positions.
Gain real-world experience: Students who participate in internship programs can improve their post-graduation job prospects. Internships not only allow students to gain firsthand exposure to how organizations use business analytics, they help aspiring analysts put what they have learned in the classroom into real-world practice.
Get certified: Professional certifications aren't required for applicants pursuing business intelligence analytics jobs; however, certification demonstrates the knowledge and skills required for the job, such as knowing how to mine data and report data-driven insights. Two of the most popular certifications in BI analytics are Microsoft's Certified Solutions Expert in business intelligence and TDWI's Certified Business Intelligence Professional.
Pursue an advanced degree: Business intelligence analysts who want to advance to managerial roles are likely to find that earning an advanced degree, such as Maryville University's online master's in business data analytics, can help them make progress on their career goals.
Business intelligence analyst salary
The U.S. Bureau of Labor Statistics (BLS) classifies BI analysts under the blanket category of operations research analysts. As of May 2019, the BLS reports that professionals in this field earning salaries in the bottom 10th percentile of the range made less than $48,670 annually, while the median salary was $84,810. Earners in the top 10th percentile brought in more than $140,790.
Salaries of BI analysts can vary greatly based on a variety of factors, such as location; whether the employer operates in the public, private, or nonprofit sector; education level; and experience.
Employment outlook for business intelligence analysts
BLS data reports that job growth for business intelligence analysts is projected to increase by 26% between 2018 and 2028, which is much faster than the average growth projected for all occupations. This anticipated job growth is largely tied to technological advancements that have made it easier to collect, sort, and analyze data. Applicants who possess strong analytical skills and business experience will likely have the best job prospects.
Your path toward a career as a business intelligence analyst starts at Maryville University
Individuals aspiring to become business intelligence analysts should start by developing the skills and knowledge they'll need to succeed in this career. Earning a degree in a related field, such as Maryville's online bachelor's in data science, can prepare graduates with the tools they'll need to analyze, explore, and decipher large datasets.
Are you ready to take the first brave step toward becoming a data expert? Discover how Maryville's data science bachelor degree online can prepare you for a rewarding career in business intelligence analytics.
Recommended Reading
Making a Positive Impact: How Data Science Is Being Used for Social Good
The Top Data Science Skills to Develop for Business
Big Data and Data Mining: The Role Data Mining Plays in Big Data
Sources
CIO, What is a Business Intelligence Analyst? A Role for Driving Business Value with Data"
Indeed, "Business Intelligence Analyst Job Description"
Indeed, "Learn About Being a Business Intelligence Analyst"
Techopedia, "Business Intelligence Analyst (BI Analyst)"
U.S. Bureau of Labor Statistics, "Operations Research Analysts"
Be Brave
Bring us your ambition and we'll guide you along a personalized path to a quality education that's designed to change your life.