Cybersecurity vs. Computer Science Degrees: Choosing the Right Path
Cybersecurity vs. Computer Science Degrees: Choosing the Right Path
Cybersecurity vs. Computer Science Degrees: Choosing the Right Path
A company's success depends on its ability to prevent breaches of its computer systems and the data they store. A study conducted by the Ponemon Institute in 2018 estimates the average cost of a single data breach to U.S. companies was $7.91 million. A more telling statistic from the same study indicates that it took an average of 197 days for companies to detect a data breach — and an average of 69 days after that to fix the problem. Yet organizations that were able to contain the breach within 30 days reduced the resulting damage by almost 25%.
Cybersecurity professionals save their employers money, yet companies struggle to fill data security job openings. A report issued by the National Institute of Standards and Technology found that U.S. employers advertised 313,735 data security positions between September 2017 and August 2018. The study estimates there are three open cybersecurity positions for every two filled, compared with a ratio of 1 to 5.8 for all categories of employment.
Students preparing for a career in cybersecurity often choose to pursue a bachelor's degree in cybersecurity or computer science. Although both degrees can lead to rewarding careers in the IT field, reading about what each discipline involves can help individuals develop a better understanding of the two academic programs. Here is a brief overview of several key similarities and differences in terms of skill requirements, career opportunities, and median salaries in both fields.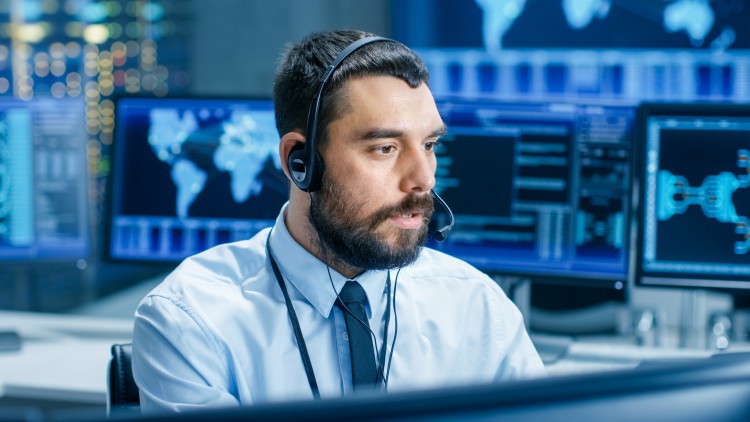 Best Degree for Cybersecurity? Finding the Program That Fits Your Interests
It may appear that choosing between a bachelor's degree in cybersecurity and one in computer science comes down to studying security or the broader general category of computers. In reality, both degree programs prepare students for careers in computer security, although they take different approaches.
For example, Maryville University's online Bachelor of Science in Cybersecurity is geared toward helping students develop business knowledge as well as technical skills. The program's curriculum incorporates the real-world experience of Maryville faculty, most of whom have worked as cybersecurity professionals. As part of the John E. Simon School of Business, the program features three tracks: Offensive, which focuses on the application of ethical hacking to prevent attacks proactively; Defensive, which emphasizes identifying and fixing vulnerabilities; and General, which presents a broad view of the field of cybersecurity.
Bachelor of Science in Cybersecurity
A bachelor's degree in cybersecurity can prepare students to enter the complex and fast-paced world of information security. Students typically learn about network, wireless, cloud, and mobile security; digital forensics and ethical hacking; and business and cyber laws.
What Do Bachelor of Science in Cybersecurity Graduates Do?
The field of cybersecurity, often called information security, is tasked with developing and implementing security measures that protect computer networks and systems of a company, organization, or government. This exciting field is growing rapidly as the amount of business-critical, sensitive information that is housed online or in a network continues to increase. Graduates of a cybersecurity program often work for computer companies or in the IT department of a financial firm or other large organization.
Types of careers: Information security analyst, information technology auditor, network architect, information security manager, IT security consultant
Bachelor of Science in Computer Science
A bachelor's degree in computer science program focuses on the communication, math, and logic skills required to succeed in a rapidly changing computer culture. Students learn technical skills, such as programming languages, algorithm analysis, and problem-solving with computers. Some degree programs offer the chance to specialize in areas such as software development.
What Do Computer Science Graduates Do?
Some Bachelor of Science in Computer Science graduates advance to complete a master's degree in the same field; however, a bachelor's degree may be sufficient for many jobs. Computer science graduates, whether they hold a bachelor's or master's degree, typically design new approaches to computing, solve complex computing problems, and invent new ways for people to work with computers. Nearly a third of computer and information research scientists worked for the federal government in 2018, according to figures compiled by the U.S. Bureau of Labor Statistics (BLS). The remainder worked in computer systems design, research and development, software publishing, and postsecondary education.
Types of careers: Software developer, systems analyst, web designer, data scientist, database administrator, network systems administrator
Cybersecurity vs Computer Science: Similarities*
Graduates of both programs join rapidly growing fields. The employment of cybersecurity professionals is projected to grow 32% between 2018 and 2028, according to the BLS, while the demand for computer scientists is projected to grow by 16% during that time period. Both career paths require extensive technical and computing knowledge in areas such as networks, cloud computing, and mobile.
Increasingly, cybersecurity is moving beyond simply an IT responsibility and becoming a core component of business. This emphasis on cybersecurity is due to emerging factors that can make an organization's data vulnerable, such as employee breaches, inadequate firewalls, third-party data sharing, and external attacks.
*These similarities are meant to be a guide and are not always applicable to and uniform among all jobs and regions.
Cybersecurity vs. Computer Science: Differences
A computer science degree has a broader focus than a degree in cybersecurity, which provides a much more comprehensive examination of that field.
An education in cybersecurity can also provide excellent job opportunities. U.S. News & World Report ranked the position of information security analyst at No. 4 in its "Best Technology Jobs" report of 2019. However, the career prospects are just as rosy for data scientists, a job category that Glassdoor named the "Best Job in America" for 2019.
Cybersecurity vs. Computer Science: Projected Salaries
Cybersecurity workers generally have higher earning potential. According to Burning Glass Technologies, a company that specializes in job market analytics, professionals in this field can make an average of nearly $6,500 more per year than other IT workers. The BLS estimates that as of May 2018, the median annual salary of information security analysts, the equivalent of a cybersecurity technician, was $98,350. According to the BLS, computer systems analysts earned a median annual salary of $88,740 as of May 2018. However, Glassdoor reports that in 2019 the median base salary for data scientists, a specialty within the broad category of systems analysis, is $108,000.
Preparing for a Career in Cybersecurity
Both cybersecurity and computer science degrees can lead to exciting careers in information technology. If you are curious about digital defense, eliminating vulnerabilities, and protecting data from attacks, a cybersecurity degree can put you on the right track. Students interested in this career path should consider exploring Maryville University's online Bachelor of Science in Cybersecurity. This degree offers specialized tracks that can help students to be workforce-ready upon graduation.
If you're still curious as to what distinguishes a cybersecurity degree from a computer science degree, discover more of the career options potentially available to cybersecurity graduates.
Recommended Reading
Projected Tech: A Look at the Future of Software Engineering
Tomorrow's Tech: The Future of Cybersecurity at at Glance
Solving the Cybersecurity Skills Gap
Sources
The Atlantic, "Undervalued: The Business Benefits of Cybersecurity"
CloudPassage, "U.S. Universities Get an 'F' for Cybersecurity Education"
CNN Business, "The Hacks that Left Us Exposed in 2017"
Forbes, "How a Computer Science Background Can Make You a Better Leader"
Glassdoor, Cybersecurity Salaries
Glassdoor, "50 Best Jobs in America for 2019"
IBM, "IBM Study: Hidden Costs of Data Breaches Increase Expenses for Businesses"
Security Today, "The Average Cost of a Data Breach"
National Institute of Standards, "New Data Show Demand for Cybersecurity Professionals Accelerating"
U.S. Bureau of Labor Statistics Occupational Outlook Handbook, Computer and Information Research Scientists
U.S. Bureau of Labor Statistics Occupational Outlook Handbook, Information Security Analysts
Be Brave
Bring us your ambition and we'll guide you along a personalized path to a quality education that's designed to change your life.