How to Become an Information Assurance Engineer
How to Become an Information Assurance Engineer
How to Become an Information Assurance Engineer
The digital age has brought impressive innovation, but it has also brought constantly evolving security threats. Information assurance engineers deal with these threats by utilizing their expertise in securely processing and storing data to safeguard an organization's most vital possession: its information. Learning how to become an information assurance engineer can be inspiring for individuals who want to help keep private information secure.
As new technologies are developed and cyber threats mount, information assurance engineers work in increasingly dynamic and challenging environments. The skills and knowledge of these information security professionals help keep data uncompromised and allow organizations to run smoothly.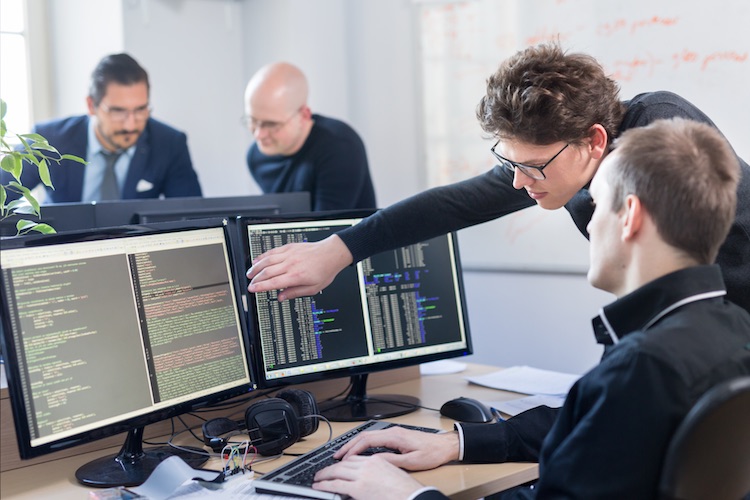 What Does an Information Assurance Engineer Do?
Information assurance engineers function in a team of security specialists who protect an organization's data. They design security systems that ensure the confidentiality, integrity, and accessibility of data. This means the system must keep private information out of unauthorized hands, safeguard it from improper modifications or destruction, and make it available to authorized users in a timely and dependable way. The primary focus of information assurance engineers is guaranteeing the security, quality, and retrievability of this data. Here is a breakdown of what information assurance engineers do to maximize the security of their organization's IT systems.
Secure IT Infrastructure
Information assurance engineers perform many tasks to secure an organization's technology infrastructure and information. They install firewalls, data encryption software, and anti-virus protections. They also conduct audits that can account for compliance lapses in security policies. These audits enable them to measure a system's security and assess the effectiveness of individual security policies.
Penetration tests provide further insights on the actions that a company should take to keep its network safe. These simulated cyber attacks help identify vulnerabilities and locate issues that could make systems susceptible to breaches.
Keep Software and Hardware Up to Date
Another important responsibility of information assurance engineers is maintaining software and the hardware it runs on. Information assurance engineers must keep up-to-date on IT news to stay abreast of evolving security threats and trends. Because technology is constantly changing, new security threats arise frequently. Possessing current information helps information assurance engineers to make appropriate updates and patches to their systems.
Set Security Standards
Safeguarding information requires all of an organization's members to behave in accordance with certain standards and best practices. Information assurance engineers often establish what those standards and best practices should be and communicate them to leadership. They might also be responsible for creating instructional material on their recommended security awareness policies and monitoring adherence to those policies.
Monitoring Threats
Information assurance engineers work with a variety of tools that can alert them to vulnerabilities or breaches. IDS and IPS — intrusion detection and prevention systems — alert them to malicious activities or the violation of security policies. Reviewing a network's activities through event log analysis allows information assurance engineers to track network anomalies, system downtime, or events that do not follow industry standards. Such data makes it possible to locate patterns that expose weaknesses in a system's security.
When security breaches occur, information assurance engineers must resolve them as quickly as possible by patching their systems and taking action to mitigate the damage. After a security incident, information assurance engineers analyze how the system was breached and then prepare reports that assess the damage. Based on their findings, they adjust their systems and update procedures to detect and respond to future threats.
Steps to Become an Information Assurance Engineer
The field of information assurance draws people from many different backgrounds, but most possess a drive and passion for cybersecurity and technology. Acquiring the right education, work experience, and skills can help people with these interests to move into a career as an information assurance engineer.
Step One: Earn a Bachelor's Degree
Information assurance engineers usually hold a bachelor's degree in computer science, programming, or an equivalent subject that provides a well-rounded background in computers. A growing number of universities provide degrees that are specific to the work of information assurance engineers, such as an online Bachelor of Science in Cybersecurity.
A bachelor's in cybersecurity provides a broad computer education along with instruction tailored to meeting the demands unique to the field of cybersecurity. Students receive training in ethical hacking as well as defensive strategies in security information and event management. The curriculum covers topics including digital forensics, malware and incident response, compliance, and business processes. The degree offers the necessary knowledge and skills required for information assurance engineers to be able to respond both offensively and defensively to cyber threats.
Step Two: Gain On-the-Job Experience
Getting the right education is an important stepping stone to a career as an information assurance engineer. But most employers also want candidates for entry-level positions to have at least one to two years of experience in a related field. The specifics for this requirement usually depends on the size of the organization. Many information assurance engineers initially work as network or systems administrators.
Mid-level information assurance engineer positions usually require several years of work in information assurance, and more senior positions tend to require five to 10 years of experience. For these more advanced positions, employers want to have confidence that candidates possess sufficiently strong technical skills in a variety of networks, platforms, and databases, which only come with experience.
Step Three: Attain Training and Certification
Securing employment as an information assurance engineer can also rely on acquiring the right certifications. Employers seek some way to validate that a potential employee possesses knowledge of industry best practices. For this reason, they often require candidates to hold relevant certifications that serve as proof of their competencies.
While not mandatory, the following certifications may help build a career in information assurance engineering:
Certified Ethical Hacker (CEH)
Cisco Certified Network Professional Security (CCNP Security)
Certified Information Systems Security Professional (CISSP)
Being competitive means keeping up with the latest developments in cybersecurity, which can mean subscribing to newsletters published by industry leaders, attending hackathons and tech conferences, and following news stories about data breaches. There are also a myriad of seminars, webinars, and courses available that can expand and hone the skills of information assurance engineers.
Step Four: Consider Earning a Master's Degree for Advancement
Information assurance engineers with work experience can also advance their careers by earning an online master's in cybersecurity. According to the data analytics company Burning Glass Technologies, this degree may bump the salary of an information assurance engineer by $6,500 a year. The degree delves into the intricacies of cyber technology and sharpens the leadership and business skills critical to positions in upper management.
The curriculum expands upon the foundational knowledge provided by bachelor's degree programs in areas including digital forensics and incident breaches, deepening analysis and providing for the development of a more sophisticated skill set. Earning a master's in cybersecurity can offer information assurance engineers more opportunities for advancement in their careers than they'd have with experience and a bachelor's degree alone.
Information Assurance Engineer Salaries
Information assurance engineers' salaries vary depending on experience as well as the location of the job, and compensation packages tend to be larger for professionals who have spent more time working in the field. The median annual salary for information assurance engineers in 2018 was $85,367, according to PayScale. The compensation website reports salaries ranging from $56,603 to $132,769 a year.
PayScale reports that the average entry-level salary for information assurance engineers is $75,000 a year. Those with five to 10 years of experience garner salaries that average $90,000 a year. Senior information engineers earn on average $93,000 a year. And those with more than 20 years of experience earn on average $118,000 a year.
Future Growth of Information Assurance Engineer Jobs
Cybersecurity is a burgeoning industry. Growth trends for occupations in this line of work exceed many of the average projections. Although the U.S. Bureau of Labor Statistics (BLS) does not track growth for information assurance workers specifically, information security analysts, whose work aligns with information assurance engineers, have a projected job growth rate of 28 percent from 2016 to 2026.
The demand for information assurance engineers will likely increase with the greater frequency of cyber attacks. The attacks create a growing need for banks, corporations, healthcare organizations, and government agencies to safeguard information. In addition, businesses of all sizes are adopting cloud services and relying more on digital information, opening opportunities for information assurance engineers across the board.
Start Your Journey to Becoming an Information Assurance Engineer Today
Planning the right academic and professional path can be key to achieving success in cybersecurity. If you desire a career in an ever-evolving technical field with strong growth potential, you might consider becoming an information assurance engineer. Explore Maryville University's online Bachelor of Science in Cybersecurity program to learn more about how to become an information assurance engineer and discover how this degree can lead to exciting career opportunities for those passionate about technology and computer security.
Sources
Maryville University, Bachelor's in Cybersecurity Online
Maryville University, Careers in Cybersecurity for Bachelor's Degree Graduates
Maryville University, Master's in Cybersecurity Online
Maryville University, Master's in Cybersecurity Online Curriculum
Maryville University, Online Bachelor's in Cybersecurity Curriculum
PayScale, Average Information Assurance Engineer Salary
Be Brave
Bring us your ambition and we'll guide you along a personalized path to a quality education that's designed to change your life.