How to Become an IT Auditor
How to Become an IT Auditor
How to Become an IT Auditor
In the digital age, nearly every major company employs some form of information technology, or IT, to help the organization maintain its technological needs and competitive edge. Advanced IT can help make digital processes more efficient, less costly, and online information more secure. However, weak or poorly implemented IT can cause unnecessary roadblocks, open organizations to digital security risks, and allow for internal information to become compromised.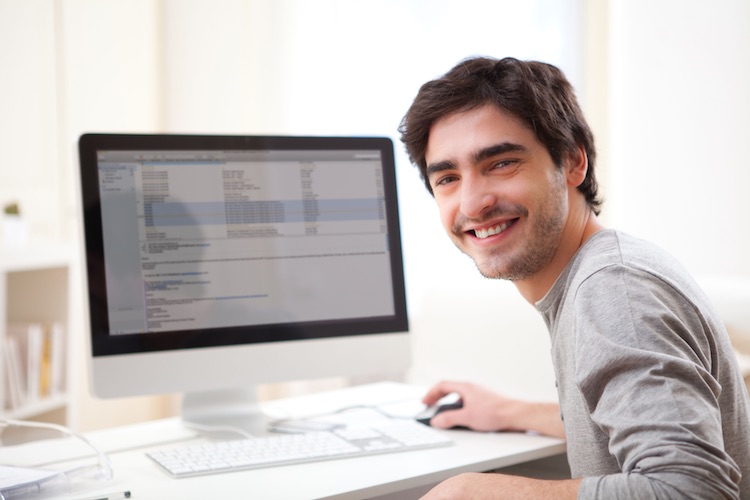 Because information technology is so fundamental to modern business, companies and organizations employ IT auditors ― professionals who identify pain points, opportunities for improvement, and new ways to address existing IT systems while making sure they are compliant with larger codes and guidelines. The IT auditor job description often emphasizes a strong background in information technology as well as thorough problem-solving skills.
What Does an IT Auditor Do?
IT auditors are tasked with ensuring an organization's IT systems and infrastructure run as smoothly and efficiently as possible. They also make sure all systems and technologies are compliant with necessary security protocols, according to the tech news outlet CIO. As to what an IT auditor does, their day-to-day duties can vary depending on what industry they work in. Infosec, the information security resource, notes how IT auditing professionals who work in finance can evaluate the effectiveness of existing IT systems and how they stack up against larger policies and regulations.
But a key component of the position is performing IT audits. Deloitte describes IT auditing as anything that incorporates the review and evaluation of "automated information pros, their relation to automated processes, and the interfaces among them."
IT Auditor Job Description
The specific responsibilities of an IT auditor can vary depending on the position and organization. However, common tasks associated with these roles include:
Conducting automated data processing (ADP) audits and computer audits
Creating internal audit reports
Monitoring internal performance controls
Developing and implementing robust IT infrastructure
Collaborating with other teams and departments regarding IT and its role in business and ethics compliance
Translating difficult-to-understand IT concepts and issues for other team members
Evaluating the security and compliance of records and pivotal information
The website TechRepublic notes that IT auditors must also possess a comprehensive understanding of information technology, such as networks, systems, and databases. "These auditors don't actually implement any fixes; they just offer an independent review of the situation," according to TechRepublic. Additionally, IT auditors may also take recommendations from members of management and see to it that new changes are in tune with larger organizational strategies and goals.
Steps to Become an IT Auditor
The specific requirements for becoming an IT auditor can vary. However, there are common steps to earning one of these competitive and rewarding positions.
Earn a Bachelor's Degree
A bachelor's degree in a related field, such as Maryville University's online bachelor's in cybersecurity, can be helpful in obtaining a position on the IT auditor career path. However, Infosec notes that because auditing is a core component of the position, many professionals enter this role from other industries in which audits are common, such as finance or law. For those considering a bachelor's in cybersecurity, Maryville's program offers a core business curriculum, which may give graduates a competitive edge in the job market.
Gain On-the-Job Experience
It is beneficial that IT auditors obtain professional experience in information technology, as they will need to have a firm understanding of not only IT systems and architectures, but what steps to take to help them improve. Common positions in which IT auditors may serve prior to their current role include database administrator, systems administrator, and computer systems analyst. Because auditing itself is a core component of the position, obtaining professional experience in a field in which audits are common, such as accounting or finance, can be key to meeting the requirements of an IT auditor job description. The required job experience can vary depending on the position, but it is not uncommon for IT auditors to have at least five years in their field.
Earn Certifications and a Master's Degree (optional)
Along with earning a BS in cybersecurity, there are several certifications that can help IT auditors obtain more competitive positions and responsibilities. One is Certified Information Systems Auditor (CISA), which is offered by Information Systems Audit and Control Association (ISACA). This credential helps establish IT auditors as experts in information systems auditing, IT governance/management, and other fields. Another key credential from ISACA is the Certified in Risk and Information Systems Control (CRISC) certification. Obtaining this can indicate to employers that a professional holds a firm background in IT risk assessment, response, and reporting.
While not always necessary, a master's degree can be beneficial in helping aspiring and current IT auditors deepen their knowledge bases of information technology and risk assessment, developing a deeper appreciation for how particular operating systems and software platforms function. Individuals who possess a master's degree, such as Maryville University's online master's in cybersecurity, are often better positioned to land more rewarding, higher-paying, and competitive positions in the field.
IT Auditor Salary
The compensation website Payscale lists the median salary for an information technology auditor at $66,934, based on March 2020 data. Professionals who are in their mid- to late careers can command higher salaries due to their increased work experience. Salary can also be impacted by the specific company and location in which an IT auditor works. IT auditors in high-cost-of-living New York City, for example, tended to garner higher salaries than professionals in other parts of the country.
Future Growth of Information Auditors
The job opportunities for IT auditors appear to be strong. For accountants and auditors in general, job opportunities in the field are projected to grow 6% from 2018 to 2028. Employment of computer and information technology professions is projected to grow 12% through that same time span, according to the U.S. Bureau of Labor Statistics (BLS).Global IT spending is projected to grow 3.7% in 2020. It's clear there will be a continued emphasis on information technology for many years to come, which likely translates into an increased need for IT auditors to ensure those systems and architectures run smoothly.
Explore Careers in Cybersecurity
Serving as an information technology auditor can be a rewarding professional experience for individuals who are detail-oriented and seek to improve existing systems and processes.
While an IT auditor is a role that provides crucial services to many IT departments and organizations, it is just one of the burgeoning fields within cybersecurity. Maryville University's online bachelor's in cybersecurity prepares students to excel in the rapidly evolving and technologically advanced cybersecurity landscape. Providing a robust curriculum in network security, pen testing, cloud security and other fundamental courses, the program can serve as a launching pad to a successful career in IT auditing and other cybersecurity roles. In addition, Maryville's curriculum prepares students for the business world by covering topics such as finance and business law.
Sources
Deloitte, "IT Auditing: The processes involved and its importance in today's business"
Gartner, "Gartner Says Global IT Spending to Grow 3.7% in 2020"
Houston Chronicle, "Description of an IT Auditor"
Infosec, How To Become An IT Auditor
Infosec, What Does An IT Auditor Do?
Maryville University, Bachelor's in Cybersecurity Online
Maryville University, Master's in Cybersecurity Online Curriculum
Payscale, Average Information Technology (IT) Auditor Salary
TechRepublic, "IT auditor one of the fastest growing careers"
U.S. Bureau of Labor Statistics, Computer and Information Technology Occupations
Be Brave
Bring us your ambition and we'll guide you along a personalized path to a quality education that's designed to change your life.