Comparing Business Paths: Business Administration vs. Business Analytics
Comparing Business Paths: Business Administration vs. Business Analytics
Comparing Business Paths: Business Administration vs. Business Analytics
The business world is complex, fast moving, and always changing. Working in a business-focused career involves a deep understanding of that world, backed by quality education and experience. There are many ways to enter the business world –– in fields that range from management and accounting to analytics, finance, sales, and marketing. Each career path requires different job skills, but they all benefit from workers who are analytical problem-solvers who can adapt to new challenges and make a positive impact on companies large and small.
If you're considering a career in business, the right education is crucial to your future success. Two popular undergraduate choices for students interested in entering the business world are business administration and business analytics degrees. While these degrees have different courses that emphasize different skills, they can both lead to lucrative, challenging careers. Read on to learn about these two programs, what they have in common, and how they differ.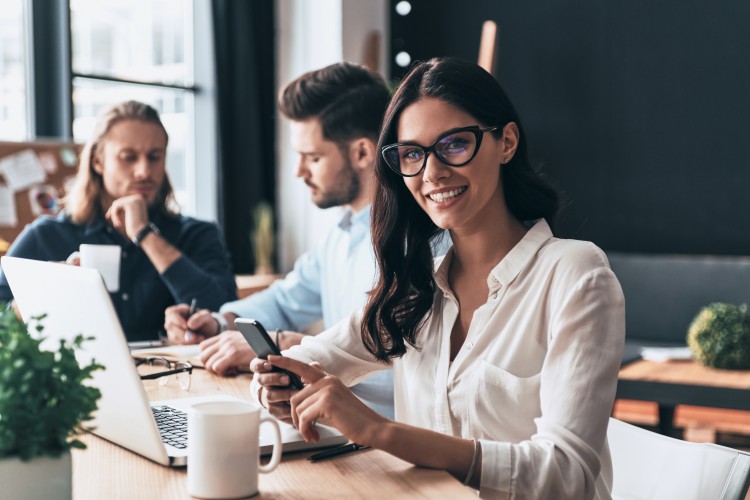 Business Administration Degree Overview
Business administration degrees provide students with an overview of business practices. They usually include courses in communication, accounting, economics, marketing, finance, management, law, and statistics. Degree programs such as Maryville University's online bachelor's in business administration allow students to choose a focus in accounting, finance, healthcare, or information systems.
What Do Business Administration Degree Graduates Do?
Business administration graduates equipped with general business foundation can pursue a variety of roles. They can work in different industries as part of a startup or a large corporation. Some might even decide to launch their own business. Based on their area of interest, they may also return to school to continue their education, perhaps with a specialized Master's in Accounting or an advanced Master of Business Administration (MBA). An MBA creates opportunities in management roles or even executive positions if paired with on-the-job experience.
Types of careers:
Sales Manager: Sales managers work for companies that sell a product or service. They oversee the performance of sales teams while also working with customers and clients to garner feedback on products and services.
Human Resources Manager: HR managers and directors oversee personnel concerns in companies of all sizes. They impact hiring practices and workplace ethics, help mitigate disputes, and navigate other employee issues as they arise.
Market Analyst: Market analysts are data experts who advise companies and investors about financial decisions. They'll look at the economic dynamics of a product or resource, for example, and help determine whether it's a worthy investment strategy.
Accountant: Accountants help businesses and individuals manage their money and ensure they spend it efficiently and legally. They are experts on taxes, but they also monitor profit and loss sheets and advise executives on how they can save money and increase profits.
Business Analytics Degree Overview
Business analytics degrees combine a business education with technical skills in programming and working with large data sets. Students take courses in business, finance, and marketing, but coursework may also include technical classes in computer programming, data analysis, and statistics. Some programs offer courses in data mining, data visualization, and predictive modeling. Those courses help students acquire technical knowledge that allows them to design programs that can analyze large data sets. Business analytics degrees can be undergraduate or graduate degrees, such as Maryville University's online master's in business data analytics.
What Do Business Analytics Degree Graduates Do?
Business analytics graduates have gained the skills necessary to begin careers using their technical abilities. Many industries need professionals who can analyze and interpret large sets of data. Business analytics graduates can also work in a wide range of industries including healthcare, advertising, journalism, finance, banking, and travel. They may also choose to go back to school to pursue a master's degree in business data analytics or strategic-communication-leadership, as examples.
Types of careers:
Financial Analyst: Financial analysts look deeply into investment opportunities to help institutions make profitable decisions. They analyze stocks, bonds, markets, companies, and anything else that could be a potential investment target.
Statistical Analyst: Statistical analysts take large data sets and process them for business decision-making. They could work in a variety of settings, including sports teams, healthcare, finance, and more.
Business Management Analyst: Business management analysts are efficiency experts. They analyze a business's organizational structure and identify areas in need of improvement.
IT Specialist: Business analytics graduates can put their skills to use in information technology, thanks to their background in programming. There is a particular need for their expertise in businesses that use custom software and hardware.
Similarities Between Business Administration and Business Analytics Degrees
Business administration and business analytics degrees both position graduates to work in the business world. Both degree programs focus on helping students make a positive impact, think critically, and communicate effectively. Graduates of both programs can work in similar sectors, such as finance, healthcare, or manufacturing. They are well prepared for positions as financial analysts or organizational analysts.
Differences Between Business Administration and Business Analytics Degrees
While numerous different degree opportunities exist for those interested in the field of business, both business administration and business analytics degrees remain popular. There are many differences in academic courses and career paths after college for these two degrees.
Program Focus
Business administration degree programs include core business courses such as finance, marketing, economics, accounting, and management. This prepares students for many business roles, choosing the specialty that fits their needs and interests most. While students in a program such as Maryville University's online bachelor's in business administration have the option of taking a course in information systems, computer courses are not mandatory.
Business analytics degrees focus on setting up graduates for careers that apply data and computer-based skills to the field of business, including courses on programming languages, analytics framework, statistical analysis, data visualization, and modeling.
Job Flexibility
Business administration degrees prepare students for many different careers. The degree concentration points graduates in one direction, but the versatility of their coursework means they can ostensibly take on any of a wide variety of roles upon graduation. They also can open their own businesses and become entrepreneurs.
Business analytics graduates are equipped to take on analytics roles in several fields including banking, manufacturing, federal government, and professional services. They'll want to take advantage of their programming knowledge and analytical problem-solving skills in pursuit of professional fulfillment.
Business Administration Degree vs. Business Analytics Degree: Which Is Right for You?
Working in the business world means entering a fast-paced environment where you'll need strong critical thinking and problem-solving skills. If you've got a knack for working with data and love analytics and computer programming, a data analytics degree program may be worthwhile.
If you have a variety of interests in business and want to explore how you can make a difference,
learn how Maryville University's Bachelor of Business Administration Online program can lay the groundwork for a successful career in business.
Sources
CIO, "What Is a Business Analyst? A Key Role for Business-IT Efficiency"
Houston Chronicle, "The Average Salary of a Business Administration Major"
Maryville University, Bachelor's in Business Administration Online
NGData, "What Is Business Analytics?"
Be Brave
Bring us your ambition and we'll guide you along a personalized path to a quality education that's designed to change your life.