Online Bachelor's in Accounting Program Guide
Modern accounting processes and strategies grow in complexity and efficiency each year. With more cross-functionality between accounting services and finance, marketing, and sales, modern accountants must be prepared to develop a multifaceted skill set to navigate the demands of the field.
Maryville University recognizes the need for flexible accounting programs informed by modern accounting processes. That's why our 100% online bachelor's in accounting features an updated curriculum informed by professional leaders to help you develop the practical, business-centric financial skillset you need to stay ahead of the curve.
At a glance
Study 100% online with no campus residency requirements
Graduate in as few as 2.5 years
Pursue a pathway to professional accounting through a blend of business and accounting coursework
Benefit from three early access courses, available to qualifying students and applicable toward an MS in Accounting
Curriculum
When you earn your online bachelor's in accounting from Maryville, you can learn the skills to prepare for your CPA exam and begin your accounting career — or get a head start on your graduate studies with three early-access courses that count toward your master's degree.
Not only that, but you can also specialize your bachelor's by choosing electives that align with your professional goals. Select courses in high-demand topics like strategic accounting, data analytics, or financial reporting, and build an undergraduate degree that supports your ambition.
Business Core
ISYS 100 Digital Foundations
BUS 150 Business Communications
ACCT 210 Financial Accounting
ACCT 211 Managerial Accounting
ECON 203 Principles of Economics
BUS 241 Business Statistics
BUS 280 Business Law
MGMT 321 Principles of Management
MKT 360 Principles of Marketing
FIN 312 Principles of Finance
BUS 314 Operations Management
BUS 491 Business Policies (Capstone)
Accounting
ACCT 309 Advanced Managerial Accounting
ACCT 310 Forensic Accounting and Ethics I
ACCT 313 Individual Income Tax
ACCT 318 Financial Reporting I
ACCT 319 Financial Reporting II
ACCT 423 Auditing
ACCT 491 Accounting Theory
Professional Accounting (CPA, Early Access)
Choose 4 graduate level early access accounting courses. Current options include: ACCT 614, ACCT 615, ACCT 616, ACCT 618, ACCT 620, ACCT 660
ACCT 614 Tax Planning and Decision Making
ACCT 615 Accounting for Governmental and Non-Profit Entities
ACCT 616 Financial Reporting III
ACCT 618 Strategic Accounting Issues
ACCT 620 Financial Statement Analysis
ACCT 660 Data Analytics
Professional Accounting (Non-CPA, Non Early Access)
ACCT 315 Financial Data Analytics
ACCT 415 Accounting Information Systems
ACCT 425 IT Audit
ACCT 435 Quickbooks for Accounting Professionals
TOTAL 128 CREDIT HOURS*
*Includes 12 credit hours of advisor-approved electives. Qualifying students may apply nine credit hours of this requirement toward a graduate degree through our Early Access program. Conditions apply
To ensure the best possible educational experience for our students, we may update our curriculum to reflect emerging and changing employer and industry trends. Undergraduate programs and certificates are designed to be taken at a part-time pace. Please speak to your advisor for more details.
Admission Requirements
First-time freshman applicants

High school diploma or equivalency
Minimum GPA for freshmen applicants: 2.5 on a 4.0 scale*
Official high school transcript

No standardized tests required
Click to view our transfer credit policy

The acceptance of transfer credit is at the discretion of Maryville University

Transfer applicants

Minimum GPA for college or university transfer applicants: 2.0 on a 4.0 scale*
Official transcripts from all colleges or universities previously attended**

International applicants (if applicable): Official Test of English as a Foreign Language (TOEFL with a score of 563, speaking sub-score of 23, writing sub-score of 20, reading and listening scores of 21, and a combined score of 85 or higher)
*Applicants who do not meet the GPA requirement may be considered for provisional admission.
**In lieu of submitting a transcript to fulfill this requirement, an applicant can attest to their completion. Maryville University reserves the right to request official proof at any time.
Explore our additional resources to help guide your admissions journey.
Accreditation and rankings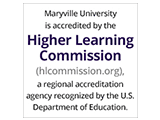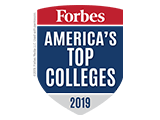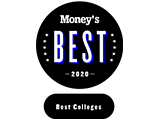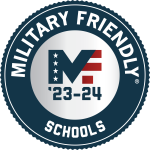 Named an "Apple Distinguished School" for 2021-2024

Ranked a "Best National University" for 2022 by U.S. News & World Report
Why Maryville Online?
We've been progressively challenging the norms of higher education for nearly 150 years. We started as one of the first universities to educate women. Today, we continue to push the boundaries and prepare students like you for a digital world. At Maryville, we understand what it takes to step beyond your comfort zone.
Maryville University is a nationally ranked private college recognized for comprehensive and innovative education focused on student learning, outcomes, and success — both online and on campus. We're located just 22 miles from downtown St. Louis.
Enhance your skills. Broaden your career.
Top 5 skills/concepts you can develop:
Computer applications
Principals of finance
Business policies
Macroeconomics/Microeconomics
Auditing
Top 5 careers you can pursue:
Financial Analyst
Financial Manager
Financial Advisor
Budget Analyst
Cost Accountant
Early Access Program
Did you know that Maryville undergraduates can qualify for graduate level credits? Once you are accepted — and as long as you have not yet completed your elective requirements — we invite you to explore Early Access as an option. Through Early Access, you can get a head start on earning a graduate degree by taking master's-level courses that count toward your undergraduate and graduate degrees. Graduate-level Early Access courses are billed at the undergraduate tuition rate — so you can save time and money.
You can learn more at our Early Access page.
Start your journey today
Learn more about the Maryville online bachelor's in accounting.