SEM vs. SEO: Comparing Two Key Marketing Terms
Search engine marketing (SEM) and search engine optimization (SEO) have become two of the most commonly used marketing terms in digital media campaigns. The page that you're on right now was most likely suggested to you by a search engine, thanks to SEO. Search engines drive the majority of internet traffic, and LYFE Marketing reports that over 90% of traffic goes to URLs on the first page of Google non-paid results. Because of this statistic, the push to make it to Google's first page has spawned the entire industry of SEO. In relation, SEMrush notes that 4 out of 5 of the fastest-growing companies in the U.S. spend on SEM methods like pay-per-click (PPC) advertising. Understanding the similarities and differences between the two is crucial to business students and entrepreneurs looking to enhance their marketing.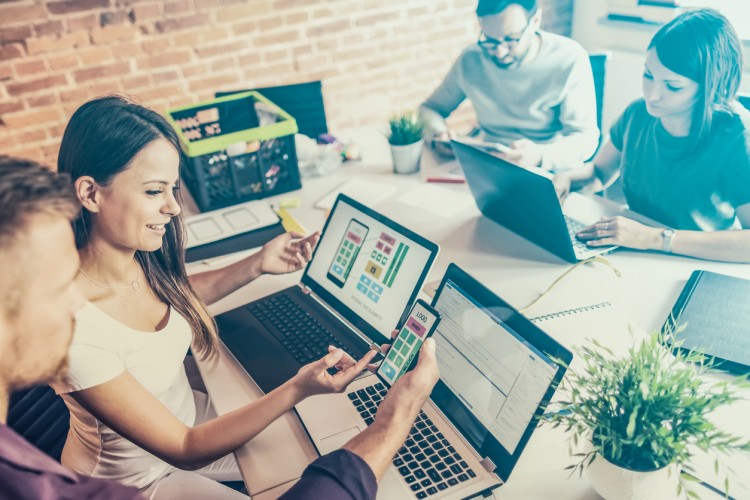 What Is SEM?
SEM is a type of paid internet marketing that focuses on delivering advertising tailored to a particular search engine keyword or phrase (also known as "pay-per-click" ads). Businesses bid on keywords in an effort to ensure that their ads show up in relevant searches. The auction system is managed by the search engines with consideration of various factors, including bidding price and ad quality. Winning a high-display spot on a relevant search can help convert ads into sales, as users are more likely to already be in the market for related products. Compared to traditional marketing such as television commercials, pay-per-click ads are generally lower cost and flexible to any budget. A Statista survey reports that average cost per click in 2018 was as low as $1 USD, making it an ideal solution for smaller businesses that want to leverage the power of search engine technology.
SEM specialists (also known as search marketing specialists) delve into keyword research to craft better PPC ads. SEM specialists may double as SEO specialists and vice versa, as the roles share significant similarities. However, SEM specialists are marketers first and primarily concern themselves with online campaigns focused on a particular brand or product. They spend much of their time finding and testing new keywords and calculating their competitiveness and profit per click. Their final goal is to get the most value — be it clicks, traffic, or sales — out of a company's marketing budget from paid search engine ads.
What Is SEO?
SEO refers to the process of optimizing a website so it can appear high on search engine results pages (SERPs) organically (i.e., non-paid). This optimization focuses on user experience, written copy, including keywords, as well as authoritative links that establish the relationship between that page and other related sites. Businesses look to SEO specialists to help their webpages to perform better through organic search results. Organic results come from search engine results, where the user searches for one or more of the keywords that the site highlights within its copy and metadata, encoded information not visible to the user.
SEO professionals are responsible for ensuring that a company's webpage is among the most pertinent available for its industry. To optimize a site, a professional must identify successful keywords and incorporate them into the copy without running afoul of search engines, which try to offer users relevant results and penalize websites that rely on underhanded practices to get to the top of the SERPs.
SEM vs. SEO: Conceptual Differences
Although SEM and SEO may sound similar, there are marked differences between them:
SEO strategies use metrics like demographics and ideal customers to craft webpages in a way that optimizes their presence in search results. SEM strategies use metrics like bounce rate, click-through rate, and average cost per click to place paid advertising that'll be attractive to searchers.
Each search engine uses a different ranking system, and SEO strategies depend on understanding those systems' algorithms to craft copy. SEM relies on search engine-based web tools. Using analytics engines, SEM specialists can compare their performance to that of their direct competitors. With that data, they can improve their ads to draw more traffic and convert more customers.
The most significant difference between SEM vs. SEO is how they approach the consumer. SEM invests in search engine ads, predicting that the landing pages the ads link to will convince consumers. SEO specialists deliver keyword-enriched content that they hope search engines and consumers will find informative and useful.
Similarities Between SEO and SEM
SEM and SEO are closely related, even though their approaches to customers and search engines are different:
Both SEO and SEM focus on driving a company's brand awareness and building brand image. Targeted marketing combined with focused SEO can attract both inorganic visitors (funneled to the business's page through search engine advertising) and organic visitors (drawn in by search engine results).
Both SEM and SEO depend on search engines to drive traffic. While SEM pays the search engine to direct relevant consumers to the brand or company site, SEO uses keywords to present its website to consumers. SEM pushes users from the search engine page to the brand's landing page, while SEO pulls users from the search engine to the company site.
The necessary skills used by both types of specialists are the same, even though the individual application of those skills may differ. Both SEM and SEO professionals use critical-thinking, data analysis, research, and communication skills to ensure that a brand reaches the right people.
Job Outlook
According to October 2019 data from PayScale, the median annual salary for an SEM specialist is around $47,000, with the top 10% making $67,000. SEO specialists earn a median annual salary of around $45,000, with the best paid making as much as $65,000.
The U.S. Bureau of Labor Statistics categorizes SEM and SEO specialists as marketing research analysts and predicts that this profession will grow by 20% between 2018 and 2028, much faster than other professions.
SEM vs. SEO: Two Sides of Marketing
SEO and SEM can both grow businesses, and aspiring marketing professionals or entrepreneurs looking to build marketing skillsets must be familiar with both. If your career goals lie in online marketing, the Maryville University online Bachelor of Science in Marketing offers courses that focus on essential skills, with courses including Consumer Behavior, Social Media Campaigns, Introduction to Contemporary Communication, and Digital Foundations. The broad curriculum teaches students the skills they'll need to implement SEO and SEM, among other key strategies. Get started on the path to a new career in marketing today.
Recommended Reading:
What Does the Future of Advertising Look Like?
11 Modern Marketing Skills for Business Innovators to Master
Sources:
Forbes, "The Value of SEO and SEM for Small Businesses"
Forbes, "These Are the Biggest SEO Trends of 2019"
HubSpot, "What's the Difference Between SEO and SEM?"
Google, FAQs & Advertising Resources
Investopedia, SEO (Search Engine Optimization)
LYFE Marketing, SEO ROI: How Much Revenue Does SEO Really Produce?
Market Business News, What Is Search Engine Marketing or SEM? Definition and Examples
Maryville University, How to Become a Marketing Manager
Maryville University, Online Marketing Degree
PayScale, Average Search Engine Marketing (SEM) Specialist Salary
PayScale, Average Search Engine Optimization (SEO) Specialist Salary
SEMrush, "Infographic: What Inc. 5000 Companies Spend On AdWords"
Statista, Average Cost-Per-Click in Google AdWords in Selected Industries in the United States Between August 2017 and January 2018
U.S. Bureau of Labor Statistics, Market Research Analysts