Business and Technology Education: MIS Degree vs. IT Degree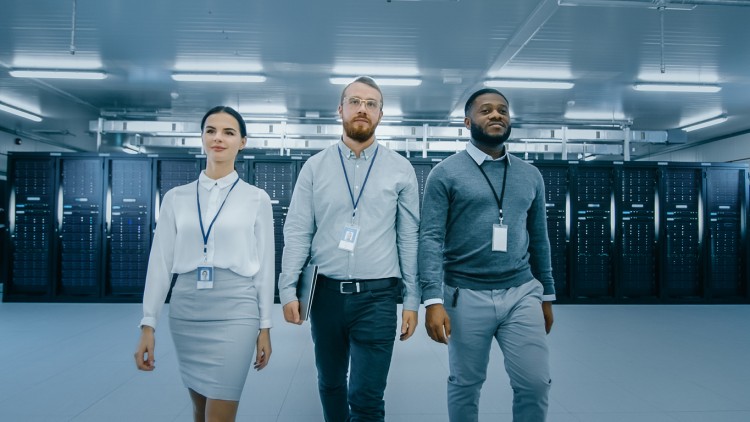 Computer networks, information systems, and data management are vital parts of nearly every company's digital infrastructure. Without professionals working behind the scenes to support these essential networks, analyze their efficiency, and protect data, companies couldn't effectively provide services and products, or even operate competitively. As you consider degree options, you will encounter some similar paths in the digital technology realm. You may wonder about the differences between a management information systems (MIS) degree and an information technology (IT) degree.
While both degrees focus on the structure of networks and complex systems, MIS degrees tend to be more business-focused, and IT degrees emphasize computers and their functionality. We'll give you a deeper look at each degree's area of focus and subsequent career paths, helping you make the best decision for your future.
MIS Degree Overview
An MIS curriculum can be thought of as half business, half IT. MIS students spend time learning computer programming, database design, and cyber security, but also take courses in management, finance, accounting, and business. By graduation, students will have developed their communication, critical thinking, and problem-solving skills. Programs such as Maryville University's online bachelor's in management information systems emphasize strategic thinking that applies to a variety of industries, helping prepare graduates for success in whatever business or technology setting they may choose.
What Do MIS Degree Graduates Do?
MIS graduates often work for technology companies, government agencies, or consulting firms. Their hybrid expertise in business and computers enables them to speak to both the technology and business needs of an organization. With these powerful complementary skill sets, MIS degree holders can lead in a unique, holistic way. Management systems are a typical part of any big business, so MIS graduates can expect to work for large organizations. Here, they may create data management systems that meet the needs and desires of upper management, staff, clients, investors, regulatory bodies, and a host of stakeholders.
Types of careers
Database Administrator: Storing and organizing data, database administrators design databases and oversee their configuration, migration, and security, as well as backup and data recovery.
Software Developer: Software developers work with IT to create a wide array of solutions, including apps for phones and computer programs. Some work on developing the systems that run software.
Systems Analyst: Working with both hardware and software, systems analysts study the overall IT architecture of a business, identifying where it is working efficiently and where it can improve.
IT Degree Overview
IT largely focuses on collecting, storing, accessing, and protecting data. It's a broad field, and so are the courses associated with an IT degree. Learning about systems security, software engineering, and web design are all foundational to the curriculum. The growing complexity of IT systems — and the reliance of businesses on these systems — means IT graduates must have a strong understanding of computer languages, cyber security tactics, and administrative tools. It's not just about technical skills, however. During undergraduate study, students learn about employing computer and cyber strategies in the real world.
What Do IT Degree Graduates Do?
IT graduates use analytical skills to work in a variety of fields. They may support schools, nonprofits, big businesses, or startups. Some begin their own small businesses or consultancies. Graduates often spend their days at IT help desks or performing vital daily computer administration and security operations. While IT graduates often work for tech companies, their skills enable them to work in a variety of fields that rely on computers and systems.
Types of careers
Computer Programmer: Using a variety of programming languages, computer programmers create software that is used in a number of industries for many different purposes.
Web Developer: These specialists are primarily responsible for how a website responds and operates, helping ensure a positive user experience.
Computer Support Specialist: Answering phones, providing online support through chat portals, and working directly with individuals and teams, these professionals help others understand how to work with IT effectively.
Similarities Between an MIS Degree and an IT Degree
The two fields are similarly dedicated to the study of computers and computer systems. In both degree programs, students take classes in web design, cyber security, computer interfaces, digital media, and computer programming. In both, a primary goal is to prepare graduates to implement and manage computer networks in the real world. Either degree will thoroughly develop analytical and communication skills alongside technical expertise, providing students with the opportunity to thrive in a variety of workplace settings.
Differences Between an MIS Degree and an IT Degree
The main difference between the two is that one concerns the business of IT, while the MIS focuses on IT's functionality in the world of business. This distinction is apparent in both curriculum and career paths.
Computer-Focused vs. Business-Focused Coursework
MIS degrees combine business and information systems. Graduates typically take courses in marketing, finance, management, and business law, while also learning programming, database design, and cyber security. In contrast, IT degrees focus on expertise in computers and their networks. The curriculum often includes setting up and maintaining computer networks, web design, data communication, data storage and e-commerce, without the overlay of management and finance.
Typical Careers
MIS graduates often find work in banks, financial institutions, and corporations. They tend to work in larger organizations that rely on complex management information systems. IT graduates can use their computer expertise in a wide range of industries that rely on computer technology, from small companies to global corporations.
Making Decisions vs. Driving Operations
MIS degrees prepare graduates to look at an organization's big-picture operations, including the functionality of computers and networks. Graduates may also contribute to business decisions on product performance, production processes, and marketing efficiency. When making decisions, MIS specialists turn to IT systems for guidance.
IT specialists, however, are fully immersed in the world of computers and networks. They make sure that these are running effectively and safely. They may help develop the programs that MIS teams use to run models or analyze data that inform subsequent business decisions.
MIS Degree vs. IT Degree: Which Is Right for You?
While both an MIS degree and an IT degree are designed to prepare graduates to enter the workforce with computer, communication, and analytical skills, each degree follows a different educational path. IT degrees offer a greater focus on one field, preparing graduates to work in almost any organization that runs computer systems and needs someone to manage them.
On the other hand, if you're excited about using computers to help make business decisions, an MIS degree integrates both areas of study. If that combination sounds appealing, find out more about how Maryville University's online bachelor's in management information systems can help you embark on a new career.
Sources:
Investopedia, "Management Information Systems vs. Information Tech: What's the Difference?"
Maryville University, "Management Information Systems"
U.S. Bureau of Labor Statistics, "Computer and Information Technology Jobs"
U.S. Bureau of Labor Statistics, "Computer and Information Systems Managers"
U.S. Bureau of Labor Statistics, "Computer Systems Analysts"
U.S. News & World Report, "Best Technology Jobs"