MHA vs. MPH: Comparing Advanced Healthcare Degrees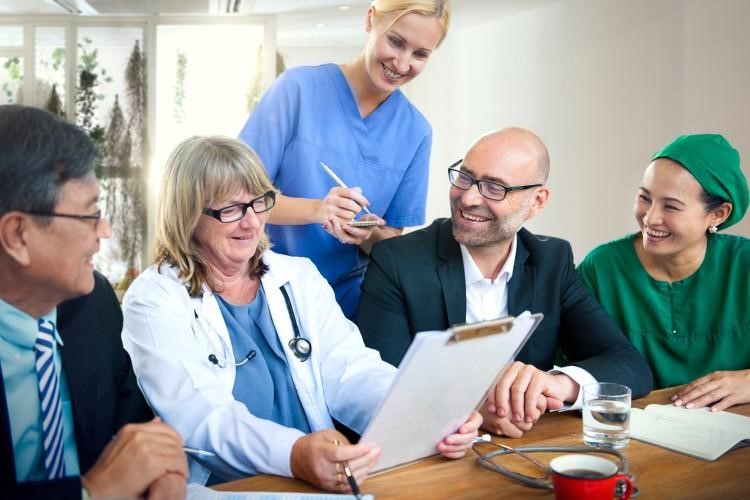 The healthcare industry is evolving at an incredible pace thanks to new technologies, procedures, and methodologies. These changes are creating opportunities across healthcare positions and, coupled with an aging population, have contributed to increased demand for highly qualified healthcare professionals. Those already working in the field can pursue an advanced degree to help open the door to leadership positions and higher earnings. The U.S. Bureau of Labor Statistics (BLS) projects the demand for medical and health services managers to increase by 32% between 2019 and 2029, much faster than the average for all occupations (4%), providing significant opportunity for those willing to invest in their education.
Two popular paths for advancing in the healthcare field are the Master of Health Administration (MHA) and the Master of Public Health (MPH). While both programs equip graduates with valuable skills, they emphasize different issues. Healthcare professionals must consider several important factors when deciding between MHA vs. MPH degree programs.
Master of Health Administration Overview
The MHA program focuses on the management of healthcare from a leadership perspective. It includes coursework in finance, research, marketing, management, and human resources (HR) as these areas relate to healthcare services. For example, students learn about challenges specific to the healthcare industry, such as health information systems and medical supply chains. They also learn about the laws, regulations, and ethical standards that apply to the healthcare industry.
In many MHA programs, students can tailor their studies to align with their individual career goals through concentrations such as data management, population management, healthcare strategies, and senior services. Students can also choose a general MHA program that covers the foundations of healthcare operations and healthcare management through courses on population health management and healthcare HR, among others. The curriculum strengthens students' foundational knowledge and educates them on the best practices of effective administrators.
These programs often culminate in a capstone course or thesis, providing students with the opportunity to demonstrate their knowledge and skills through a comprehensive research project. Some degree programs require practicum courses that include on-site training from professionals in the field at hospitals, clinics, or other healthcare organizations. The MHA is typically a two-year degree for full-time students, although accelerated programs may be shorter.
What Do MHA Graduates Do?
Healthcare professionals with a master's in health administration have increased opportunities for advancement, as well as higher earning potential. Earning the MHA helps healthcare professionals build a solid foundation for growth.
Types of careers:
Hospital Administrator: Hospital administrators oversee the efficiency of staff, technology, and all administrative duties of the entire hospital. These professionals are responsible for ensuring that their workplaces adhere to applicable laws and regulations and that the staff members deliver a positive patient experience and quality care. According to May 2021 data from PayScale, hospital administrators earn a median annual salary of approximately $87,900.
Medical and Health Services Manager: Also known as healthcare administrators, medical and health services managers coordinate and plan the medical and health services of an entire facility or a specific clinical area or department. Similar to hospital administrators, they must ensure that their organizations meet the required regulations and healthcare laws and that they adapt to any changes in policy or technology. According to the BLS, medical and health services managers earned a median annual salary of $104,280 in May 2020.
Nursing Home Administrator: Similar to hospital administrators, nursing home administrators keep nursing homes running efficiently and safely. They maintain and manage nursing home facilities by overseeing operations, as well as clinical and administrative matters. According to May 2021 data from PayScale, nursing home administrators earn a median annual salary of approximately $92,000.
Median Salary for MHA Graduates
MHA graduates earn a range of salaries according to their years of experience, geographic location, and job title. However, May 2021 data from PayScale shows that MHA graduates earn a median annual salary of approximately $77,800.
Benefits of Earning an MHA
Earning the MHA offers many benefits to health administrators. The strategic planning expertise and expanded knowledge of health policy and health finances that MHA programs offer put graduates at a great advantage in the job market. The BLS indicates that employers prefer to hire candidates with advanced degrees and that senior health executive positions require a master's degree.
This means that MHA graduates enjoy broader career opportunities. Their degree equips them to become leaders in health service systems by cultivating their skills in regulatory compliance, health policy, and quality improvement. It also gives them a strong foundation in leadership theory and practice, helping them work more efficiently and effectively.
Additionally, the MHA gives health administrators a chance to specialize in areas ranging from health informatics and analytics to senior services. With higher levels of responsibility, MHA graduates also raise their earning potential.
Master of Public Health Overview
The MPH prepares students for a highly interdisciplinary field that focuses on disease and health in different populations. Public health emphasizes the development, evaluation, financing, and implementation of community health programs to improve the health and well-being of cities, states, or populations.
The MPH curriculum includes courses in sociology, epidemiology (the study of diseases and other health factors), environmental health sciences, biostatistics, infectious disease, healthcare systems and financing, and quantitative and qualitative research methods. Students also take courses in policy and government, including law and ethical issues in public health.
In many MPH programs, students can choose from a range of concentrations or specialties, such as biostatistics, environmental health sciences, and epidemiology. For example, a concentration in biostatistics includes specific training in quantitative methods, so graduates can use statistical procedures to design and analyze healthcare studies. In general, the MPH is a two-year degree, although accelerated programs may take just 12 to 18 months.
What Do MPH Graduates Do?
MPH graduates often pursue careers directly related to public healthcare, especially in government. Depending on their role, these professionals can work on projects and initiatives to improve water quality, air quality, pollution, and other issues that affect health on a large scale.
Types of careers:
Epidemiologist: Epidemiologists work in local and national health departments, health organizations, or pharmaceutical companies to understand the causes of the spread of disease. They evaluate and monitor breakouts of disease and work to develop solutions and potential treatments. According to the BLS, epidemiologists earned a median annual salary of $74,560 in May 2020.
Public Health Project Manager: The main responsibilities of public health project managers are to provide resources, services, or medical assistance to individuals suffering from diseases or health issues, such as HIV/AIDS, or from natural disasters, war, or other emergency situations. Public health project managers fall under the BLS category of social and community service managers and earned a median annual salary of $69,600 in May 2020.
Health Informatics Specialist: Also known as biostatisticians, health informatics specialists analyze data and apply their statistical expertise and public health knowledge to identify population health trends. They may also work on experimental treatments for diseases and use their medical research to find connections between a disease and demographics, psychographics, or other lifestyle factors and public health issues. According to May 2021 data from PayScale, health informatics specialists earn a median annual salary of approximately $67,000.
Median Salary for MPH Graduates
Like MHA graduates, MPH graduates earn a range of salaries according to where they work, their years of experience, and their job title. Nonetheless, the median annual salary for MPA graduates is $65,451 according to May 2021 data from PayScale.
Benefits of Earning an MPH
MPH graduates often work to take on big health issues that affect communities' well-being, such as the opioid epidemic or teen pregnancy. For those with a specific passion or mission they want to address, the field of public health has many opportunities for MPH graduates.
Earning the MPH strengthens graduates' research and writing skills, which are invaluable to the work of many public health positions that involve creating public health initiatives, such as vaccination campaigns or programs to address childhood obesity. The degree also develops an understanding of the disciplines that are key to public health, preparing graduates for a wider range of job opportunities.
It's worth mentioning that those interested in public health careers will find that a large portion of available jobs in the field require the MPH. Pursuing the degree has significant benefits.
Similarities Between MHA and MPH Degrees
MHA and MPH degrees require ample study and real-world experience. Both typically take two years to complete and complement clinical experience. Perhaps most important, both degree programs position graduates to step into leadership roles in healthcare. Graduates emerge ready to lead teams, create initiatives, and come up with creative solutions to important issues.
Differences Between MHA and MPH Degrees
Although there are underlying similarities, the key differences between MHA and MPH degrees lie in the curricula and the career paths.
Curriculum Focus
MHA degrees emphasize leadership and healthcare issues, as well as the systematic application of the principles of organizational behavior, so students can understand professional roles in health services organizations. Coursework covers such topics as healthcare economics, healthcare analytics, management in healthcare, and financial management. Students commonly take courses on healthcare HR and organizational behavior, healthcare marketing, health policy and economics, and healthcare analytics.
In contrast, the typical core curriculum of an MPH program includes courses in biostatistics, epidemiology, public health policy, management sciences, demography, environmental health, biological sciences, and social and behavioral determinants of health. These courses provide graduates with foundational knowledge in public health.
Career Paths
Career opportunities differ for MHA and MPH graduates. While both programs can lead to leadership opportunities, MPH graduates apply their skills to the public or private health sector. Positions typically require planning, researching, and implementing healthcare programs or processes. Graduates commonly work in federal, state, or local government agencies; military organizations; health clinics and departments; health agencies; or community organizations, including nonprofits. No matter their job title, MPH graduates are community advocates who work with groups and individuals to improve health outcomes. Their policies, educational programs, and research help to prevent illness, the spread of disease, bioterrorism, and epidemics.
MHA degree holders typically pursue roles in hospitals or other healthcare institutions. These professionals generally manage entire hospitals or specific departments in an organization and take on administrative duties related to public relations, policy implementation, HR, and finance. With the MHA, these healthcare professionals can advance to top-level positions, such as CEO.
MHA vs. MPH: Which Is Right for You?
If you have a passion for helping communities and populations improve their health through the prevention of disease, a master's in public health could be the right choice. A career in public health means working with the public to prevent and find solutions for the outbreak of illnesses.
If your interest lies in administration and management in the healthcare system itself, a master's in health administration may be a better fit. The MHA program prepares healthcare professionals with the skills needed to operate a healthcare organization in a leadership role. Explore how the online Master of Health Administration from Maryville University can equip you with the leadership skills you need to manage teams, impact patient outcomes, and make decisions that can improve the current healthcare structure.
Recommended Reading
Administering Effective Leadership: MHA vs. MBA
Ethical Diligence In Healthcare Administration
Skills Every Health Administrator Should Have
Sources
American Public Health Association, Who Is Public Health?
Maryville University, Online Healthcare Degrees
Monster, "Where Can You Work with a Master's in Healthcare Administration?"
PayScale, Average Health Informatics Specialist Salary
PayScale, Average Hospital Administrator Salary
PayScale, Average Nursing Home Administrator Salary
PayScale, Master of Health Administration (MHA) Degree
PayScale, Master of Public Health (MPH) Degree
The Balance Careers, "Top Reasons to Get a Master in Public Health – MPH Degree"
U.S. Bureau of Labor Statistics, Epidemiologists
U.S. Bureau of Labor Statistics, Medical and Health Services Managers
U.S. Bureau of Labor Statistics, Social and Community Service Managers