How Long Is a Master's Degree?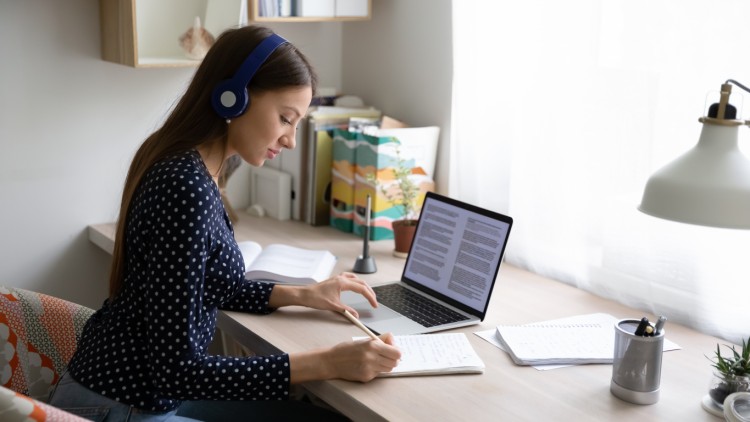 Whether you're interested in embarking on a new career, developing skills and expertise in your current field, or opening yourself up to new learning opportunities, an advanced degree can lead to career satisfaction and be personally rewarding. It can have material benefits as well; salary site PayScale reports that the median annual salary for bachelor's graduates was approximately $65,000 as of November 2021, while master's graduates made a median of about $78,000.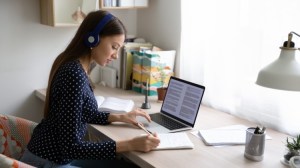 If you're considering going back to school for a master's, how long a degree takes may play a part in your decision-making process. A number of factors can affect program length, such as the specific degree's required curriculum, if you plan to be a full- or part-time student, and if you have applicable transfer credits. But generally speaking, accelerated online programs can take as little as 12 to 18 months, while part-time programs allow students to work at their own pace, up to a limit of five to seven years.
Professionals interested in pursuing a master's degree are likely to have questions about the difference between a bachelor's and a master's and the benefits of online education. Below you'll find answers to some commonly asked questions.
What Is the Difference Between a Bachelor's and a Master's Degree?
There are several key differences between bachelor's and master's degree programs, including requirements, level of study, and earning potential.
Admission Requirements:

Although admission requirements for bachelor's degree programs vary depending on the school and individual program, common requirements include a high school diploma or GED certificate and an official transcript showing a minimum grade point average (GPA) or quality point average (QPA). Some schools may ask for letters of recommendation or SAT or ACT scores, but these are becoming less common.

Students interested in applying to a master's degree program typically will need to have earned a four-year college degree, show they graduated with a minimum GPA or QPA, and meet program prerequisites. For example, students seeking admission to a

Master of Science in Nursing

(MSN) program are often required to have a Bachelor of Science in Nursing (BSN), although bridge programs may be available for those without. Some graduate schools may have other requirements, such as a personal statement or standardized GRE or GMAT test results, but this is also becoming increasingly less common. 

Credit Hour Requirements: Most bachelor's degree programs, including online programs, require students to complete between 120 and 130 credit hours to graduate — usually about four years of school for full-time students. The average master's degree program, however, requires between 32 and 36 credit hours — about one to two years for full-time students.
Coursework Focus: Undergraduate programs help students develop from generalists into specialists. They often include general education requirements outside of a student's major, and coursework focuses on a broad, big-picture introduction to a discipline. Master's programs assume a given level of expertise and allow students to focus narrowly and deeply on the areas that interest them most, often requiring a thesis or capstone project to show advanced understanding of the field. For example, a bachelor's in communication might include introductory courses on visual communication and writing for communication and media — and then allow students to begin specializing in higher-level courses in areas such as social media campaigns and website design. A master's in communication, on the other hand, might offer advanced courses on evidence-based research and search engine optimization for social networks.
Career Advancement: Aside from often earning more than their peers with only a bachelor's degree, master's graduates also may find more opportunities for senior and management positions. For example, many positions as nurse managers are limited to MSN graduates — and MSN graduates may also be licensed as nurse practitioners in certain states, allowing them to practice as primary caregivers.
Master's Degree Completion Timeline
How long is a master's degree? The amount of time it takes to complete an online master's program can vary based on certain factors, such as the number of required credit hours, whether the student has acceptable transfer credits, and whether they enroll part- or full-time. While some programs can be completed in as little as one year, others can take up to three years to complete.
Depending on the discipline, master's programs are often divided into two elements: coursework, which involves collaborative in-class learning with fellow students, and a capstone project or thesis, where students work independently (with a faculty advisor's guidance) to produce a project that applies what they have learned in a concrete, tangible way. Some master's programs include practicum requirements; for instance, an MSN degree requires the completion of a set number of supervised clinical hours.
Full-Time Online Programs
Students enrolled in a full-time online master's degree program often find they can complete their degree in approximately two years. However, individuals who opt for an accelerated learning program may be able to complete their degree in 12 to 18 months.
Part-Time Online Programs
Students interested in studying while continuing to work and/or raise a family may find that part-time enrollment can help them balance their studies with their other professional and familial commitments. Because of this flexibility, the length of time it takes students to earn a part-time degree depends on their pace of study. Although most programs require students to complete a master's within five to seven years, most students finish faster.
Early Access Programs
Ambitious students interested in finishing a master's degree as efficiently as possible should consider getting a head start through an early access program. Some schools, such as Maryville University, offer the opportunity to earn as many as 12 credit hours toward a graduate degree while finishing their bachelor's, which means earning a graduate degree may happen that much sooner.
Benefits of an Online Master's Degree Program
Earning an online master's degree offers a number of advantages.
Online students have the option to learn on their own schedule, allowing them to earn a degree while still devoting time to work and family obligations. Because they don't need to commute to campus, they can be more productive during that time.
Online students have the flexibility to learn from wherever they have a Wi-Fi connection — at home, in the library, or even while traveling. And because they study remotely, they don't have to uproot their lives to relocate.
Online students often learn with students from all over the U.S. and around the This can expose them to different viewpoints and broader perspectives.
Online students often gain improved technical skills that the modern business world relies on, as they frequently use online document sharing and collaboration tools such as Trello, Slack, and Dropb
Earn Your Online Master's Degree at Maryville University
There are many benefits associated with earning an advanced degree, and Maryville University's various online master's degree programs can provide working professionals with the knowledge and in-demand skills to pursue advanced and managerial roles. Some programs can be completed in as little as one year, and many of Maryville's online graduate certificate programs can be completed in less than 12 months.
Discover how an online master's degree or graduate certificate program can prepare you for the next chapter of your career.
Recommended Reading
What Is a Graduate Degree and Is It Worth It?
How to Determine the Best Online Master's Degree
Halfway to the Top: Career Advancement for Mid-level Employees
Sources
Indeed, "Key Differences Between Undergraduate and Graduate Study"
Maryville University, Online Master's Degrees
U.S. Bureau of Labor Statistics, Education Pays
U.S. News & World Report, "How Long Does It Take to Get a Master's Degree?"