How Do I Get My Transcripts for College Applications? First-Gen College Students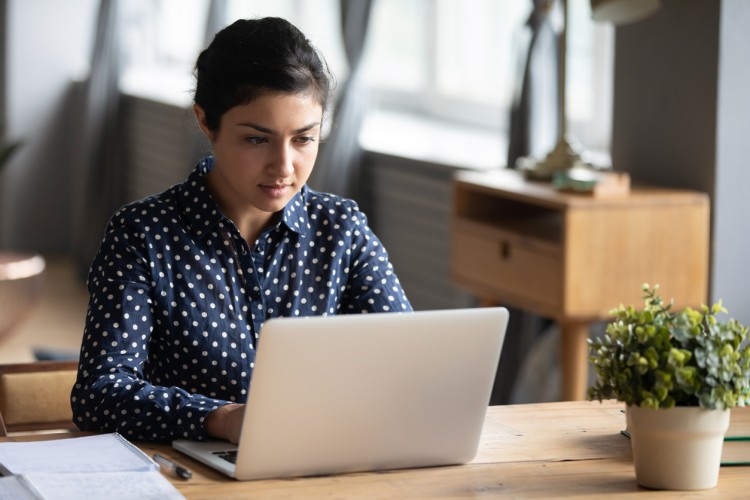 Earning a college degree offers numerous benefits. College graduates can enhance their career prospects and often earn more money than their high school graduate counterparts. The National Center for Education Statistics reports that in 2019, the median earnings of workers ages 25-34 with a bachelor's degree were roughly 59% higher than for those with only a high school diploma. (Master's degree holders, on the other hand, earned approximately 26% more than bachelor's degree holders.)
Whether you're interested in an undergraduate or graduate degree, you'll need to submit your transcripts to the colleges or universities you're applying to. If you've found yourself wondering, "how do I get my transcripts?" follow these tips.
What Is a Transcript?
Transcripts provide colleges and universities with detailed information about an applicant's academic history. While high school transcripts provide information about an applicant's cumulative grade-point average and may list various honors or awards, college transcripts include a student's enrollment dates, credits earned, whether semesters were completed, and their declared majors and minors.
Why Do Transcripts Matter?
Students must obtain their prior transcripts if they want to start a college degree, transfer schools, or apply to a master's or doctoral degree program. Colleges use transcripts to determine eligibility for admission based on credits earned, subjects covered, and grades received.
Why You Need Your Transcripts When Applying to College
Individuals interested in starting (or finishing) a bachelor's degree must provide their transcripts to the schools where they are applying. First-time college students simply have to submit high school transcripts, but those who have taken prior college coursework will also need to submit transcripts from all colleges they've attended. Students should also submit official score reports for potential credits earned through exams such as Advanced Placement (AP) or College Level Education Program (CLEP) tests.
Submitting this information helps the admitting institution determine which prior credits will transfer. College transcripts are also required when bachelor's degree holders apply to master's or doctoral programs, as undergraduate records help institutions determine whether an applicant qualifies for the program they're interested in.
Official Transcripts vs. Unofficial Transcripts
High school and college transcripts come in two forms: official and unofficial. Official transcripts are watermarked, stamped with an institution's seal, and sent in a sealed envelope (often with a signature stamp). Unofficial transcripts, on the other hand, are printed on plain paper and do not have a seal or watermark. Whereas unofficial transcripts are often issued for a student's personal use, official transcripts are required when applying to college or transferring from one institution to another.
Electronic transcripts can also be official, as long as they are sent directly from one institution to another. When your prior school emails your records directly to the admissions office of the school you're applying to, that copy would be considered official. However, if your prior school sent you a copy of your transcripts that you forwarded to the admissions office, it would be considered unofficial.
How to Get Your Transcripts
The process of obtaining transcripts differs slightly for high school and prior college records.
How to Request High School Transcripts
Students may be able to request an official copy of their high school transcripts directly from the school's website. If this option isn't available, students can use third-party websites such as National Student Clearinghouse, NeedMyTranscript, and Parchment. As third-party websites charge a fee for their services, try contacting the school directly first.
How to Get Your College Transcripts
When transferring to a new school or applying to a new degree program, students need to obtain transcripts from all the colleges and universities they've attended, whether they graduated or not. If you've been struggling to find out "how do I get my college transcripts," official transcripts can be obtained by contacting the registrar's office or, in some cases, can be requested on the school's website. Note that most schools charge a fee for official transcripts, and the process may take several weeks.
Maryville Transcript Tips
Maryville's enrollment advisors are here to help whenever you have questions, but these tips can make the process easier:
Request your transcripts online and early. Doing this electronically can expedite the process, as sending transcripts via regular mail can take significantly longer.
If you're transferring fewer than 60 eligible credits from a regionally accredited school, you'll also need to provide proof of high school graduation or GED.
Be aware of holiday breaks that may cause delays in obtaining transcripts.
Undergraduate transfer students will need transcripts from every college attended — even if you took only one course. Military students also need to submit a Joint Services Transcript for any courses completed during time spent in the military.
Students can also submit score reports for college credits earned through CLEP, AP, DANTES Subject Standardized Test (DSST), or International Baccalaureate (IB) exams.
Remember, Maryville will consider applicants for provisional admission — or admission approval when an applicant's GPA is below a degree program's minimum requirement — which can help offset past academic performance. Provisional admission requires that students meet certain conditions, which may include maintaining a certain GPA or successfully completing coursework in progress.
If you already have some college credit, contact an enrollment advisor to learn more about Maryville's transfer student admission If you'd like an enrollment advisor to help walk you through the application and transcript process, schedule an appointment here.
Step Toward Your Future
The decision to earn a degree is important, and we'd like to congratulate you for taking the first brave step toward achieving that goal. Although the admissions process can be difficult for first-generation college students to navigate, Maryville is here to help. Be sure to check out our first-generation college students FAQ page and our LinkedIn Live session with Kent Bausman to learn more about what Maryville is doing to help first-generation students. For more information about the benefits of earning an online degree at Maryville University, contact an enrollment advisor today.
Recommended Reading
Resources for First-Generation College Students
College Planning Guide for High School Students
Conquering Back-to-School Anxiety: Emotional Side of Learning
Sources
HDFC Credila, "What Is Included in a Transcript?"
LinkedIn Maryville Online, "Impact of Socioeconomic Inequality on First-generation College Students"
Maryville University, Order an Academic Transcript
Maryville University, Transfer Student Admission
National Center for Education Statistics, Annual Earnings by Educational Attainment
PrepScholar, "How to Get Your High School Transcript"
ThoughtCo. "What Is a College Transcript?"
ThoughtCo. "Why Grad Schools Require Your Undergraduate Transcript"