Job Search Tips: Hard Skills vs. Soft Skills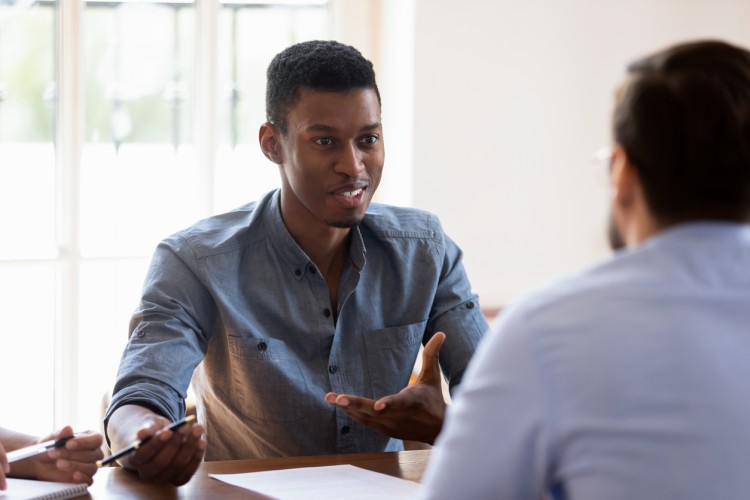 Hard skills vs. soft skills: Which help you get and succeed at the job you want? Which are important to showcase as you build your resume and LinkedIn profile?
The answer is both.
Employers are clamoring for employees who can keep up with the frequently changing hard skills needed for a given career. However, they also lament that too many job candidates don't possess the soft skills that will help them adapt as those hard skills change. The job market analysts at Burning Glass Technologies say frequent transformations in job roles require employees to combine hard skills and soft skills and transcend specific career fields.
A survey of recruiters and hiring managers by the resume service Zety listed skills in information technology and marketing among the hard skills employees need most for 2021, for example. But 61% of those surveyed placed the greatest value on soft skills such as teamwork and communication.
Hard skills are those traditionally associated with a certain role in the job market, such as knowledge of programming languages or email marketing tools. They're easily measured and typically learned through education or in the workplace via on-the-job training.
Soft skills are transferable and are more difficult to quantify, such as motivation and emotional intelligence. They dictate how you work, regardless of your job. While you typically don't directly learn soft skills, you can develop them as you pursue education and training.
As you consider how best to prepare for the workforce of today and tomorrow, examining which types of hard skills and soft skills employers are seeking can be helpful. Also important to note is that pursuing or continuing higher education can equip you with those in-demand skills.
IT Skills for Today's Top Jobs
Six of the 10 most sought-after hard skills for 2020, as reported by LinkedIn, relate to technology. The growth of tech-related jobs is among the reasons why. For example, in company review site Glassdoor's list of 2021's top jobs, nearly half of them, including nine of the top 10, are in tech.
Learning In-Demand Skills for Now and the Future
Information technology (IT) refers to technology, hardware and software, that facilitates communication, and knowledge related to it is critical for jobs both now and in the future. LinkedIn's 2020 list of in-demand hard skills includes competency in the following areas of technology:
Blockchain data storage
Cloud computing data storage
Analytical reasoning, or the ability to discern the meaning of patterns in information
Artificial intelligence (AI), or the ability of a machine to mimic the human mind
User experience (UX) design, establishing how consumers interact with a product or service
Scientific computing, used to solve scientific and engineering problems
Staying up to date on IT skills demands regular retooling. For example, LinkedIn notes that, while proficiency in blockchain topped its 2020 list of in-demand skills, it wasn't even in the mix a year prior. An increasing number of companies are incorporating blockchain — which LinkedIn describes as a shared digital ledger — as a secure, decentralized way to track transactions.
Developing Expertise in IT Tools
What tools should you focus on in developing your IT muscles? Zety notes that knowledge of the following IT systems and processes are strong additions to your resume:
AI — Machine learning, natural language processing, and AI integration and application
Cloud computing — Azure, AWS, Google Cloud, Amazon Web, Kamatera, and Oracle
Coding languages — Python, HTML5, JavaScript, CSS, PHP, SQL, C++, Ruby, .NET
Data analysis — OLAP, data queries, data cube technology, raw data processing and integration, data structures and algorithms, and Tableau
Desktop software and application development — Android/iOS Software Development Kit, Android/iOS UX and UI, SQL, Xcode development, Github, React.js, and Angular
E-commerce platforms — Shopify, WooCommerce, BigCommerce, Magento, and OpenCart
Network security — Malware analysis, cloud security, intrusion detection, CEH, OSCP, CISA, GCIH, and file and data encryption
Operating systems — Linux, Windows, macOS, Android, and iOS
Research network 101 Blockchains provides a list of top blockchain tools. With the growth of blockchain use among employers, IT skills focused on these tools also may give you a leg up in your career:
Embark
Ganache
Geth
Gorli Testnet
Mise
Parity
Solc
Metamask
Remix
Truffle
Marketing Skills for Career Success
Marketing skills are also in high demand. Marketing promotes a product, service, or idea. In LinkedIn's 2020 compilation of the hard skills and soft skills companies need, marketing skills represent three of the 10. Those skills include proficiency in the following:
Affiliate marketing, or an approach in which third parties receive compensation for generating online leads or sales of a company's products or services
Video production
Sales
Like IT, marketing's trends and tactics are constantly changing: Of marketers surveyed for a 2021 Adobe report, 76% believe that the field has seen more changes in the past two years than it did in the previous 50. And, interestingly, many changes within the marketing industry are giving employees a reason to further develop their technology skills.
Some of the hottest marketing trends identified by Forbes — such as the use of virtual reality, AI, and interactive content — incorporate technology skills. Of the senior marketing and IT executives Adobe surveyed, 92% indicated that the COVID-19 pandemic has accelerated marketing's digital transformation.
Targeting In-Demand Marketing Skills and Tools
In an era when people are being bombarded with marketing messages, exhibiting the marketing skills to stand out and influence consumers is an important differentiator for job seekers. Zety lists the following marketing tools — including some of the digital tools they employ — to consider learning about:
Content management system (CMS) — Magento, Wix, WordPress
Conversion rate optimization (CRO) — Amplitude, Google Analytics
Customer relationship management (CRM) — Salesforce, Sugar, Zoho
Data visualization — PowerBI, Tableau
Email marketing — GetResponse, MailChimp
Marketing automation — Arctic PinPoint, HubSpot, Infusionsoft, ONTRAPORT
Pay per click (PPC) — AdWords, Facebook Paid Ads
Search engine optimization (SEO) — Ahrefs, Netpeak Spider, Screaming Frog, SEO Power Suite, SEMRush
Social media — Hootsuite, Sprout
Video editing — Adobe Premiere, Apple iMovie, Lightworks
Interpersonal Skills for the Workplace
Interpersonal skills involve how you communicate with and understand others, and they're key to job success. In Zety's report on skills that recruiters and hiring managers are seeking for 2021, 55% of respondents ranked communication as a top skill. Also ranked highly: interpersonal skills such as leadership and emotional intelligence.
Emotional intelligence — which involves expressing and controlling emotions as well as understanding them in others — also was among LinkedIn's top skills for 2020.
Examining the Types of Interpersonal Skills
Often called people skills, interpersonal skills involve verbal and nonverbal exchanges of ideas and emotions. They typically combine innate personality traits with how you've learned to handle social situations. You use interpersonal skills in the workplace from the moment you sit down for your job interview.
It also means you use them at work in everything from resolving conflicts among co-workers to negotiating a salary increase. A variety of other skills join communication, emotional intelligence, and leadership as examples of interpersonal skills, including:
Active listening — Focusing on a speaker and comprehending their message, zeroing in on the discussion, and providing relevant questions and answers
Responsibility — Willingness to take on tasks and see them through with minimal oversight
Dependability — Doing what you say you're going to do, when you say you're going to do it, including consistently completing work on time
Leadership — Understanding how to provide a good example by taking decisive action, encouraging others, and adapting to change, such as by helping team members overcome challenges
Motivation — Eagerness to act, take on new roles, and expand your knowledge
Flexibility — Ability to adapt to changing circumstances, such as the challenges presented by the pandemic, which have tested workers' flexibility in every sector
Patience — Understanding the importance of taking time to make informed decisions, and collaborating with others who work at a different pace
Empathy — Seeing issues from others' perspectives to aid in understanding and improve team morale
Conflict resolution — Resolving issues between co-workers by keeping calm, identifying problems, and coming up with equitable solutions
Negotiation — Helping two parties come to an agreement, whether discussing pricing with a vendor or asking for a raise
Understanding the Importance of Interpersonal Skills
Interpersonal skills are critical to employee success because they help you build strong relationships and work well with others. Displaying interpersonal skills can set you apart on the job. That's because, despite their importance, these skills are lacking in today's work environment. A 2018 Inc. article reports that Jeff Weiner, now executive chairman at LinkedIn, cites communications/interpersonal skills as the top skill gap in the U.S.
Collaboration for Job Productivity
Another important soft skill for career advancement is the ability to collaborate in teams. Like interpersonal skills, collaboration skills are highly sought after by employers: Teamwork ranked first among the soft skills that recruiters and hiring managers told Zety they needed for 2021. Teamwork was ranked among the most-needed skills by 57% of those surveyed.
Collaboration also earned a spot on LinkedIn's list of 2020 skills companies need, ranking among the top five soft skills. Employers value this skill for good reason: Connected and engaged teams increase a company's profitability by 21%, according to Gallup.
Employing Team Collaboration at Work
Collaboration means working with someone else to create something. These skills come into play when, for example, your department gathers to brainstorm ideas for a new product or you connect with staff from multiple departments to complete a project. Successful collaboration means taking steps such as:
Welcoming the opportunity to work with others
Setting — and embracing — clear goals
Understanding your role on the team and how to work within it
Taking responsibility for your mistakes and offering solutions
Recognizing other team members' strengths, weaknesses, and differences
Accepting new kinds of assignments as an opportunity to learn
Listening to other team members' concerns
Celebrating when others succeed
Maintaining a positive attitude, even when addressing challenging situations
As with other abilities required for the jobs of today and beyond, team collaboration incorporates aspects of other skill types. For example, collaboration requires many types of communication — such as active listening as well as verbal, nonverbal, and written communication. Traits such as curiosity and a willingness to accept criticism are key aspects of emotional intelligence that complement team collaboration.
Another crucial team communication skill is a respect for diversity. This includes being sensitive to others' ethnic and religious background, building consensus, eliciting ideas from others, managing expectations, and facilitating group discussions.
Facilitating Remote Team Collaboration
As of fall 2020, according to Gallup, a third of U.S. employees were working remotely — a situation fueled by the pandemic. But two-thirds of those working away from their offices hoped to continue that setup even after the pandemic. How can you promote good team collaboration when many workers are at home?
Accounting firm Deloitte provides tips for remote collaboration, recommending ways to effectively gather for activities such as meetings and workshops. The tips that are unique to remote collaboration include:
Consider how the messages will translate remotely and adjust plans for communicating as needed.
Choose a format for your team collaboration, such as virtual meeting, document sharing, or virtual reality.
Encourage conversation by facilitating breakout sessions.
Improving and Showcasing Hard Skills and Soft Skills
Whether they're hard IT and marketing skills or soft interpersonal and team collaboration skills, in-demand skills play a critical role in your career advancement. These skills could help you:
Get the job you want.
Excel in the job you get.
Prepare for tomorrow's jobs.
But how do you improve these skills to help advance your workplace success? And how do you show prospective employers that you've got the hard and soft skills they're seeking as they hire?
Honing Your Workplace Skills
Improving hard skills and soft skills involves practice, learning, and sometimes operating outside your comfort zone. A few steps can help you make your workplace skills shine:
Ask for feedback from others about how they mastered a skill and how you can improve.
Practice, creating a regimen for working on your skills and charting your progress.
Form relationships with others in the workplace, using your communication skills and learning from diverse groups of people.
Take classes or pursue a degree or certification to learn the hard skills you'll need and hone soft skills like teamwork and motivation.
Displaying Your Skills During the Job Search
From submitting resumes to polishing your profile on the professional networking site LinkedIn, the job search offers a number of opportunities to showcase your skills. You can take cues from the job posting to determine which skills to highlight for a given position.
To note skills on a resume, use bullets under your corresponding work experience. The bullet points can show what skills each task required and the outcomes. For example, when applying for a marketing role, the bullet point about your past experience could include the following: "Wrote two blog posts a week, focusing on SEO through use of Ahrefs."
You also can note your skills in a professional profile at the top of your resume. Another option is to create a separate "Skills" section.
To list skills in a cover letter, mention work you've been responsible for that requires those skills. To show your team collaboration skills, for example, you could mention that you convened the team for your company's recent product launch.
And don't forget LinkedIn, which offers opportunities for showcasing skills in an "About" section and a dedicated "Skills and Endorsements" section.
Master Hard Skills and Soft Skills to Enhance Your Resume
By developing in-demand hard skills and soft skills, you'll put your best foot forward in the workplace today and in the future. That's because bringing these skills to the job will help you perform the tasks that jobs currently require and adapt to rapidly changing demands as they arise.
Pursuing higher education can help you learn the skills to achieve your professional goals. Explore Maryville University's online programs, which allow you to pursue a bachelor's, master's, or doctorate degree or earn a certificate at your own pace. Discover how these programs can give you expertise in the skills that will help you take a brave step toward career success.
Recommended Reading
Learn Key Programming Languages for Software Development
Soft Skills: Why Businesses Crave Them
Top 16 Skills Needed in 2020 and Beyond
Sources
101 Blockchains, "List of 10 Best Blockchain Tools"
Adobe, "2021 Digital Trends Predicts a Post-Pandemic Future."
The Balance Careers, "Important Marketing Skills That Employers Value"
The Balance Careers, "What Are Collaboration Skills?"
BMS Performance, "Marketing Skills of the Future: What You Need on Your Team"
Burning Glass Technologies, "Hybrid Jobs"
Cengage, "New Survey: Demand for 'Uniquely Human Skills' Increases Even as Technology and Automation Replace Some Jobs"
The Classroom, "What Is Analytical Reasoning?"
CoSchedule, "The 50 Most Essential Marketing Skills You Need to Be Successful in 2021"
Deloitte, "Remote Collaboration: Facing the Challenges of COVID-19"
Forbes, "2021's Hottest Careers: Glassdoor Releases the Year's 50 Best Jobs"
Forbes, "Top Marketing Trends for 2020"
Gallup, "COVID-19 and Remote Work: An Update"
Gallup, "How to Improve Teamwork in the Workplace"
Glassdoor, "50 Best Jobs in America for 2021"
Glassdoor, "Hard Skills: What They Are, Why You Need Them, and How to Improve Your Hard Skills"
IBM, Artificial Intelligence (AI)
Inc., "A New Deloitte Study of 10,455 Millennials Shows They Need Help Improving These 4 Skills"
Indeed Career Guide, "6 Qualities That Make a Great Team Player"
Indeed Career Guide, "Active Listening Skills: Definition and Examples"
Indeed Career Guide, "Everything You Need to Know About the Importance of Interpersonal Communication at Work"
Indeed Career Guide, "Hard Skills vs. Soft Skills"
Indeed Career Guide, "How to Improve Your Soft Skills in the Workplace"
Indeed Career Guide, "Interpersonal Skills: Definitions and Examples"
Indeed Career Guide, "Top Hard Skills to Put on a Resume (and How to Improve Yours)"
Investopedia, Affiliate Marketing
LinkedIn, Adding and Removing Skills on Your Profile
LinkedIn Talent Blog, "The Most In-Demand Hard and Soft Skills of 2020"
ResumeGenius, "Hard Skills vs Soft Skills: The Difference (& Why You Should Care)"
Scholars, "Hard Skills vs. Soft Skills: What Are They and How to Incorporate Them into Resumes and Interviews"
Techopedia, Information Technology (IT)
UserTesting, "What Is UX Design? 15 User Experience Design Experts Weigh In"
U.S. News & World Report, "How to Highlight Interpersonal Skills in Interviews and Resumes"
Verywell Mind, "What Is Emotional Intelligence?"
Your Dictionary, Scientific-Computing
Zety, "40+ Top Marketing Skills: List & Examples for Your Resume"
Zety, "IT Skills for Your Resume"