Going Back to School for Teaching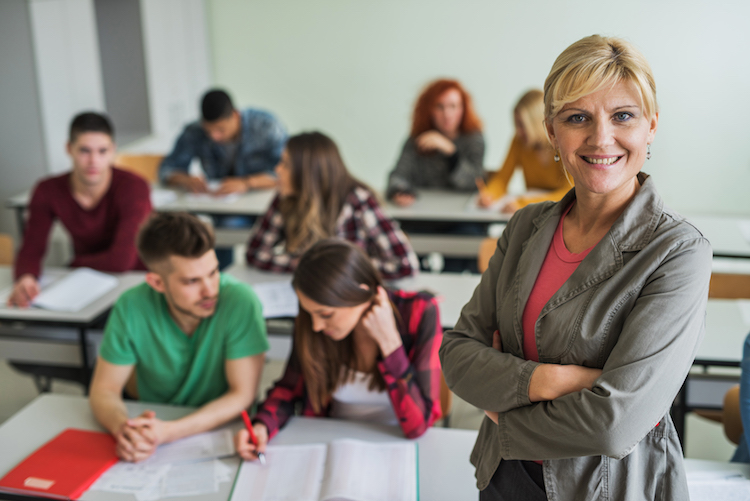 Are you considering going back to school to be a teacher? If so, statistics show that this is a smart career choice. The U.S. Bureau of Labor Statistics (BLS) predicts a 9 percent growth in the country's overall education sector over the next decade, showing that the demand for teachers will remain as strong as ever. Teachers generally enjoy a stable career with good pay and benefits, as well as many opportunities to advance.
The BLS also forecasts student enrollment will increase at multiple grade levels. This all confirms that teachers will be in demand for the foreseeable future and that going back to school for teaching has the potential to secure you a long career. Additionally, you will have the opportunity to have a huge impact on your students that may last for the rest of their lives. That is the power of teaching!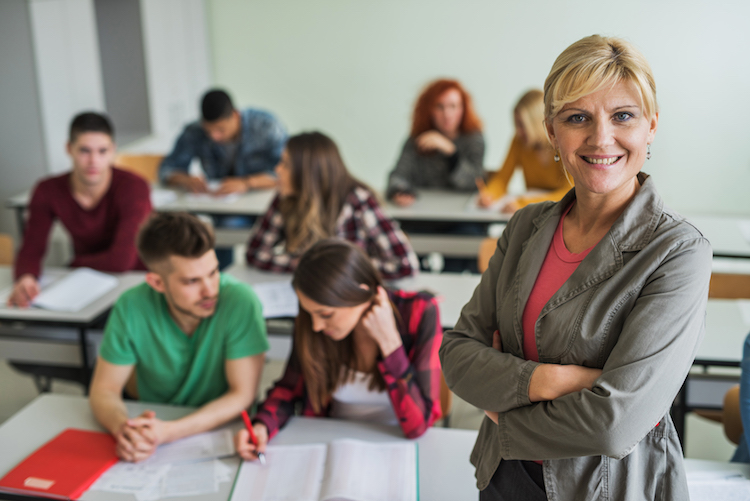 Skills and Interests to Consider Before Going Back to School for Teaching
If you're thinking of going back to school for teaching, it is advisable to review your motivation for pursuing this profession to ensure you have the necessary passion and resilience for the job. But those are not the only requirements for success as a teacher, as you must also have the skills needed to do the job effectively.
Why Choose to Be a Teacher?
You may have your own reasons for going back to school to be a teacher. Teachers have different reasons for following this profession, some of which are very personal. Generally, all teachers feel the need to have a positive impact on people's lives in the following ways:
Improving the quality of education. Many teachers strive to be the best they can be in imparting their knowledge of a subject to their students. Whether it's English, math, science, engineering, or the arts, you need a passion for the particular subject that you teach before you can have an impact on the quality of education.
It's your passion that drives you to improve your knowledge of a subject and also improve your teaching skills so that you can transfer that knowledge to your students effectively. While education administrators compile curricula,teachers have a direct impact on the success of their students through the quality of their teaching.
Maximizing student potential. This is probably what drives teachers the most. Developing student potential and being a part of their individual successes can make all the effort that you put into the job worthwhile.
Very few teachers can achieve a 100 percent success rate, but the particularly difficult challenges that turn into success stories are the ones that stimulate a teacher and provide the most job satisfaction. Every school year presents fresh challenges and new successes, which will keep your passion for teaching alive.
Changing the lives of students. As a teacher, you can take part in shaping the next generation. That demands more than straight teaching. It includes assessing the abilities of individual students and helping them to develop their talents. That means that you may often have to be more than a teacher—you may have to be a mentor or confidant.
Teachers do not only interact with students from a purely academic perspective. Great teachers will nurture their students by encouraging them to excel. They will also try to remove any obstacles that may prevent students from realizing their potential. These obstacles may often be personal, such as low self-esteem or problems at home. Whatever the reasons, good teachers strive to gain the trust and confidence of their students so that they can help them to overcome those personal challenges that stand in their way.
Giving back to the community. You may have a tremendous attachment to your community and feel the need to give back in some meaningful way. Nothing could be nobler than teaching, which helps to develop younger generations and prepare them for success in their chosen careers.
Skills Necessary for Teaching
Apart from a passion for teaching, you must have the necessary skills for the job:
Organization. You must be organized and able to conduct courses that have structure and conform to the required curriculum.
Communication. You must have the ability to teach subjects and explain concepts in a way that students will comprehend. Written and oral communication skills are also important when interacting with parents, peers, and other members of school staff.
Patience. Teachers must understand that not every student learns at the same pace. You need to be extremely patient with slower learners to ensure they are not left behind.
Knowledge. Nothing reduces your credibility faster than your inability to answer a question from one of your students. You must maintain a high level of knowledge of the subject being taught, which often requires ongoing learning on your part.
Educational Pathways For Students Going Back to School for Teaching
If you are considering going back to school to be a teacher, you must be aware of the educational requirements. For most teaching posts in the United States, you are required to have at least a bachelor's degree. This must be supplemented by the completion of a state-accredited teacher certification program at a college or university.
Requirements for certification or licensure vary from state to state in the U.S. All certification programs include a period of practical teaching experience as a requirement to gain a license to teach. The duration of the teaching internship varies by state. All but four states also require you to pass three Praxis competency exams prior to certification. These exams are designed to test your knowledge and skills.
Types of Teaching Degrees
The following types of education degrees are some of the most common:
Early Childhood Education Degree. A degree in early childhood education is necessary if you intend to teach children between the ages of two and five.
Educational Leadership Degree. This type of program focuses on developing effective leadership and communication skills while teaching the administration requirements for a school, college,or university. Having a degree in educational leadership is ideal if you want to become the principal of a school at the elementary, middle, or high school level. College administrators will find this qualification useful for career advancement, while it is essential for a university president to have an educational leadership degree.
Bachelor's in Education. It usually takes four or five years to complete a bachelor's degree in education. This type of program allows you to pursue a specialty in a particular subject, such as math, English, or chemistry. You may also have the option to major in a second subject to broaden your career prospects. A bachelor's degree program typically teaches you effective teaching methods, classroom management, and student psychology.
Master's in Education. Having obtained a bachelor's degree, you must usually then complete a two-year program to earn your your master's degree. In this program, you will learn how to incorporate the latest technology in the classroom, as well as innovative teaching methods. This degree is designed for teachers who want to increase their chances of career advancement. In many cases, educational institutions will finance a deserving teacher to complete this degree.
In the United States, a master's degree program will teach students educational theories, teaching modalities, and educational policies. You can elect to pursue your particular area of interest, including special education, administration, language instruction, or primary or secondary education.
Doctorate in Education. A doctorate in education is essential if you want to secure a leadership position in higher education. The doctoral program at a leading university will focus on teaching you how to impact higher education at the institutional level. You will learn how the fluctuating economy, changing technology, and increased competition have an impact on institutional growth, as well as the ways you can counteract any negative influences to ensure continued growth.
A doctoral degree program from one of the top universities will equip you with the skills to achieve the following:
Better prepare students for the workplace
Improve delivery and efficiency in higher education
Adapt an institution to emerging technology and modern administration systems
Gain insight into contemporary higher educational governance, policy, and financing
Have you been thinking about earning a degree that may help you begin or advance your career in the education system? Check out the programs available to you online at Maryville University, and see how they may help you pursue your goals in education.
Potential Careers After Going Back to School for Teaching
If you're intent on going back to school for teaching, you can rest assured that you will have the potential for a stable career ahead of you. Generally, teacher salaries are decent, and when you factor in the benefits and vacation time that you can spend with your family, it is a good career choice.
Teacher Salaries
Depending on your specialty and teaching preference, there are many career opportunities for teachers across the United States:
Preschool teachers. Median salary: $27,130.
Kindergarten and elementary school teachers. Median salary: $53,090.
Middle school teachers. Median salary: $53,430.
High school teachers. Median salary: $55,050.
Career and technical education teachers. Median salary: $51,910.
Special education teachers. Median salary: $55,060.
Median salaries are calculated across all states in the nation. Salaries differ according to the location, grade level, and subject taught. For example, the salary paid to elementary school teachers in New York ($74,830) is considerably higher than the U.S. median. Although salaries vary, teachers will continue to have excellent job opportunities to meet the growing need for educators.
A study has shown that teachers with a master's degree earn, on average, $20,000 more per year than educators with only a bachelor's degree. This qualification enables you to move into administration and become a vice principal or principal. The BLS reports that the median salary of elementary, middle, and high school principals is $87,760.
Career Advancement Prospects
Generally, the best way to advance your teaching career is to go back to school. In order to teach students in a higher grade or different subject and, in turn, earn a higher salary, teachers need to gain additional education to complement their teaching experience. This can open the pathway to a leadership or administrative position as a principal, vice principal, or department head.
A master's degree allows you to advance your teaching career to higher education by becoming an educator or tutor at a college or university. This qualification gives you the option of moving away from a teaching role and into an administrative one. For example, you could be involved in the research and development of curricula for educational institutions. As another option, you could work in the business world, as corporations often hire teachers with a master's degree to train and motivate their employees.
Teachers with a doctorate in education can pursue a post as a professor at a university or college. They can even advance to become the president of an institute of higher learning . Other administrative career opportunities include school administration and curriculum coordination.
Scholarships and Grants for Future Teachers
Teaching is recognized as a career that is critical to the nation's well-being. For that reason, there are many avenues through which you can secure the necessary funding for your education. If you are going back to school to be a teacher, there are a number of both government and private grants and scholarships that you can apply for.
Government Grants
Federal grants for aspiring teachers include the following examples:
The Federal TEACH Grant. The Teacher Education Assistance for College and Higher Education (TEACH) Grant is a non-repayable government grant that provides students with up to $4,000 per year. In return, recipients are required to teach for four years in a high-need field at an elementary school, secondary school, or educational service agency that serves students from low-income families. If you do not complete this obligation, the grant will be converted into a loan that must be repaid with interest.
High-need fields that have been identified include mathematics, foreign language, bilingual education and English language acquisition, reading specialist, science, and special education. These categories change with time as the government identifies teacher shortages nationwide.
The Federal Transition into Teaching Program. This program includes a selection of loans and loan forgiveness plans. It specifically targets teaching students who agree to take up jobs in historically underserved communities after graduation.
The Academic Competitiveness Grant (ACG) and National SMART Grant. These grants are available to students intending to teach in the critical-need fields of science, mathematics, engineering, technology, and foreign languages. The ACG is available only to undergraduate students, while the SMART grant is awarded to graduate-level students.
Private Sector Grants and Scholarships
There are many grants and scholarships awarded by bodies in the private sector each year. Some are awarded by states and local educational institutions, while others are not state-specific. These include the Robert Noyce Teacher Scholarship and scholarships from Phi Delta Kappa, the American Montessori Society, and Bright Futures.
Scholarships are also awarded to minorities to promote diversity within the teaching profession. Some of the organizations that provide such assistance include the Hispanic Scholarship Fund, the Thurgood Marshall Scholarship Fund, the United Negro College Fund, and the National Federation of the Blind.
You are advised to speak with someone at the financial aid office of the university or college where you intend to study. An academic adviser will be able to give you guidance on all the private sector grants and scholarships available for teaching.
Dare to Take That First Step Toward a Teaching Degree
The entire nation recognizes the importance of teaching even though it is not one of the highest-paid professions. But teaching can offer a stable career, with great benefits, and is the right choice for someone with the right amount of passion and the correct skill set.
If you've been thinking about going back to school to be a teacher, we are sure that this guide has convinced you that it is a good choice. Ready to learn more about how you can start the process of going back to school for a bachelor's, master's, or doctorate degree? Then take that first step and contact an enrollment advisor today.
Here are some other resources to consider when going back to school:
Statistics about Adult Students
Going Back to School for Working Adults
Sources:
Teach.com: Reasons for Becoming a Teacher
Bureau of Labor Statistics: Teaching for a Living
U.S. Department of Education, Federal Student Aid: TEACH Grants