What Is the Difference Between Hospice Care and Palliative Care?
To those who are not specialists, working in hospice care and palliative care may seem like the same thing. Both deal with the needs of terminal patients and depend heavily on nursing and managerial skills. However, there are distinct differences between the professions. While hospice and palliative care professionals perform many of the same functions, the settings and patient outlook differ. For students who are embarking on elderly care as a profession, understanding the differences between these two specialties will help them choose the best path.
A Rapidly Aging Population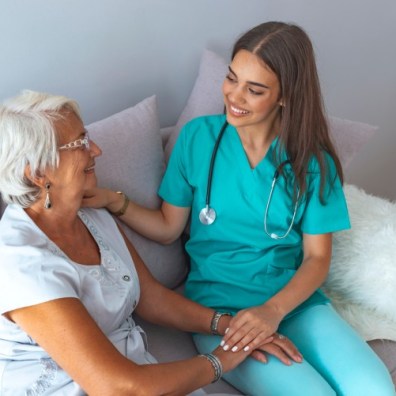 The elderly population in the United States is growing, and so too is the demand for elderly care professionals. There are now 52 million people over the age of 65 in the U.S., and that number is expected to nearly double to 95 million by 2060. As medical advancements march on, people are living longer. However, older patients have specific needs, and elder care professionals must be trained to treat clients as they age. For many, this will mean delivering palliative or hospice care.
What Is Hospice Care?
Hospice care focuses on easing a patient's pain and discomfort, usually when they have six months or less to live. Rather than trying to cure the illness, care is limited to easing suffering. Hospice care can be administered in a patient's home, inside a hospital, or within a hospice care center. Doctors and nurses typically deliver hospice treatment while other professionals, such as grief counselors, help with the emotional needs of the family.
Skills Required by Hospice Care Professionals
Decision-Making Skills: Critical thinking skills are required to make the many difficult decisions that mark hospice care. The ability to advise patients in life-and-death decisions is essential to professional hospice care workers.
Interpersonal Skills: Interacting with terminally ill patients and their families is a key part of hospice care. Understanding and empathy can help patients and their families deal with difficult situations.
Communications Skills: Hospice care workers need to be able to relay medical concepts and terms to patients and their families; the ability to communicate difficult topics clearly and compassionately is a crucial part of a hospice worker's job. In addition, hospice workers must be able to understand the needs of their patients, and convey those to medical staff in an effective manner.
These skills are only a few of the wide range that hospice care professionals must be able to demonstrate.
What Is Palliative Care?
While palliative care also involves terminally ill patients, their conditions aren't deemed to be immediately life threatening. Patients who are undergoing palliative care receive treatment both to ease pain and suffering, and to address the underlying illness. By contrast, hospice care does not address underlying illnesses, but focuses on patients' comfort.
Skills Required by Palliative Care Professionals
Empathy and Interpersonal Skills: Knowing what a patient is going through helps a professional meet their needs.
Communication Skills: Palliative care workers communicate with patients and their families about complicated and difficult topics. Strong communication skills are required when explaining treatment regimens and monitoring patient comfort levels.
Teamwork: There is usually more than just a single professional working with a patient. Doctors, nurses, and counselors or psychologists are all part of the team. A high degree of collaboration and teamwork are essential for palliative care professionals.
Room for Growth in Hospice Care and Palliative Care
The growth of hospice and palliative care is increasing with the aging population. As of November 2019, PayScale reports that palliative caregivers such as assistive living managers make a median annual salary of around $82,000, while hospice managers make a median annual salary of approximately $83,400. The BLS notes that the outlook for the hospice and palliative care industry is strong, with job growth between 2018 and 2028 expected to be 36%.
The Road to Becoming a Professional
Hospice and palliative care are demanding but rewarding fields. Programs such as the Maryville University Bachelor's in Healthcare Management teach the necessary skills to excel in the field. Some of the program's courses are described below.
Professionalism and Communications in the Healthcare Setting: Students learn the specialized skills of communicating properly and effectively in care settings.
Healthcare Compliance and Quality: This course will offer a broad base of foundational compliance knowledge with real-word situations.
Medical Law and Risk Management: Students will learn aspects of risk management strategies, ethical theories, legal reporting and end-of-life issues.
Patient Partnership & Population Health Management: This course will enable students to examine formal and informal programs and strategies to enhance a medical practice.
With these and other courses, students in Maryville University's online Bachelor's in Healthcare Management program receive a well-rounded education. Upon graduation, they are positioned to pursue a future in hospice or palliative care. Explore the opportunities that Maryville University has to offer and embark on your path to a rewarding career.
Recommended Reading

Healthcare Careers and Opportunities
Sources
Bureau of Labor Statistics "Health Care and Social Assistance"
CMS.gov, "Palliative Care vs. Hospice Care: Similar but Different"
National Institute on Aging, "What are Palliative Care and Hospice Care?"
Payscale, "Average Hospice Administrator Salary"
Population Reference Bureau, "Fact Sheet: Aging in the United States"