Three Breakthrough Cybersecurity Research Topics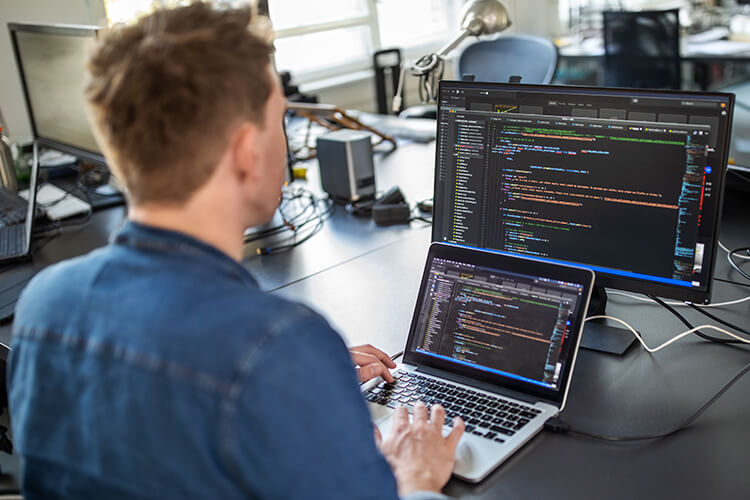 As individuals, corporations, and government agencies increasingly store and transmit digital information, the ability to protect valuable data becomes more crucial. Unfortunately, cyber theft and cyber attacks are becoming more sophisticated and prolific each year — meaning cybersecurity is more important than ever. Luckily, breakthroughs in cybersecurity are also increasing, which allows organizations to stay one step ahead of those who attempt to commit cyber crimes.
Individuals who wish to become part of the workforce addressing digital and internet threats by earning a bachelor's in cybersecurity online should be aware of prominent cybersecurity research topics. Here are two recent breakthroughs in cybersecurity, as well as a detailed infographic that delves into the complexity of this field.
Trend #1: Single Photon Generation
A cybersecurity research team at the University of Sydney has solved an issue that could lead to a major breakthrough in the way information is transmitted, allowing for more secure computer systems worldwide. The issue is the ability to generate single photons — tiny particles of light — that carry quantum information in security systems.
"Implementing optical quantum technologies has now come down to one fundamental challenge: having indistinguishable single photons on demand," says Dr. Chunle Xiong, from the School of Physics.
The Sydney team has developed a way to generate single photons more reliably. By advancing quantum computing technology, the ability to more securely exchange data and more quickly search databases is becoming a reality. This makes photons one of the key cybersecurity research topics.
"The ability to generate single photons, which form the backbone of technology used in laptops and the internet, will drive the development of local secure communications systems — for safeguarding defense and intelligence networks, the financial security of corporations and governments and bolstering personal electronic privacy, like shopping online," says Professor Ben Eggleton, co-author of the paper published in Nature Communications.
Trend #2: Privacy Homomorphism
A research student recently solved a cryptography problem that has been stumping experts for decades. Craig Gentry, a Stanford PhD student at the time of the breakthrough, found a way to analyze encrypted information without sacrificing confidentiality. It is called privacy homomorphism, or fully homomorphic encryption.
This new technology will allow cloud computing providers to manipulate certain data without exposing the original data. Charles Lickel, vice president of software research at IBM, says, "Fully homomorphic encryption will enable businesses to make more informed decisions, based on more studied analysis, without compromising privacy."
There are still challenges in making this technology viable for large-scale businesses, but the possibilities are wide-ranging. In the future, it should allow cloud providers to host confidential data from businesses as well as governments. It holds for now as one of the key research topics in cybersecurity.
Trend #3: Normalizing Working-from-Home: Security for Remote Teams
The COVID-19 global pandemic dramatically impacted traditional workplace standards through 2020. To avoid the potential for employees spreading the highly contagious virus, businesses worldwide moved to remote working standards for the foreseeable future.
As a result, cybersecurity needs have adjusted to risk management as employees access data and other sensitive materials from home — as well as how not to impede their work in the process.
Bart Willemsen, VP analyst with Gartner, says that companies should focus on three primary goals: safety, productivity, and user and organizational privacy. The challenge for cybersecurity leaders is to find a healthy balance between all three goals.
"Take privacy versus safety for example," Willemsen says. "The trade-off would be, how much do we invade privacy to offer a certain level of safety? It's making a concession between both values. It would actually be better to try and fulfill both values."
Prepare for Cybersecurity Careers and Beyond
Cybersecurity managers are valuable assets to their organizations, and employer demand is likely to remain high in the years ahead. Companies will need these professionals to safeguard their IT systems as the evolution of technology gives rise to new types of cyber threats. Maryville University offers both an online bachelor's and an online master's in cybersecurity, providing degree opportunities for aspiring security professionals at any stage of their career.
In the meantime, see the infographic below for facts about the current state of the ever-changing cybersecurity sector:

Add This Infographic to Your Site
<p style="clear:both;margin-bottom:20px;"><a href="https://online.maryville.edu/blog/cybersecurity-research-topics/" rel="noreferrer" target="_blank"><img src="https://online.maryville.edu/wp-content/uploads/sites/97/2023/09/MVU-CSBS-Security-and-New-Tech_1000-min.png" alt="An infographic about cybersecurity by Maryville Online" style="max-width:100%;" /></a></p><p style="clear:both;margin-bottom:20px;"><a href="https://online.maryville.edu" rel="noreferrer" target="_blank">Maryville University </a></p>
Sources
Ars Technica, "Worried About Cybersecurity and the Connected Car? There's a Bill for That"
CNET, "Two-Factor Authentication: What You Need to Know (FAQ)"
ComputerWeekly.com, "Cryptography Breakthrough Paves Way to Secure Cloud Services" 
ComputerWeekly.com, "The Internet of Things: A Second Digital Revolution Worth Millions"
FedTech, "How Federal Agencies Can Improve Cybersecurity With Better Data Encryption"
Heimdal Security, "10 Alarming Cybersecurity Facts That Threaten Your Data"
MIT Technology Review, "Cybersecurity in the Age of Digital Transformation"
Nature Communications, "Cell Shape-Independent FtsZ Dynamics in Bacteria"
Phys.org, "Breakthrough Technology to Improve Cybersecurity"
Quatr.us, "What Is a Photon? Physics of Light"