Cybersecurity Careers for Tech-Savvy Millennials and Gen Zers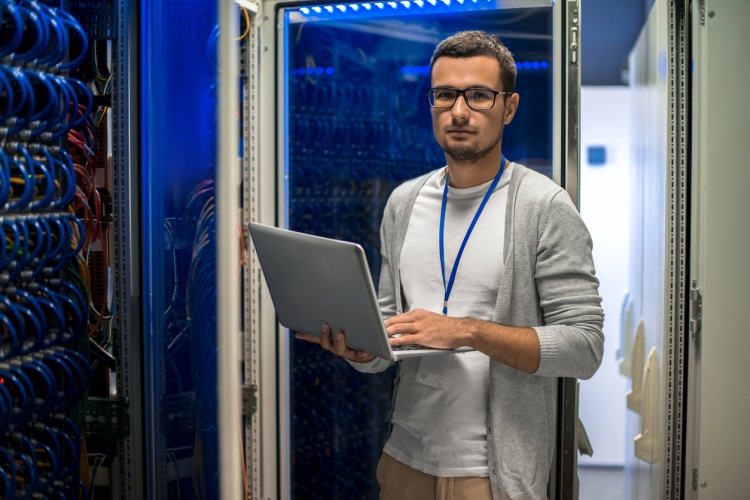 It can seem like technology takes evolutionary leaps almost monthly. The means by which we communicate, collaborate, manage money, and pursue entertainment are in constant flux. It's not just that technology has disrupted our private lives; it's also transformed how businesses operate, providing new avenues for efficiency, productivity, and client-facing service.
All these opportunities have also come with risks. The speed at which digital technology advances leaves many open doors for hackers and other cyber criminals, whose malevolent actions can have dire consequences for consumers and business owners. For this reason, as workplace technology continues to evolve, there's a rising need for professionals who can apply the needed cybersecurity standards.
Indeed, the outlook for cybersecurity careers is robust. Currently, more than 300,000 cybersecurity positions are unfilled, and that number is expected to rise, with some studies projecting that there will be as many as 3.5 million open cybersecurity positions by 2021.
Who will take advantage of these alluring career opportunities? Many companies are looking for young, well-educated, and tech-savvy cybersecurity professionals. Gen Zers are graduating college at the ideal time to fill the open cybersecurity positions. Meanwhile, millennials have come of age in an increasingly tech-centered world, which makes many of them well positioned for cybersecurity roles.
A number of career possibilities are available for recent or soon-to-be-graduates who are interested in cybersecurity.
Become an Information Security Analyst
An information security analyst's primary responsibility is to protect the network of computers and connected devices at a particular enterprise or organization. Information security analysts work not just to safeguard the system against data breaches and cyber attacks, but also to ensure that the system is kept fully up to date, enabling it to be resilient against external threats.
To achieve success in this field, it's first necessary to pursue the right education. Most information security analysts have a bachelor's degree in a computer-related field, such as computer science or cybersecurity. Some employers may require a more advanced degree, such as a Master's of Cybersecurity. Certainly, advanced credentialing can give employees a professional advantage.
The job outlook for information security analysts is strong, with the U.S. Bureau of Labor Statistics (BLS) predicting 32% job growth between 2018 and 2028. Opportunity abounds for those who obtain the right educational background and the requisite skill sets.
Core competencies for information security analysts include:
Project management. It's useful to juggle several different projects at once. For example, they may need to manage and monitor multiple data-gathering or data analysis teams at the same time.
Security risk management. It also helps to have a deep knowledge of possible security threats and breaches to properly assess risk levels and prioritize preventive actions.
Network security management. It's helpful to understand the standards and practices for fortifying a complex computer network against potential threats.
Security testing and auditing. Generally, information security analysts should be proficient in testing system vulnerabilities to identify necessary improvements.
The Role of a Security Architect
In many companies, a security architect fills the critical role of designing, building, and overseeing an organization's cybersecurity apparatus. This is another promising career path for millennials and Generation Zers who are drawn to cybersecurity, as it allows them to develop cybersecurity programs from the ground up.
Again, success requires the proper education and credentialing. Most security architects will have an undergraduate degree in cybersecurity or a related field. Some employers may require a more advanced degree, such as a Master of Science in Cybersecurity.
Core competencies for security architects include:
Risk assessment. They should be able to evaluate different cybersecurity threats and design protocols that address these threats.
Information technology knowledge. It's also good to understand a wide range of technologies, including different operating systems (OSs) and security controls, including:  

Firewalls
Network access controls (NACs)
Network segmentation
Intrusion detection systems (IDSs) and intrusion protection systems (IPSs)
Wireless security measures, including routers

Network security architecture. It's a definite advantage to have the knowledge required to develop and define a robust network infrastructure.
Leadership. Ideally, they  will good interpersonal and leadership abilities that enable them to lead cybersecurity teams.
Problem-solving and critical thinking. Finally, it's useful to have adaptability and analytical thinking to address new issues and vulnerabilities as they arise.
Due to the importance and highly technical nature of this position, many employers may also require security architects to be properly accredited by recognized professional groups. A few credentials worth considering are:
Certified Ethical Hacker (CEH)
Certified Information Security Manager (CISM)
Certified Information Systems Security Professional (CISSP)
Certified Information Systems Security Professional–Information Systems Security Architecture Professional (CISSP-ISSAP)
Education and credentialing are key for advancement in the network architecture field, but those who pursue the right knowledge and formal background will find a healthy job market. The BLS predicts 5% job growth between 2018 and 2028.
What Is a Penetration Tester?
Another way to add value as a cybersecurity professional is to pursue work as a penetration tester. Penetration testers play a unique, invaluable role in helping organizations to assess their current threat levels and identify potential vulnerabilities. Essentially, penetration testers are legal, employed hackers. Unlike cyber criminals, penetration testers are tasked with finding security breaches for the purpose of patching them up, not exploiting them. Penetration testers focus on attempting to legally hack networks to find weak spots in security, which other cybersecurity team members can then repair.
Success in this role hinges on the cultivation of key skills and technical proficiencies. While a degree isn't required, a bachelor's degree in an IT-related field can provide a competitive advantage and a broader range of career prospects. It can also lead to higher salaries. The BLS predicts 32% job growth for information security analysts, which includes penetration testers, between 2018 and 2028.
Core competencies for penetration testers include:
Ethical hacking. It's good to know how to exploit web-based vulnerabilities without actually compromising network security.
IT skills. It helps to have hard skills, including familiarity with different devices, platforms, operating systems, and web-based applications.
Coding and cryptology. Applicants for these positions should understand how to write and audit code and how to evaluate different forms of encryption.
Communication and reporting. Upon identifying network security vulnerabilities, they should be able to clearly report their findings so proper adjustments can be made.
Become an Information Security Officer
Information security officers have a straightforward objective: to protect an organization's IT assets from internal and external threats, including viruses, spyware, bots, and other malevolent agents that can compromise network security.
Cybersecurity professionals who serve in this role are in high demand. Indeed, any organization that has a computer system must take the necessary precautions to keep its assets and data safe, and in many cases, that means hiring an information security officer. This role is common in banks, government agencies, healthcare organizations, colleges and universities, and even retail enterprises. In other words, the job market is promising and growing all the time. The BLS predicts 32% job growth for information security professionals between 2018 and 2028, much faster than the national average.
One path to success as an information security officer begins with the right educational background. Typically, a bachelor's degree in either IT or cybersecurity is required. A more advanced degree, while not necessary, can position an individual for management positions and a higher salary range.
Core competencies of information security officers include:
Knowledge of cyber risks. They will typically be able to assess networks and implement necessary security measures and safeguards.
Project management. It's ideal that they be able to juggle several complex projects at once since they often serve in organization-wide roles.
Leadership and communication. It's also key to be able to lead a team and communicate a cybersecurity vision to all employees in terms that nontechnical employees can understand.
The Role of a Cybersecurity Engineer
Cybersecurity engineers serve the organization by protecting sensitive data and information and implementing preventive measures against hackers and cyber attacks.
This role has risen in prominence in recent years due to the breakneck pace at which technology has evolved. IT systems have become more sophisticated, and so have the cyber threats that organizations face. The cybersecurity engineer role was created in response to these more robust attacks; this position is all about anticipating threats and putting the proper safety measures in place.
A formal education is the best route to prepare for this role. Most cybersecurity engineers are expected to have an undergraduate degree in a field like cybersecurity, computer engineering, or IT. A more advanced degree typically isn't required, but it can help open the door to greater responsibilities and higher salaries.
Pursuit of a formal education will help these cyber professionals to fine-tune the skills needed to keep their organizations secure. A few of the key proficiencies required of cybersecurity engineers include:
Problem-solving. Candidates should be able to identify and respond to new, increasingly complex problems; quickly and efficiently troubleshoot; and develop solutions.
IT and cybersecurity skills. It helps to be knowledgeable about key tools and technologies (firewalls, virtualization technologies, encryption technologies) that can be used to keep an organization safe against attacks.
Teamwork and communication. Another recommendation is to be able to work well with a cybersecurity team and communicate technical concepts, sometimes to nontechnical employees.
In many organizations, cybersecurity engineers play a vital role in a larger cybersecurity infrastructure. It's a position that's becoming more and more common, and as such, it represents a promising route for anyone looking to engage in the creative side of cybersecurity. The BLS projects 32% job growth for positions in the information security analysis field between 2018 and 2028.
What Is a Systems Engineer?
Systems engineers are found not only in cybersecurity but also in fields such as aerospace and electrical engineering. They put in place large, enterprisewide security infrastructures — integrative, "big-picture" work.
To achieve success in this position, a strong educational background is mandatory. Most people who thrive as systems engineers have an undergraduate degree in computer science, cybersecurity, or software engineering.
Hard skills are a big part of the job, but the right soft skills are also necessary. Soft skills include communication, problem-solving, analytical, conflict resolution, and attention to detail. Successful systems engineers will excel in project management and be able to facilitate seamless collaboration between teams or departments.
Technical proficiency. Those who succeed in this field will need to be well-acquainted with key technologies, such as firewalls, IDSes, secure coding, various operating systems, virtualization systems, database platforms, application security and encryption, and secure network architectures.
Vision casting. This role also requires the ability to clearly communicate an overarching mission with regard to cybersecurity, and to win buy-in from other stakeholders.
Systems thinking. One additional skill key to this role is the ability to think not just component by component, but also in terms of how cybersecurity impacts an entire technology ecosystem.
The systems engineer position is becoming increasingly common. BLS data shows that roles in network and computer administration are growing steadily and projects 5% job growth between 2018 and 2028. Many organizations are witnessing their IT and cybersecurity infrastructures expand at a rapid rate, necessitating a professional who can manage a lot of complexity. If that sounds like an enticing challenge, you may be well suited for a career as a systems engineer. The best way to begin is to learn more about formal education and credentialing options.
Take the Next Step Toward a Cybersecurity Career
Career opportunities abound for anyone whose interests are in cybersecurity. Many of these opportunities may be especially well suited for millennials and Generation Zers, whose familiarity with digital technology makes them desirable candidates for these cutting-edge roles.
The field offers a number of particular career paths, and while each has distinct organizational value, there's also a lot of overlap. To be successful in any of the previously discussed positions, it's recommended that you obtain:
Familiarity with key IT tools and procedures
Experience leading a team and collaborating with others
The ability to communicate with both technical and nontechnical audiences
Skill in managing multiple complex projects at once
A forward-thinking mindset toward technology
The ability to think creatively and analytically
A formal education in cybersecurity, computer science, IT, or a related field
Indeed, the right education can provide both the practical skills and the credentialing needed for success in various cybersecurity careers. Pursuing a bachelor's in cybersecurity online at Maryville University will give you the foundation you need to thrive in whichever position you choose and will also equip you to select the cybersecurity career path that best fits your interests.
If you're ready to learn more about rewarding opportunities in the cybersecurity field, please request additional information from Maryville University.
Sources:
Cybercrime Magazine, "Cybersecurity Talent Crunch to Create 3.5 Million Unfilled Jobs Globally by 2021"
Cyber Security Summit, "Gen Z Might Be the Answer to the Cybersecurity Workforce Shortage"
Field Engineer, Systems Engineer
Maryville University, Careers in Cyber Security for Bachelor's Degree Graduates 
National Institute of Standards and Technology, New Data Shows Expansion in Cybersecurity Worker Shortage
U.S. Bureau of Labor Statistics, Computer Network Architects
U.S. Bureau of Labor Statistics, Information Security Analysts
U.S. Bureau of Labor Statistics, Network and Computer Systems Administrators
Recommended Reading:
Future of Cyber Security: Threats, Tools, and Technologies
Tomorrow's Tech: The Future of Cyber Security at a Glance