Benefits of E-Learning for Adults and Parents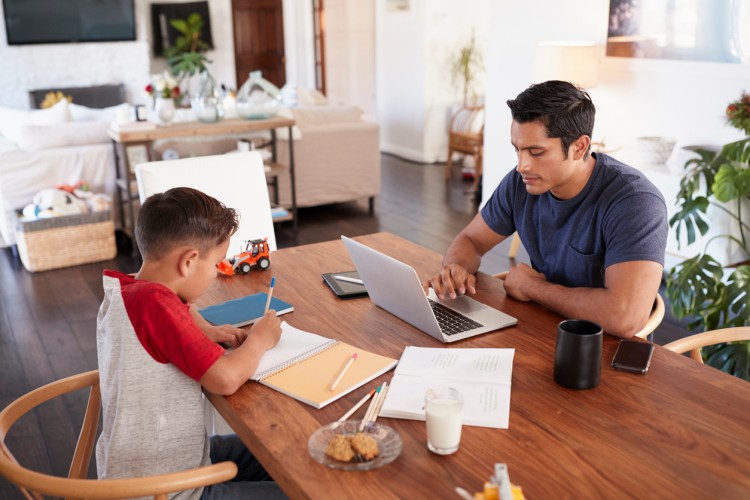 You're considering going back to school to pursue further education. Maybe it's to change careers, improve your financial prospects, or simply to learn something new. But as an adult learner and a parent, you might be wondering how you can balance your desire to learn with your other responsibilities. And if your children are currently being schooled at home via e-learning, how are you going to manage overseeing their education while taking charge of your own future?
Fortunately, kids aren't the only ones who can take advantage of the opportunities that online learning offers. The many benefits of e-learning for adults and parents can have a positive impact on you as a learner as well — and on your family.
What Are the Benefits of E-learning?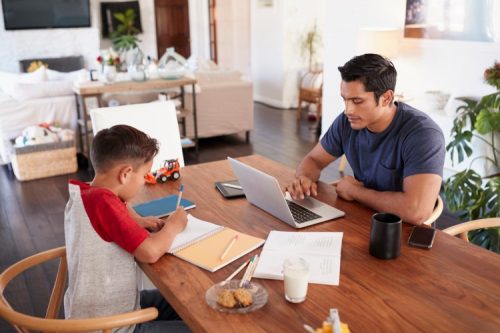 When you think of a "typical" family with school-aged children, you might imagine two parents at work every day while their children go to school. Everyone comes home for dinner and spends the evening doing homework or enjoying time together. But the idea of the typical family is changing — and was never as monolithic as the stereotype — and so is the way both children and adults are learning.
Single-parent families are increasingly common, and with pandemic-related school closures across much of the country, many families have children attending class from home. Trying to fit a university education into all of that might sound daunting, but it doesn't have to be. Below are just a few of the benefits of e-learning for adults and parents.
No Need to Travel
E-learning offers parent learners the opportunity to pursue an education from home. This allows parents who are balancing their own studies with a full- or part-time job to save precious time that would otherwise be spent commuting to school. Parents with children too young for school or in their own e-learning classes may be able to stay home to supervise them.
Online education can also have a financial benefit, as students save on commuting expenses. Furthermore, because e-learning programs aren't limited to a specific physical location, students have access to schools, specialized programs, and unique opportunities around the country that once would have required moving away from home and family.
Enjoy a Flexible Schedule
Most e-learning programs offer students considerable flexibility when it comes to scheduling classes and completing coursework. Parents with their own busy work days, or those who supervise their children's schooling during the day, can dive into their studies when kids have gone to bed.
While some e-learning courses are synchronous, with students and teachers interacting in real time, many are asynchronous, and don't require students to be online at a specific time and date to attend lectures or labs. Many of Maryville's online degree programs, for example, allow students to complete their coursework on their own schedule, although with scheduled exams and assignment deadlines.
Continue Working While Pursuing an Education
Economic barriers to higher education persist for those who can't pursue a traditional college experience. Many students can't afford to stop working, need the flexibility to take classes part-time and on their own schedules, and have family obligations that prohibit them from uprooting to a new city. The prospect of lost income while pursuing further education can discourage adult and parent learners who can't afford to quit their jobs. One of the financial benefits of e-learning for parents is the ability to keep working while pursuing a degree.
While lower-income students still face unique obstacles in online education — Pew reports 46% of adults in households with annual incomes below $30,000 don't have access to a computer — the freedom to continue working opens the door to many who wouldn't otherwise have access to a college degree.
Traditional college students more commonly live on campus and take a full-time course load of daytime classes. With e-learning, students are often able to enroll in as many or as few courses as they like, which can spread the financial burden over time. Additionally, a lighter class schedule enables students to balance their education with other responsibilities such as working and parenting.
Be a Role Model for Your Children
Not only does pursuing an online education allow you to further your own career and financial prospects, it offers a valuable chance to instill a love of lifelong learning in your children. What better way to show your kids that you respect and value education than by learning alongside them? Statistically, your commitment to learning is likely to rub off: According to the National Center for Education Statistics, students whose parents didn't attend college are less likely to enroll in postsecondary education (72% vs. 93% of those with a parent with a bachelor's), and more likely to drop out before graduating with a degree (33% vs. 14%).
Tips for Enjoying the Benefits of E-learning
Though the many benefits of e-learning for adults and parents are clear, it can pose challenges when it comes to handling finances, managing your time, and ensuring you have the support to succeed. Consider these tips for balancing work, family, and school:
Set up a dedicated study space for yourself and for your children.
Post a weekly schedule to keep track of assignments and commitments.
Establish family study hours to lead by example and make sure everyone's work gets done.
Make a financial plan to set aside savings for tuition and other expenses.
Reach out to other adult and parent learners for support.
For further information on navigating life as a college student and parent, read more here.
Take Charge of Your Future with an Online Degree from Maryville
Whether it's the prospect of a better salary, the lure of a new career, or pure curiosity, whatever your reason for returning to school, the benefits of e-learning for adults and parents begin with choosing the right program. Learn more about Maryville University's online bachelor's, master's, and doctorate programs, and take the first step toward beginning your e-learning journey.
Recommended Reading
The Kids Become the Teachers: At-Home Tips for Students Who Are Also Parents
Sources
Forbes, "9 Tips for People Taking Online Classes"
Student Success, Mary Shier, "10.2 Pros and Cons of Online Learning"
National Center for Education Statistics, Back to School Statistics
OECD, "The Potential of Online Learning for Adults: Early Lessons from the COVID-19 Crisis"
Pew Research Center, "21 Million Americans Still Lack Broadband Connectivity"
Pew Research Center, "Digital Divide Persists Even as Lower-Income Americans Make Gains in Tech Adoption"
Study International, "Parents' Education Levels Affect Children's Likelihood to Attend College — Study"
Today's Parent, "What It's Like to Go Back to School — as a Parent"
U.S. News & World Report, "4 Reasons Online Learning Works Well for Working Adults"