Maryville Online Bachelor's in Business Administration Information Session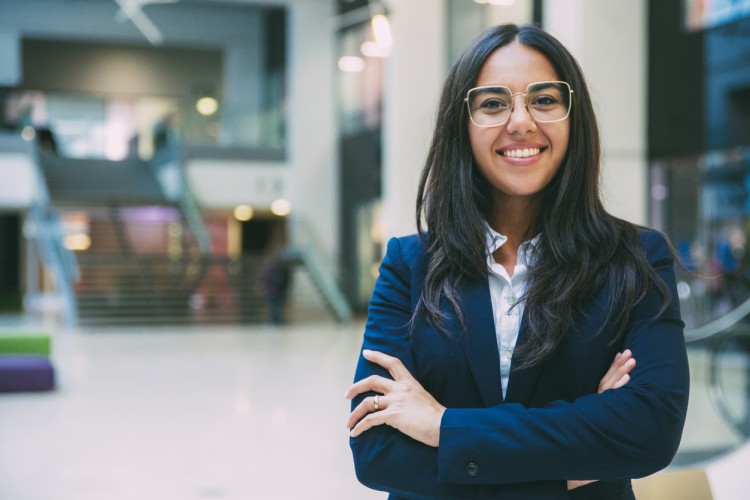 This recorded webinar provides an overview of the online Bachelor's in Business Administration program at Maryville University.
Faculty guest speaker: Dr. Christopher Gourdine, Assistant Dean for Business Administration
This includes:
An overview of the program including curriculum information
The Maryville Online learning and student experience
Admission and tuition information
Q&A with Dr Gourdine and enrollment advisors
Transcript
Sofia Angelov:
Hello, everyone. Welcome to the Maryville online bachelor's in business administration session. Thank you for taking the time out of your day to participate. We're very excited to have you here. Before we begin, there are a few logistics to cover. You are in a listen-only mode to avoid any background noise. Please feel free to ask questions as we go. You can do so by typing into the Q&A box at any time throughout the session. If we do not get to your question today, an enrollment advisor will follow up with you. Also, you can watch this presentation on demand anytime using the same link you used to register. We will also follow up with an email after the presentation. Finally, feel free to use our list of resources located on the right side of your screen to save any links that you would like to use after the webinar.
Sofia Angelov:
Let's take a look of what we will cover in today's session. On today's session, we will introduce the presenters and talk a little bit about Maryville University and who we are. Next we will provide an overview of the online bachelor's degree in business administration, review our online learning experience, navigating through the admission process, and then conclude with a live Q&A session. Let's meet our presenters.
Sofia Angelov:
My name is Sofia and I am an enrollment advisor with Maryville. I love working with students and helping them navigate the enrollment process and especially learning about their success and career goals. I would like now to pass it to one of my colleagues. Michael, would you like to introduce yourself?
Michael Lis:
Hi. Thanks Sofia. Hi, everyone. My name is Michael Lis. I'm one of the enrollment advisors here at Maryville University. My role is to work and collaborate and coach you through the application process. And as your enrollment advisor, I'll be assisting you every step of the way. I really hope that I can be of some great assistance to all of you.
Sofia Angelov:
We're also joined by Dr. Christopher Gourdine, as our guest of honor. Dr. Gourdine is the assistant dean and professor for the business administration program at Maryville. He will be answering your program questions during Q&A. So please don't forget to add any specific program comments or questions into the Q&A box.
Sofia Angelov:
To begin with, we would like to share some information about the history of Maryville with you before diving into the program details. Maryville University was founded in 1872 in St. Louis, Missouri, and is one of the oldest private nonprofit universities in the U.S. We started out as one of the first universities in the region to educate women. And today we continue to push the boundaries and prepare students like all of you for a digital world. The university is regionally accredited by the Higher Learning Commission, which is recognized by the U.S. Department of Education. We're also a nationally ranked private college recognized for innovative education, focused on students' learning outcomes and success, both online and on campus. We have been recognized by prestigious publications, such as Kiplinger Best College Values, Forbes America's Top Colleges, and more. We are named an Apple Distinguished School, which highlights the university's success in creating an innovative learning environment, designed to engage students and support their academic achievements. So let's go over the business administration program details with Michael.
Michael Lis:
Okay, so now that you guys have met everybody, and we've gotten a slight overview of Maryville University, let's go through some details of the online business administration program. Remember, add any of your questions to the Q&A box as we go. I promise we'll address all of these questions at the end of today's session. So you might've asked yourself, what can I do with a business administration degree? Well, as a business professional, you can build dynamic expertise that can be applied in many settings. This will help you prepare for more diverse opportunities, as demand for modern business expertise continues to grow. Those who possess the business background, may have the flexibility to work in a variety of settings. Settings such as marketing, human resources, operations, consulting, international business, and more.
Michael Lis:
As a business major, you can also take elective courses that fit your interests and things that you want to focus on for your future career path. Some examples of career paths that you might choose to follow are things like financial analysts, operations manager, marketing coordinator, even accountancy. This degree gives you the flexibility to explore different areas in business, which can make you a more well-rounded business professional. Now, when talking about the growing demand for business professionals, the latest report from the U.S. Bureau of Labor Statistics projects that over 500,000 new jobs will be created in this decade alone. The demand for those with business skills is projected to grow faster than the national average for all jobs out there. Thus, there are plenty of opportunities in many areas of business for all of you.
Michael Lis:
Okay, so let's get started. I want to go over some curriculum highlights with all of you. There is a total of 128 total credit hours in the completion of this degree program. So please remember that this amount may change pending the number of credits you might have that transfer in. Our required business core and major courses sum up the total of 66 credit hours. So your core courses are meant to develop your management and marketing expertise with a foundation in finance, accounting, economics, business law, and statistics. However, your major courses will deeply explore these subjects and discover how they relate to the overall field of business administration. And then finally, through your electives, you can choose courses that focus on your interest levels, that focus on the pathway that you'd like to focus on as it pertains to where you want to go in business.
Michael Lis:
All right. So here are some examples of courses that you could be taking in order to fulfill the business core components. An example here at Maryville is that all students are required to take business communications, which focuses on increasing the ability of students to express themselves effectively through the various forms of communication channels that we use in today's business. Business law is another course that is required that examines legal rights and ethics in business. There's principles of management, which studies the basic theories, concepts of management, including the evolution of management. It also covers ethics, decision-making, organizational structure, group dynamics, leadership, and much, much more. You also take a course in principles of marketing, which introduces the concepts of marketing, their application to those engaged in marketing consumption and industrial goods, services, pricing, product planning, distribution, and even promotion. Now, this is a mere window into what the classes look like. And if you have further questions about the business administration courses or curriculum, just add them to our Q&A box on the screen above.
Michael Lis:
All right. Now that you've seen the curriculum highlights and a snapshot of some of the courses, let's bring it all home or let's tie it all together. Here are some of the core competencies graduates or students from this program usually are able to demonstrate. So when you go into this program, you're going to be able to express an understanding of the broad business concepts, the terms, the principles. Students will recognize the difference of the business areas inside an organization, such as accounting, finance, marketing, even operations. You'll build competencies in qualitative and quantitative data analysis, critical thinking, decision-making, even strategic planning. As a student here at Maryville University, you'll develop an understanding of the competitive forces within the market. Being able to analyze the impact that these forces cause to businesses. And finally, you'll be able to demonstrate a desire to apply ethical principles in all decision making processes and procedures and leading others accordingly.
Michael Lis:
The exciting piece of this is that at the end of your program, you will enjoy a capstone course for the business administration program. The business 491 or business policy course focuses on the tools and concepts of strategic management as applied in the business concepts. Students will develop the understanding and analytical skills necessary for strategic analysis, thesis formulation, as well as implementation. The course will also involve integration of concepts from prior business core classes. I also want to highlight that there is an opportunity to replace an elective course with an internship opportunity. In this case, you would be responsible to find your own internship opportunity while collaborating with the faculty members here at Maryville, who will approve and oversee the learning outcomes of this internship using a very structured online setting to complete the three credits necessary for this replacement. In this internship you'll need to complete a total of 150 hours.
Sofia Angelov:
Thank you Michael for sharing this in-depth information about our program. Now let's discuss the online learning experience at Maryville University. We understand that enrolling to earn a college degree is a big transition, and we want you to feel empowered through it all. That's why we provide the support you need to be successful. Our faculty members are a large part of what makes us great. They embody Maryville's philosophy of measuring our success by yours and are interested in helping you excel in the classroom, in your career, and beyond. As enrollment advisors, our purpose is to partner with you determining if Maryville University is a good fit and navigate the enrollment process. We serve you as the main point of contact through the enrollment process, up to the start of classes. Also, as an online student, you will be assigned to a student support advisor to guide you and assist you via convenient means like text, email, or phone from enrollment through graduation. These advisors are here to assist you with questions, encourage you as you face challenges, and connect you to the appropriate resources when you need them.
Sofia Angelov:
And when you're on your online degree at Maryville, you get the same high quality education as our on-campus students. We have been doing this for close to a decade now, and don't compromise when it comes to academics experience. Everything we do is designed to be student centric. So you can be sure you have all the resources and support services you need to succeed in the classroom and beyond. Thinking about the advantage of online learning, here's an example of how two Maryville students took their online learning to the next steps. Bailey and Logan Roehr, both students in Maryville's online bachelor's in business administration program decided to hit the trails while they hit the books. The brothers embarked on a socially distance road trip through 13 national parks across 15 states on a journey of roughly 9,000 miles.
Sofia Angelov:
Maryville's online format allowed Logan and Bailey to stretch their schedule and coordinate their coursework with their travel plans. Most importantly, they were able to stay on track with their goals and graduation. They ended up being featured in our articles for Forbes, and you can learn more about their story following the link, tales of the brave in our resources box.
Sofia Angelov:
Now let's go over the admission requirements, some tips for application, and tuition and financial aid information. Admission requirements can vary depending on your educational background. All applicants are required to complete an online application for admissions and provide previous educational transcripts. We understand that each student comes from different educational backgrounds, and we're here for you. For further questions, it's always best to set up an appointment with a personal enrollment advisor, they will guide you through the next steps of the process. Please refer to the link in the resources box to learn more or to schedule this appointment. Applications are accepted for spring, summer, and fall start dates. Applying is a very easy two-step process. Your enrollment advisor is here to help guide you throughout the way. Simply complete the free Maryville University online application with the link provided in the resources box. After filling out the application, your official transcripts will need to be requested from all institutions previously attended. And please note, there is no SAT or ACT scores or entrance exams needed.
Sofia Angelov:
Next I would like to cover tuition and financing options. Tuition is $500 per credit hour. There is also a $375 fee per semester, which covers your access to all services and resources provided by the university. Financial aid and other financing options may be available for those who apply and qualify. Again, please discuss this with your enrollment advisor. Additional financing options could potentially be employee tuition reimbursement, military benefits, monthly payment arrangements, federal and private student loans and federal Pell Grants. Also remember to complete your FAFSA. Our school code is 002482. That brings us to the end of our presentation. We would like to open the floor to answer your questions.
Michael Lis:
While we begin this Q&A session, I want to introduce Dr. Christopher Gourdine, who is one of our senior faculty with the business department here at Maryville University. But Dr. Gourdine, would you like to say a few words before I turn it over for Q&A?
Dr. Gourdine:
Yeah, just a couple. I'm really excited to talk to prospective students and answer any questions they may have. We have an outstanding also admissions department and folks that are on this line. So I'm not sure if there'll be things that you guys won't be able to answer, but I certainly stand ready and I definitely enjoy talking with people interested in Maryville. Thank you.
Michael Lis:
Thank you, Dr. Gourdine. And I'm going to go ahead and jump into some of the questions that were typed into the chat box here. So the first question we have, it seems to be about financial aid and as far as the code. Maryville's school code can be delivered to you via phone or via Maryville email. Usually we provide the code to students during the application process to help expedite the financial aid process. So Ms. Scott, I hope that answered your question regarding the… And I assume that that was the question for the code, which is Maryville's school code for the financial aid.
Michael Lis:
I see that there's another question from one of our attendees today about the elective courses. Here at Maryville there are, with the business degree program, there are 12 elective opportunities, which really allows students to cater their programs specifically to their current employment situations or future employment opportunities that they are looking for. In our business degree program, the 12 concentrations range everything from business to marketing to human resources. It really just allows students to kind of cater their specific programs. And if you have specific questions about any of our business elective tracks or courses, that can definitely be kind of more simulated or kind of specified to your specific needs as we go through and work with an enrollment advisor on a one-on-one basis.
Michael Lis:
And Dr. Gourdine, I don't know if there's anything you want to add specifically as part of the department program. I don't know if there's anything you want to add as far as like the elective coursework or the tracks specifically for business students.
Dr. Gourdine:
Maybe just a few. The business administration degree is our most flexible business degree and you can customize it to match your inclinations and interests. And as it was just explained, you can not only take concentrations within obviously the school of business to fulfill your business elective requirements, but there's also additional electives to make 128 credit hours total, you can also get minors or take courses from other parts of the campus. So when I talk about flexibility, not only could you have a business administration degree with a concentration, say like in human resource management, or let's think here, marketing, finance, or financial services, accounting, those traditional areas of business, but you are also able to take classes in communications, certain aspects of communications that you enjoy, or even things like data science, and all that matter.
Dr. Gourdine:
We're putting together a new, a certificate in analytics, business analytics that'll be coming out. Hopefully, we're hoping in this coming fall. And there's not only, I guess as it was explained in the presentation, for the general business positions out there, they're growing faster than average, which the business administration degree would put you in line for. But then if you're focusing on things like analytics or data science, while still having a business background, we'll put you towards the front of the line really for job opportunities. So I wanted to kind of add that in there. Thank you very much.
Michael Lis:
No, thank you very much. I think that's some valuable information and we do appreciate you sharing as an academic professional here at Maryville. It's always nice to get your perspective when answering some of these prospective students questions, it's definitely helpful and insightful. So thank you for that. What are the other questions that came about? It looks like how many credit hours do we need to complete the program? Simplistically, I can tell you that the program in total is 128 total credit hours. From a perspective of each individual candidate when students are inquiring about transfer credits, I will let you know that transfer credits are always deemed up to the registrar and the evaluation team here at Maryville. So no guarantee on transfer credits, but a student must complete 128 credit hours in order to complete the bachelor's degree and receive an accredited degree from Maryville University. Hopefully that answered your question, Ms. Larissa,
Dr. Gourdine:
If I could also just chime in a small point here, this is Dr. Gourdine again.
Michael Lis:
Please do.
Dr. Gourdine:
Having worked at another university as well previously, I saw a lot of students come in with transfer credits and so sometimes students are kind of surprised that they may still need to take a certain number of courses. And so it's difficult across the industry because when people are transferring between schools, they may need to take a few more extra credits and may end up a little bit above 128 credit hours. That's very common. And I'm speaking on that topic from having worked at another school. So it depends. So I would definitely recommend the student, as Michael recommended, talking with enrollment advisor. But we do tend to be pretty student friendly in accepting transfer credits and finding ways to make sure that as much as possible courses that a student has taken will apply towards the specific requirements of the degree program they're seeking at Maryville.
Michael Lis:
Thank you so much, Dr. Gourdine. And it looks like there's another question for you specifically, the question is, what type of students have you seen in this program? And is there a better type of students suited to take the program as a general track or a focal track like human resources or marketing?
Dr. Gourdine:
That's a pretty good question. I've seen a pretty good cross section of students. I've seen students that I can tell will be very good at managing as they go out into the workforce because they have a good mind, they learn quickly, and they've got kind of a broad array of areas of interests within business. So they know something about marketing, they've taken classes in that, they're very comfortable with accounting. I mean, it may not be their favorite topic, but they learn quickly. They have also good people skills. And I'm based on someone and typically managing. In this case for that particular student was one type I see that's very capable, that will definitely do well in the workforce based on her intelligence, her work ethic, and also just the cross section of skills that she has as a human being.
Dr. Gourdine:
Then I've got another student, most people are afraid of math, but this student actually really enjoys math. And so I kind of customized my recommendation to her. She was getting a business administration degree, getting some small quantitative fact courses. And then I also recommended, because we were talking early in her junior year and she had the credit hours still to go, I recommended that, hey, there's a minor in data science that you can get. So you can get a business administration degree, have a good cross-sectional knowledge of the different areas of business, but you can tag onto that within the 128 credit hours, an extra course. And it's hard to find people with those skills and she likes math and likes computer programming.
Dr. Gourdine:
And so that's one of the reasons why with confidence, I can talk about the business administration degree as a really ideal choice. Because it depends on what you want to do, from being kind of a quantitative computer sciency type of person, you can fit those kind of courses within the degree, or certainly within your general education credit hours. Or you could also customize it and be more of a people person, HR, marketing, or financial services for that matter. You can go on and become a very successful financial broker and doing advising services and stuff. You could stretch it and pull it in different directions. But a lot of it is going to be driven by you, by your mindset, what is your interest in. And I guess I'll also say, not to go on too long, I tend to advise students as if they're, I don't want to overstep, but just almost like they're family members. If this was a niece or nephew of mine, and they're sitting here looking and asking questions, I advise from that standpoint.
Dr. Gourdine:
So if one student, if it means for her success going to take classes on the other side of campus, with another department, that's what I was going to say. And it was actually absolutely in her best interest, but she's still getting a business administration degree. And there's that kind of flexibility in a program.
Michael Lis:
Dr. Gourdine, thank you for that. And I think it brought up a two part question. And I'm sure as you're aware, Maryville offers several degree programs at the undergraduate level or at the bachelor's degree level. For example, the bachelor's of science and business administration is just one of the many programs. What would make a student kind of choose the bachelor's of science and business administration versus our bachelor's of science in marketing or a bachelor's of arts in organizational leadership? What can you kind of speak to about the type of student that may choose this versus going in one of the more of those specified directions?
Dr. Gourdine:
I would say that's a very good question. The bachelor of science, the first two degrees, the one in marketing and the bachelor's of science and business administration, are both at the business core. The third one, the third degree that was asked about is I think organizational leadership, you mentioned, bachelor's of arts. That's not a business degree. Certainly you will be working in a business context often doing perhaps consulting work. Sometimes people with that background may go into, maybe get a master's degree in psychology or industrial psychology or something like that. And so [inaudible 00:28:01] becoming either a consultant or so forth. So I would say, going back to the business side of it, of the two degrees, the first two, which were in business administration and marketing, what happens is that students, in the first year or two, you get exposed through the business core to a cross section of areas of business.
Dr. Gourdine:
And what often happens is that there are certain classes that you will really enjoy, I mean, like love, and you'll want more of them. And so in that case, let's say in the case of marketing, a student who really enjoys the [inaudible 00:28:43] of marketing, they like talking to people, reaching customers, communicating about the brand of the company, rolling out new products, all the things dealing with that part of a business. That would be someone who probably would be a best fit for a marketing degree, if they want to actually no kidding for the next 5, 10 years of their life after they graduate, be working strictly in the marketing area. And marketing itself is a very pretty up, it's got a broad array of career options within it. From not only just selling, but managing some things like managing social media, you could be working in a distribution channel, dealing with distributors and getting market. You could be doing research, market research, and so forth. Sales management, ultimately things like that.
Dr. Gourdine:
The business administration degree person, if they were to take the administration degree, and if they wanted to, you would have some similar options open to you as the marketing person. If you focused on the marketing area for some of your electives and especially with proven experience, something like an internship. In your business administration degree, and as it was mentioned in the presentation, you have the option of doing an internship and substituting that as one of your electives. I would say internships open doors for students for future career paths. So for example, going back to the business administration degree, if we look at that option, you can customize it especially if you have an opportunity to do an internship in something that you would like to do in the future, like in financial services or even marketing or whatever. That type of experience, where it's documented, the internship counts. Not only the course, but it's documentable experience that you get that you can show prospective employers in the future.
Dr. Gourdine:
Another value that you get out of internships, one of the other values is that you can get reference letters too. Because across the board, no matter what school you go to, one of the questions a prospective employer is going to have, when you [inaudible 00:30:57], you have the opportunity to sit across the desk from someone who's looking at your resume, when they're doing the interview. There's a question mark over every college graduate and that person that's doing the hiring is wondering, okay, this person has this degree, but how well do they communicate what they know? Do I get a sense of what they're bringing to the table? What experience do they have? I'm I getting an untested product? And so when you have that internship, it shows that someone took a chance on getting you some experience and you took the initiative, extra initiative to get an internship, and you have some real experience outside of the classroom.
Dr. Gourdine:
And so all of these things can come into play with a business administration degree, as well as other degree programs as well. But the business administration degree, with a little bit of effort on your part, can be customized to open doors for you across the board and in any area of business that you'd be interested in going into. That was a bit long-winded, there's a lot there, but I would say that the business administration degree, you could go into potentially marketing versus a marketing person with a marketing background who would primarily be geared to do something within the field of marketing.
Michael Lis:
Well, that may have been a long-winded answer, I think it had a lot of great substance for students that are currently on this call, as well as students who will see this recording in the future. So we do appreciate all of the helpful information. And I think it's good for students to kind of hear that. With so many different degree options out there, I think it's important to kind of identify which students might be a good fit for each specific program. Now we have another question and this I-
Dr. Gourdine:
[crosstalk 00:32:39].
Michael Lis:
Go ahead.
Dr. Gourdine:
No, I was just saying that a lot of that is students investing their time to do exactly what they're doing today, is asking questions. And also as you go through luckily a few more years of experience, freshman year, sophomore year, and start taking classes, talk to your professors, talk to your life coaches, and you start to zero in on what you really like and what you're interested in. And that's part of the process of college. So please go on. I just wanted to throw that in there.
Michael Lis:
I love it. You're a wealth of knowledge and you bring up a good point with all the resources that are available to students like the life coaches and the student support advisors and all of the village of individuals that will help each student here at Maryville along the way. And I think that's really an element to Maryville that really separates us from other schools out there. The village of support, supporting our students and our graduates, as well as alumni throughout this whole process. It looks like there's another question, and this might be more of a specific question, but Kayla asks, she is looking at starting her own business, or maybe already has her own business. And she wanted to speak about what classes you might recommend for someone like herself who is a young inspired entrepreneur and someone who's looking to take this program to add diversity to her knowledge base.
Dr. Gourdine:
Okay, good, good. Very good. I'm glad she's one looking to go into business for herself or continuing a business that she already has, and to also going to looking at college. People who own their own businesses are obviously part of the backbone of our economy. So that's very, very laudable. I would say the business core itself will be very helpful, just getting a cross section of understanding of the different areas of business. I would say the most practical advice I find with people who own their own businesses, whether it's a small business or a little larger one, is understanding you have to work in teams of people. And so by that I mean, you have to know yourself. Get to a point where you understand yourself, what you bring to the table, in this case, as a business owner or entrepreneur. What kind of person you are, if you are more of a visionary person, a big picture, motivating, a people person, I can talk about ideas and such.
Dr. Gourdine:
The most valuable team member for you will not necessarily be the first pick. It wouldn't be someone who's also the same kind of person, but someone who's maybe more into details and likes to keep track of numbers and things like that. Things that may not be of interest to you, but yet they are the lifeblood of owning and maintaining a business that's going to be viable over time. So where I'm going with that is working in teams is how you succeed in business, and teams of people that come together with different competencies. What you get out of the business core is you get introduced to what those people will bring to the table. And it may not be what you want to do personally as an individual, but you'll know the importance of these different functions and how they come together.
Dr. Gourdine:
So for example, classes in finance talk about the loans and interest rates and things like that. It gives you good background classes in accounting and economics. You'll get a very broad background that you can apply in a business context. We also have courses, a few courses, we just started adding on entrepreneurship, which I think would be very helpful. I know they're great set of courses too that are available to you as any business student. You'll take a class at principles of marketing. Well, okay, that'll give you a great foundation in marketing, but we also have upper-level classes that you can take in social media, running a social media campaign. And how you leverage that technology to drive sales and revenue and leads for your business, to increase your presence and particularly online.
Dr. Gourdine:
So as a business owner, you've got to have a big umbrella mind that will be aware of these different pieces that come together. You personally may focus as an individual on one or two areas yourself. So the business core itself will give you some ideas. And then also, depending on the type of business that you're going into, for example, if you are a personal trainer and you really love fitness, and so you got business administration degree, courses in marketing would be very helpful. Because your fitness knowledge, plus a general business degree with some very specific information about marketing, how to promote yourself online, that has nothing to do with physical fitness, but that's another competency. If you were willing to learn something about those skills, that can help you be quite successful.
Michael Lis:
Good stuff. I want to thank all of our participants today, Sofia, Dr. Gourdine. Thank you for attending this webinar session and being able to take time out of your day to assist our perspective candidates and students here. I know on behalf of the university, I speak for everybody, and saying thank you for being with me today on this call. We do definitely appreciate you.
Dr. Gourdine:
Oh, absolutely. Thank you for having [crosstalk 00:38:16] join us.
Michael Lis:
And I hope you, the students, got a lot out of this. I would love to give you the gift of time back today and I hope that you all have a wonderful rest of your afternoon. It's starting to get warmer out here in the Midwest, so hopefully you guys aren't enduring any more coldness or any more snow. Because I know for, I speak on behalf of a lot of us in the Midwest, we could use some nicer weather. But we want to thank you, I wish you all a great day and we hope to see all of you as prospective students here at Maryville University in the future. Thanks guys.