A Guide to Archives and How To Use Them for Research
Archives are typically used by those looking for resources to successfully and accurately conduct research about the past. First Nations peoples may use archival records to establish legal claims to both land and privileges guaranteed by federal and provincial governments. Historians and others interested in history may also use archives to get a better understanding and first look at artifacts from the past. Others who might make use of archives include:
Archaeologists
Authors
Environmental engineers
Filmmakers
Genealogists
Professors
Property owners
Students
What Is an Archive?
An archive is a place where researchers go to find firsthand facts, data, and evidence from letters, reports, notes, memos, photographs, audio, web, and video recordings about the past. Archives — and the professionals (archivists) who work with them — are there to make sure important artifacts are available for research for years to come. To help properly preserve these artifacts, they are stored in a particular way.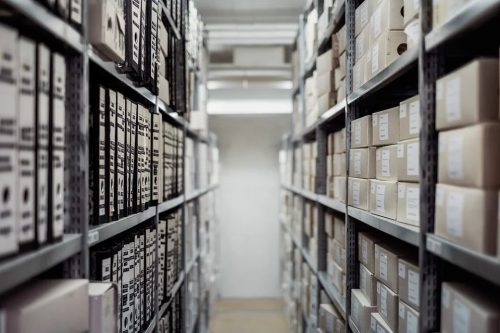 The artifact type determines how it is stored. For example, paper records are usually stored in acid-free folders and boxes that are then placed in dark spaces with consistent temperature and humidity. This is to help ensure they are not damaged.
What Is the Difference Between a Library and an Archive?
Libraries — whether public or academic — are generally defined as a collection of books and/or other materials (both print and nonprint) organized and maintained for use. Patrons can access the library's materials via the internet or by checking them out for home use.
Archives differ from libraries because of both the types of materials they hold and the way they are accessed. Archives have both published and unpublished materials as well as:
Artwork
Books
Diaries
Historical artifacts
Letters
Manuscripts
Moving images (videos, zoetrope)
Photographs
Rare/unique/special objects
Sound bytes
When a book is repeatedly checked out from the library, it will eventually cause wear and tear. This is the same with checking out a historical figure's handwritten diary from an archive, except unlike a book from the library, the diary cannot be replaced. This is why archives have specific ways to handle and protect materials from damage and theft.
Different Types of Archives
There are many archive categories that consist of different collections of work. Prior to conducting your research, it's important to understand the different categories to help determine which one would grant you the best results.
College and University Archives
College and university archives serve as the institutional memory of a college or university and play an integral role in managing the institution's information resources in all media and formats. University archives are often accessed by:
Administration: Administrative personnel within a university have ready access to permanent records, which includes documents in whatever form from whatever time, materials that define and enhance the image of the institution, and materials and memorabilia that support significant interactions with past graduates.
Alumni: When the alumni access the archives it allows them to maintain old ties and build new ones with their alma mater. It also may refresh their knowledge about the history of the institution, which is often perceived by the alumni as a significant factor in their development.
Faculty: Faculty of the college may use the university's archives for research in collections that provide unique materials. The archives can document a wide variety of history, chronicle the contributions of individuals, and record processes as reflected in the records of the institution.
Researchers: Researchers in the community can use the institution's archives, hopefully benefiting from the richness and reliability of the archive collection.
Students: When students utilize the archive, they can connect with the institution and learn about its history. They can also access the archival material to help support their curriculum and introduce them to different research techniques that help enhance their educational experience.
Corporate Archives
Corporate archives are documents and other materials that are created and/or received by a company/organization during the course of operations. The value of these materials is preserved and available for review upon request.
It is important to note that corporate archives contain the records of a corporation, a legally recognized entity. However, the term may also be used to describe the records of informal groups.
Businesses and corporations can benefit from archiving because it:
Helps prevent data loss
Helps keep track of documents and other materials for legal reasons
Increases security in case of a data breach or cyber attack
Government Archives
Government archives — also known as national archives and records — are documents and materials that are created in the course of business conducted by the United States government. Government archives are handled by the National Archives and Records Administration (NARA), aka the "nation's record keeper."
NARA does not lend original documents for research use. However, original documents and artifacts may be loaned to qualifying institutions for exhibition when the purpose of the loan is to inform and educate the public about NARA.
Historical Societies
Some historical societies might view their primary tasks as the study of national or local history, the collection and publication of sources, the preparation and publication of printed works, and the popularization of historical knowledge. However, other historical societies engage in a broader spectrum, such as the study of world history and its individual problems, historiography, and the methodology of history. Often, those individuals within a historical society represent the history of their country and corresponding international organization.
Museums
A museum is a nonprofit, permanent institution in the service of society that is open to the public. Museums acquire, conserve, research, communicate, and exhibit the tangible and intangible heritage of humanity and its environment for the purposes of education, study, and enjoyment. There are approximately 35,000 museums in the United States which consist of many different types, including:
Aquariums
Anthropology museums
Art museums
Art centers
Botanic gardens
Children's museums
Historic houses
Historic sites
History museums
Local and state history museums
Military museums
Nature centers
Natural history museums
Science/technology centers
Sculpture gardens
Transportation museums
Visitor centers
Zoos
Religious Archives
Religious or church archives consists of past sermons, board minutes, financial reports, annual congregational meetings, women's alliance records, music programs, religious education curricula, religious education committee minutes, correspondence of ministers, correspondence of lay people, youth programs, building and grounds, and other categories as appropriate.
Special Collections
Special collections are libraries or library units that house materials requiring specialized security or user services. These materials can include but aren't limited to rare books, manuscripts, photographs, archives, ephemera, and digital archives.
The primary function of a special collection is to provide researchers access to items from the past that have been properly preserved. The items within the special collection are stored away from the public in closed stacks and are non-circulating items, meaning they cannot be loaned or removed from the premises. The way to access the materials for research varies depending on the policies of the institution housing the materials.
Film Archives
A film archive is a collection of films that have been restored, preserved, documented, collected, and studied. The Academy Film Archive is home to one of the most extensive and diverse motion picture archives in the world. This includes personal collections from filmmakers such as:
Alfred Hitchcock
Barbara Hammer
Cecil B. DeMille
Fred Zinnemann
George Stevens
Gus Van Sant
Jim Jarmusch
Penelope Spheeris
Tacita Dean
Prospective borrowers must meet the required criteria and fill out a loan request form. It's important to keep in mind that there are certain materials from the archive that aren't able to be loaned out. For example:
70mm prints are currently unavailable for loan
The archive does not lend its best existing print of Academy Award-nominated and winning titles
Prints that are available through commercial distributors or other sources
The number of print loans of feature-length films is limited to 20 titles a month
Web Archives
Web archives record the entire contents of a web page, including its source HTML and embedded images, stylesheets, or JavaScript source. "Although web archives provide a valuable service, they are not perfect, and archiving a web page is very different from archiving a physical object or even a static file such as a PDF," says Michele Weigle, author of "On the Importance of Web Archiving."
Some of the most prominent web archives can be found by using:
Where to Find Archives
Luckily, there are many ways to find an archive. You can use:
Bibliographies: Consulting bibliographies and works cited sections can help determine where the information is coming from.
Experts: Contacting experts in the field can help to get a better insight into where/how they find their information. Ask them questions like what repositories did they use for their research? This can help to ensure that you're utilizing the right resources that are relevant to your research.
Websites: Look for websites that are dedicated to your research topic. Are there any archives listed that you can reference?
Local Library/WorldCat: Reach out to a reference librarian at your local library and ask them about accessing the WorldCat database. Here you can find listings for archival materials stored in libraries worldwide.
Archive Finder: This is a directory that describes over 220,000 collections of primary source material housed in thousands of repositories across the United States, the United Kingdom, and Ireland.
ArchiveGrid: ArchiveGrid has over 5 million records describing archival materials about historical documents, personal papers, family histories, and more. There are over 1,000 different archival institutions represented by ArchiveGrid, all of which help researchers locate primary sources that are found in archives, libraries, museums, and historical societies.
ARCHIVESCANADA: ARCHIVESCANADA acts as a gateway to archival resources found in over 800 repositories across Canada. Their primary objective is to provide the Canadian public with greater access to the heritage of Canada.
Library of Congress: The Library of Congress is the largest library in the world and has millions of books, recordings, photographs, newspapers, maps, and manuscripts. It is also the main research arm of the United States Congress and the home of the United States Copyright Office.
National Union Catalog of Manuscripts Collections (NUCMC): The NUCMC provides and promotes bibliographic access to the nation's documentary heritage.
Who Works at an Archive?
There are multiple employment opportunities within an archive. Here are the most common job titles.
Archivists: Archivists are specially trained in preserving original material and helping people obtain it. They work with paper documents, photographs, maps, films, and computer records. Archivists typically have a degree in history and often attend classes to learn from other experienced archivists.
Archives Specialists: Archive specialists assist archivists by applying specialized knowledge about different subjects to the records they serve. Often they work on projects that either describe or preserve a body of records. They will also work directly with the public when records within their expertise are requested.
Archives Technicians: Similar to an archives specialist, an archives technician assists archivists. The technicians locate records by going into the large rooms where the boxes of documents are stored. They also work with conservators to clean, repair, and preserve older and more fragile artifacts.
Conservators: Unlike archivists, conservators focus on the content of documents, including their physical makeup. Conservators often have a background in liberal arts and social sciences. They use a variety of tools and materials to treat the documents, and try to use treatment materials that will not adversely affect the artifacts over time. Treatment tasks often include:

Using microscopes to check ink to see if the document is damaged or flaking.
Mending of pages using wheat starch paste and strong light-weight Japanese mending paper, which results in almost invisible mends that can be removed later if necessary.
Rebinding using heavy presses that help new covers remain flat as glues dry.
Humidity to relax rolled-up paper fibers so the document can be opened without cracking or tearing.

Records Managers: Records managers work with federal government entities, like the Federal Bureau of Investigation (FBI), the National Aeronautics and Space Administration (NASA), and the United States Army to make sure they are creating records that reflect the work they do. They also make sure that agencies are storing their records properly and bringing the most important ones safely to the National Archives to be looked after by archivists and conservators.
Visiting Archives
It may not be apparent at first, but there are important rules and regulations to keep in mind prior to visiting an archive.
Planning to Visit
Typically, people such as historians, genealogists, lawyers, demographers, filmmakers, and others plan a visit to an archive to utilize the facility's many resources to assist them in furthering their research.
It's important to revisit the different archive types before planning a trip to an archive. For example, which of the following archive types would help to enhance your research?
College and university archives
Corporate archives
Government archives
Historical societies
Museums
Religious archives
Special collections
Film archives
Web archives
Once you have established which type of archive to visit, you can look up where the closest facility is near you.
Guidelines for Your Visit
It can be surprising when researchers learn just how many guidelines there are when visiting an archive. Aside from basic unspoken rules such as being polite to other visitors and the staff and research room etiquette, those within the archive are expected to follow these archive guidelines.
Registry and Personal Identification: Archives may ask researchers to fill out an application, registry card, online form, or obtain a researcher card before they're able to use materials. Photo IDs may also be requested; this is to serve as an aid in the use of a criminal investigation in the event that theft takes place. Some archives may also request a note of recommendation or permission before admitting researchers.
Removal of Coats and Bags: The removal of bulky clothing/items, such as coats, bags, purses, binders, and laptop cases is required prior to entering the research area. This acts as a theft precaution and prevents people from being able to hide the archive materials. Lockers may be provided for those who need to lock up their personal belongings.
No Food, Drinks, or Gum: Food, drinks, and gum are prohibited within the archive to help preserve the collections.
Pencils Only: This guideline was established in case accidental marks are made on archival materials — pencil marks can be erased, whereas other writing utensils such as pens and markers cannot.
Request Forms: Request forms are used to help the archive track what materials the researchers are checking out, for how long, their intended use, and where they will be conducting the research. Forms may also notify the researcher of any legal requirements to take into consideration with how the materials are used.
Gloves: Gloves are used to help preserve the materials within the archive. The gloves should be provided by the archives if and when they are required.
Electronics Policy: Electronics such as cellphones, cameras, laptops, recorders, personal scanners, and any other personal digital devices may be restricted within an archive. The lights used by cameras and scanners may cause text and images on documents to fade due to overexposure.
Handling and Maintaining Order: To ensure the condition of the materials is maintained, all archives ask researchers to handle materials carefully. Specialized tools, like book pillows and gloves, may be offered by the archive to help preserve the materials.
It is also important that the researchers leave the materials in the order they were when they received them. This way they can be easily located and observed for future use. Repositories may provide place markers to help a researcher keep materials in order and to mark the pages they need for photocopying.
What to Expect
The overall layout of an archive varies among locations. However, most store their artifacts using the same storage techniques. This may include, but is not limited to the use of:
Albums
Archival boxes
Binders
Cases
Enclosures
Frames
Portfolios
Donating to an Archive
Artifacts are often passed down within a family. If you think you have a valuable artifact, you may want to consider donating it to an archive.
What to Donate
Here is a list of personal or family records that you can donate to an archive:
Articles/essays
Awards/certificates
Brochures and fliers
Diaries/blogs
Films/videos/audio tapes (including identifying information)
Genealogical information
Legal documents
Letters/email
Memoirs/reminiscences
Minutes/reports
Photographs (with subjects and locations identified)
Professional papers
Scrapbooks/photo albums
Speeches/lectures
Subject files
Websites
Organize and Describe
After you have found donatable items, you can ease the process along by organizing and describing the artifacts. When the materials being donated are organized ahead of time, it can make it more helpful for future researchers to navigate through. This can be done by writing down information relative to the artifact such as:
Who is in the picture/writing/film, etc.?
Where did it come from?
Why is it relevant?
What is the artifact?
When was it created?
Refrain from using office supplies such as paper clips, tape, and sticky notes on the materials to ensure they aren't damaged.
Find a Repository
A repository refers to a central place where data is stored and maintained. They can also be a place where multiple databases and files are located for distribution over a network. Or they can act as a location that is directly accessible to the user without having to travel across a network. These can be useful for archives in the sense it provides a location to store all of the artifacts.
Before donating their materials, the donor will want to find their local repository. There, the employees will discuss with them the historical significance of their records and further advise them on where to go from there.
Factors to Consider
Those who are considering donating artifacts will also want to consider the following:
Access to Collections: Access to donated materials is governed by the repository's policies regarding availability, duplication, and publication. It is recommended that donors become familiar with such policies and discuss any special needs or concerns with the archivist or curator prior to completing the donation.
Conditional Gifts: A repository usually is unable to promise that donated materials will be exhibited or used in some other specific fashion as a condition of accepting the gift.
Copyright: Assignment of copyright is often complex, and donors should work with the repository staff to clarify issues of copyright ownership. Typically, the copyright belongs to the creator of the materials, but can be legally transferred to heirs or others.
Monetary Appraisals for Tax Deduction: In some situations, it may be possible for a donor to take a tax deduction for the donation of a collection to a repository. To find out for sure, speak with your tax accountant or attorney.
Monetary Donations: Most repositories are nonprofit organizations. Preparing materials for use by researchers can be the most expensive operation in a repository. Monetary donations are rarely a prerequisite for the acceptance of a collection, but donors who are able to assist repositories by donating funds are encouraged to do so.
Restrictions on Access: If a donor is concerned that confidential material may be represented in personal or family records, it is important that they identify these items or concerns ahead of time. They will then want to discuss with the archivist the possibility of restricting part of the collection to protect the privacy of the donor or their family.
Recommended Reading
Additional Resources for Online Research
Sources
Society of American Archivists