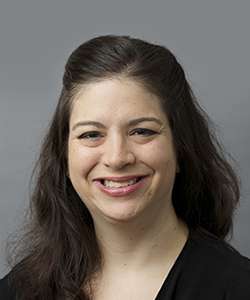 Ellie Wideman
Assistant Professor of Social Work
College of Arts and Sciences
Academic Bio
Dr. Ellie Wideman, PhD, MSW, LCSW, has over two decades of professional experience in the healthcare and social work field and has played an active role in educating the next generation of social workers. She has also taught a variety of on-campus and online courses at Maryville University since 2010.
At Maryville, Dr. Wideman developed and currently teaches the Introduction to Social Work: Professionalism & Ethics course as well as the Practice courses, in addition to other courses in the Bachelor of Social Work program.
Her 25-year career started in pediatrics at Mercy Hospital in St. Louis, before moving into behavioral health services and residential treatment at Great Circle for some of the most severe child maltreatment cases in the state.
Dr. Wideman worked at BJC Healthcare in in-patient psychiatry with adults who lived with persistent mental health diagnoses like schizophrenia, depression and bipolar with psychosis. There, she also completed her 400-hour foundation practicum with the hospital-based domestic violence unit. Additionally, Dr. Wideman completed her 600-hour concentration practicum with Evangelical Children's Home with the juvenile male sex offender rehabilitation program.
Also at the Evangelical Children's Home, Dr. Wideman broke boundaries when she became the first female residential case manager, helping at-risk females to secure residential units.
Dr. Wideman also has over 10 years of experience in school social work for community mental health agencies and has been in private practice since 2008, where she has worked with child maltreatment cases, family courts, and child protective services, all while providing therapy for families, couples, children, and adults.
Dr. Wideman is a proud alumnus of Maryville University, where she earned her Bachelor of Science with an emphasis in Biology and a Chemistry minor, as well as a Bachelor of Psychology with a Sociology minor. She completed her master's in social work (MSW) from Washington University with a concentration in Children, Youth, and Families, as well as a double specialization in Family Therapy and Research. Also at Washington University, she earned her Ph.D. in Social Work with research focused on trauma-informed care outcomes for child welfare-involved children and families.
Areas of Expertise:
Psychiatry
Rehabilitation
Trauma-informed care
Social work
Social justice
Contact Info
Phone: 314-529-9473
Email: ewideman@maryville.edu
Office: Anheuser-Busch Hall 3209